TUK (Tukuhnikivatz) (18:04)
Original Performance on October 21, 2014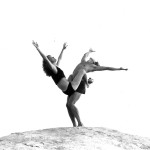 This fusion of dance and the environment is an extraordinary journey of eight souls across the majestic breathtaking landscapes of Utah and the  Four Corners Area of the Southwest United States – five dancers, two filmmakers, and one photographer reveal their uplifting and challenging experience in this inspiring film by Maida Withers.
Shot on location in the vast wilderness of canyons and fantastically formed buttes of Muley Poin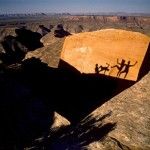 t, Butler Wash, red rock wilderness of  Canyonlands, and Arches, Utah and the primitive desert atmosphere of the Four Corners Area of the Southwest, USA, TUK features dancers who lived on site and spectacular Earth photographs by Bruce Hucko,  in a dramatic double and triple  screen display edited  by French filmmaker Ludovic Jolivet.  Brent Michael Davids, Native American composer from the Mohican Nation creates haunting original music with his Blue Butterfly Group (Dasha Hlavenka, Joe Myers, Melissa Angel) and Will Goins Moreau.
Dancers in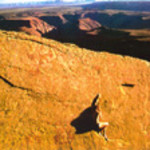 a ritual of passage and transformation, capture the Native American spirit and ancestral voice that resides in this awe inspiring place. TUK redefines this spirit for modern times to renew and celebrate our consciousness and connection to the Earth and planet.
Tukuhnikivatz is the name of a powerful peak in the La Sal  Mountain Range near Moab, Utah.  Local myth claims that  in the end of days, native peoples will rise and meet at Tukuhnikivatz.  Utah is the birthplace of Director Maida Withers.  Her ancestors for six generations were instrumental in settling areas of Southern Utah and Northern Arizona.
The film ori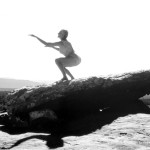 ginates from footage projected as part of an exotic stage installation for the evening-length multimedia production Utah * Spirit Place * Spirit Planet * Tukuhnikivatz commissioned by Lincoln Center Out-of-Doors GREAT DANCE in the BANDSHELL, New York City.  TUK exists in three film versions: TUK I, TUK II (2008), TUK (Tukuhnikivatz) (2011).
Awards:
The Best Dance Film Award from the 12th Annual Southeastern Native American Indian Film and Video Festival, November 5 – 9, 2009 – Eastern Cherokee, Southern Iroquois and United Tribes of South Carolina
John Muir Gold Award in recognition of Excellence in Film Making, 2009 Yosemite International Film Festival (Environment Film Competition), Yosemite National Park, California
Showing:
Wollumbin Film Festival, Wollumbin, Australia (2008)
Get Reel in Moab Film Festival, Moab, Utah (2008)
DC Independent Film Festival, Washington, DC (2008)
Produced by Maida Withers and the Dance Construction Company with Where Where IS Productions!
"The most intriguing is a pair of video portraits Withers' tech team created of dancer Tzveta Kassabova. The wily Withers talked her way into using one of the city's most upscale video studios, and was able to shoot Kassabova's movement on a green screen. Later, animators applied a range of images that aim to illustrate the essence of Kassabova's dancing and, ultimately, her character." Amanda Abrams, Washington City Paper
---
Artists and Collaborators
Concept/Director/Choreographer

Editor

Camera

Music

Musicians

Dancers

Earth Photographs
Additional Information