Woman See
Original Performance on June 12, 1980
1980 and 1981 – Woman See  A politically charged feminist performance in eight parts  with live music narrative, and mixed media conceived and directed by Maida Withers. This work culminated a five-year period of Maida working, as a founding member, with Mormon's for ERA  to get the Equal Rights Amendment passed by the US Congress.  This was strong, yet delightful, statement about the challenges of gaining equality for women.
Evening length performance on the emergence of feminism. Music, Lloyd McNeil, wind instruments, and Terry Plumeri, acoustical bass and Chris Beaven; choreography/film/set/narration, Maida Withers. First Showing: Building K Studio Theater; Premiere:  Corcoran Gallery of Art, Washington, DC.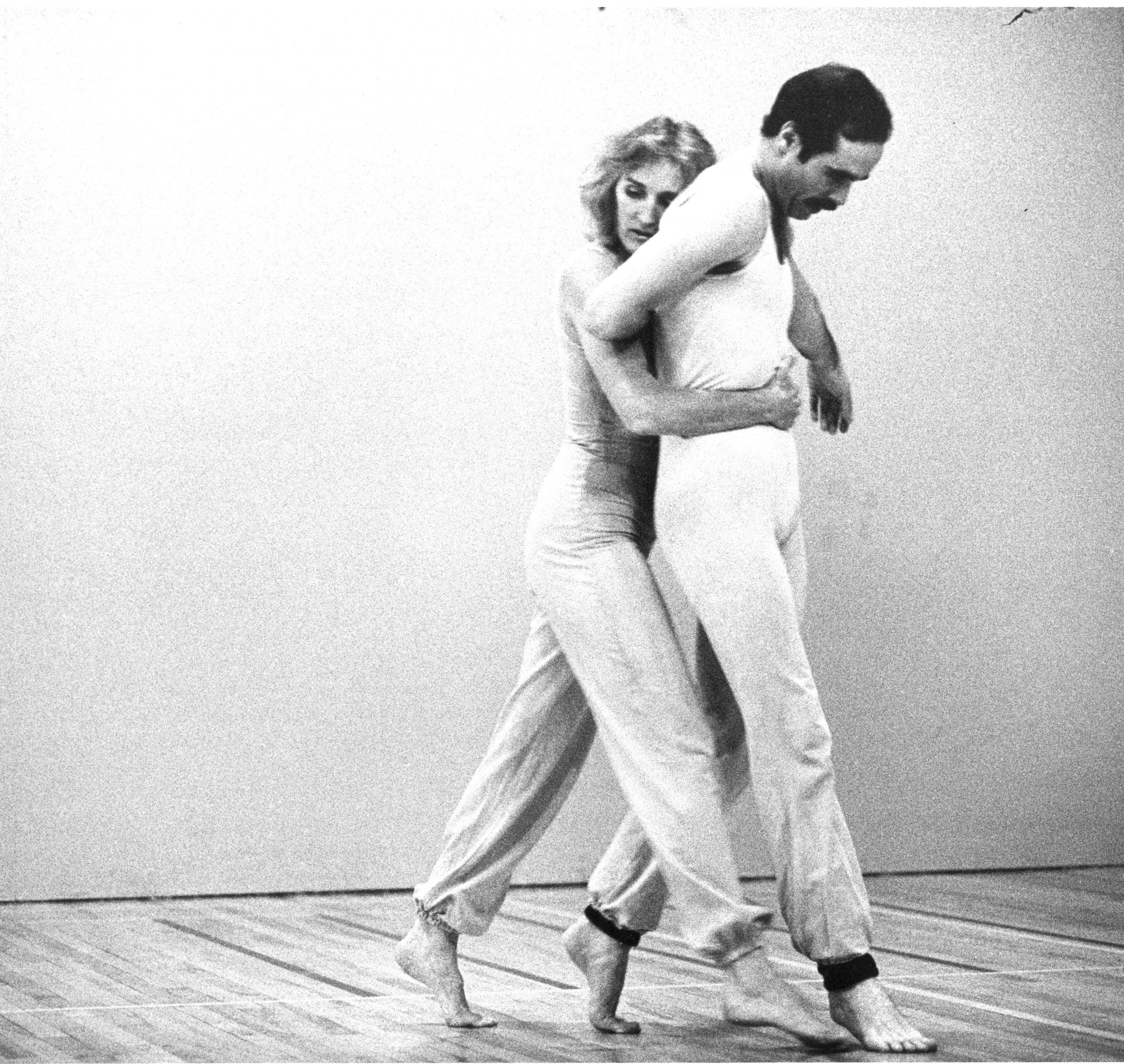 Choreography Sequence:
Part I:  Commencement (film of mouth on weather balloon) and Journey to Innocence (Babb and Curtis);
Part II:  Ties That Bind (Strum & Withers)
Part III: Deities and Other Secrets Kept (Company)
Part IV: He and We / Sacred Sisterhood (Company);  Excerpt from "Ellis" a television script by Verabel Cluff; slides
Part V: Woman Waiting (film – bread making) (Tuck)
Part VI: Pitfalls and Pedestals (Crittenberger and Tuck); Excerpts from Public Information Sheet, National Archives)
Part VII: The Great HOld Up ( Withers Solo)
Part VIII:Recommencement  Babb, Strum, Tuck; Film
Slides:  snake in circle; woman in flower; mother with twins; man and woman; pregnant woman; woman in closet; folk on man; 2 woman kill man; reclining nude; Picasso nude ; others
1984 rehearsal video:  Dale Crittenberger and Frances Babb rehearse Part I: Commencement. A large flesh colored weather balloon is hung with projection of close-up action of a film of withers mouth and tongue behaving like the anus.
Script: Sacred Sisterhood:
>I recently attended a friend's funeral, over 80 years old.  He was surrounded by 3 wives, and, of course many children.
>and they were both naked, the man and his wife and they were not ashamed
>even though the approval of the first wife was a requirement, sometimes first wives were thought to be "just stubborn", and the authorities would override their objections
>some polygamists were much sought after
>I've seen you green-eyes with jealousy over Mary being with Milford and you being here
>Everyone here knows I'm a Mormon but I don't talk about my involvement in polygamy.  No one understands…I don't know if I do
>God commanded Abraham and Sarah gave Hagaar to Abraham to wife.  And why did she do it?  Because this was the law; and from Hagar sprang many people.  This, therefore, was fulfilling, among other things, the promises… a commandment that was necessary for celestial advancement
>You get along with Zina, don't you?
>Yes…and Esther, Edwarda, Katie and Evelyn, but it has taken time.  Now it's Brother Pratt I find distasteful
>Wash your face, lass, it will make everything better
>The old geezer misses me now.  Amazing, when he has four other to take my place
>Oh, Ellen.  Your heart must feel lonely but perhaps grace will be given you to  "grin and bear it" as the saying goes
>Mother has better courage to live in a hard place
>Mother has never seemed to feel at home since she left the Valley and she thinks she will never be satisfied till she gets back. She seems very silent of late.
>You're a woman.  You're to follow my counsel.  I forbid you to go.
>The children and I took the 5:20 am train
>One man who let his wives have a hand in mate-selection had an interesting technique.  He would organize a sleighing party of young girls and afterwards would take them home for his wives to observe their mingled luster.
>His wives were selected with attention to heredity, education, and absence of defects
>He saw the faces of women he had not yet met and felt that he had to marry them all.
>Give my love to Kate and Margaret and kiss all of the babies for me
>at that moment, I compared my feelings of relief with the exerience one has when the first crack of dawn comes after a night of careful vigilance over a sick patient
>I'm glad for the Pratt money.  We can each have our own place
>This year they will have plenty of grapes and some peaches….
>
"The evening's oldest work, Woman See, has a worn-out feel. Maida Withers' 1981 manifesto on feminism created in the wake of the eventual non-passage of the Equal Rights Amendment, begins with a dry reading on the U.S. Constitution. Mining expressive gestures—thumbing her nose, sticking out her tongue—and a film of a contorting tongue and mouth projected on a giant balloon, doesn't really add much depth of meaning. Woman See, performed by the white haired, long legged Withers with fearless abandon, is, perhaps, a work of its time. Today, though its ideas are far from dated, its artistic underpinnings are." Lisa Traiger
"...The content was powerful and its delivery clear and effective." Celeste Lawson
"...'Woman See' was masterful. A few movement themes of a typical Withers windup - half unstretching, carefully balancing, brusquely coiling, almost squatting, groping - are stated in a film clip by the handsome, big-boned choreographer with the billowing gray hair." George Jackson
"Maida Withers - A Profile of the Artist Through 'Woman See." (pictorial and written essay). April 1982 Photos by Dennis Deloria Mary Bradford
"Withers Strikes a Feminist Chord" Maida Withers, one of Washington's more established and experimental choreographers, broached a new subject area yesterday at GWU Studio theatre in "Woman See," an eight=part exploration of female issues that began, aptly with, with a film of the choreographer dancing curving shapes across a huge, distinctly womb-shaped balloon. Two sections of the work, which will be re=structured for later performances, carried a gratifying sense of conviction and a corresponding atmosphere. "He and We/Sacred Sisterhood" offered poignantly inter-locked dance imagery to visualize a fragmented monologue about the polygamous marraiges remembered, one supposes, from Withers' own Mormon girlhood. And "pitfalls and Pedestals" illustratede with equal vigor, and some fine humor, the sexual restraints that have blocked passage of the Equal Rights Amendment. While a cow=girl in white played patriotic tour guide at the National Archives, a male dancer managed to keep his female partner firmly on her pedestal - an aqua vegetable drawer from a refrigerator. Both passages suggest that the autobiographical mode might be one that Withers could fruitfully pursue. Anne Marie Welsh
---
Artists and Collaborators
Choreographer

Dancers

Music

Text / Reader

Mask

Slides, oan

Lighting Design

Mask Design

Assistant Stage Manager

Photograph for Poster

Photographs (Corcoran Gallery)

TV Script"Ellis"

Mouth Film
Other Performances
Additional Information