Stone Garden UN Earth Summit
Original Performance on June 5, 1992
June 5, 1992 – Evening-length site work created by Maida Withers in collaboration with dancers (Dana Tai Soon Burgess, Stacy Palatt, Janine Ploetz, USA, and Celia Portilho, Brazil) musicians (Digerdoo by Craig Gibson and Harold Gent),  rock carving sculptor (Ken Haritsuka) for the Museu de Arte Moderna do Rio de Janeiro in Placo Aberto – Open Stage in the rock garden as part of the celebration of United Nation's Earth Summit (Eco '92.  Open Stage was conceived by Regina Miranda, dance and performance curator at MAM.  Eco '92 occurred June 1 to 14, 1992 in Rio de Janeiro.  MWDCCo was at the Summit with 100 International Artists for Ecology and the Environment.
World Premiere: Museo de Arte Moderno – Rock Garden, Rio de Janeiro, Brazil at dusk
URL:  http://maidadance.com/works/stone-garden-2/ Vimeo: https://vimeo.com/102323665
Stone Garden was performed at dusk.  The work took the dancers about one hour to crawl slowly on the rocks from one end of the garden to the other, finally finishing in a standing position.  Lights were placed down in between the rocks and some rocks were covered with water.  Dancers were dressed in flesh colored leotards to appear nude.  The goal, at dusk, was to create interest by the illusion of watching a rock or a body moving extremely slowly across the rock.  Is it human or Earth?
Maida Withers Dance Construction Company was at the United Nation's Earth Summit (Eco'92) as artist members of the International Conference of Celebration – Celebration of the Earth Project. MWDCCo and other artists were in Brasilia making work as part of the Omame Projeto, May 3 to 19, 1992.  Maida performed In Winds of Sand and Prologue at the National Theatre in Brasilia, May 12, 1992.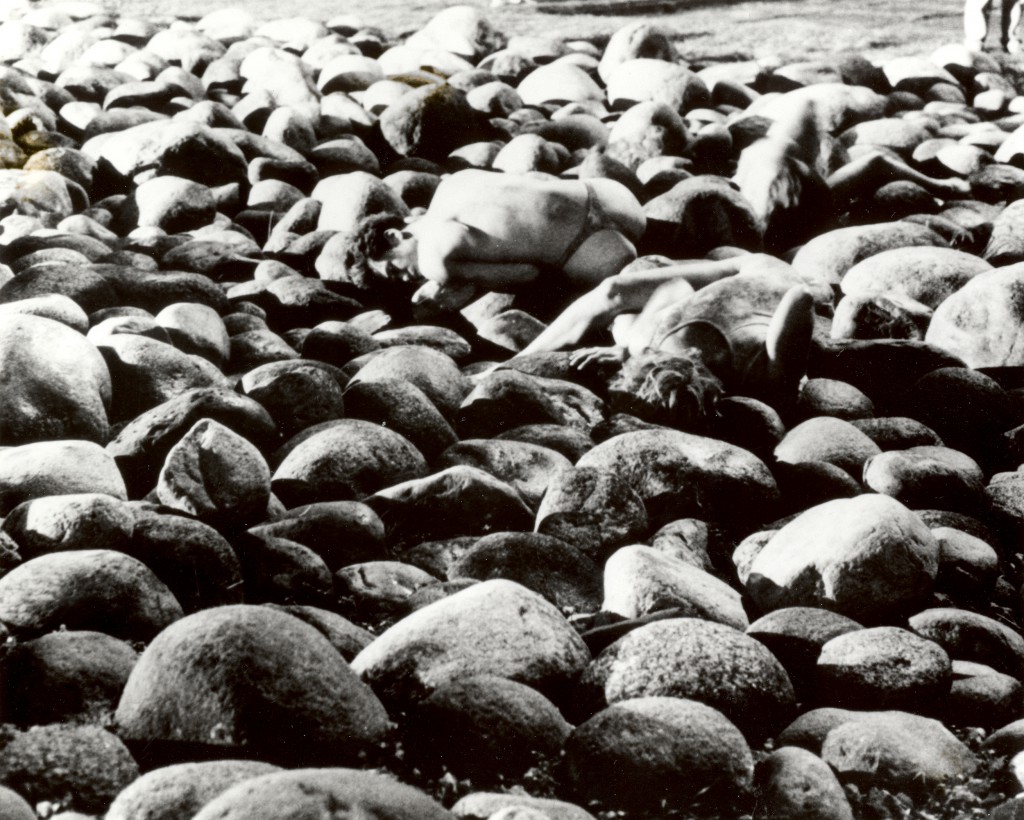 ---
Artists and Collaborators
Concept / Choreographer

MWDCCo Dancers

Brazilian Dancer

Musicians/Digeridoo

Visual Artist - Rock Sculptor

MOMA Event Curator

Visual Artist Consultant

Celebration Art Co-Founder