Naked Truth
Original Performance on November 6, 2010
2010 – Naked Truth, an exquisite, meticulously designed  trio choreographed by Maida Withers with dancers Anthony Gongora, Tzveta Kassaabova, and Giselle Ruzany – three seasoned and deeply dedicated international dance artists. Original music is composed and performed live by Steve Hilmy.  Naked Truth engages with projected kinetic cyber scenarios (bots for robots) by Tania Fraga, virtual/computer artist, Sao Paulo, Brazil.  Ayodamola (Ayo) Okunseinde and Michael Kim were interacting in real time with the dancers through computer manipulation.  Their work involved "real-time" manipulation of images by Fraga (see video).   Naked Truth as a title was appropriate since the idea is "the naked truth about dance is that all dancing is about dancing and not about anything else!"  Maida Withers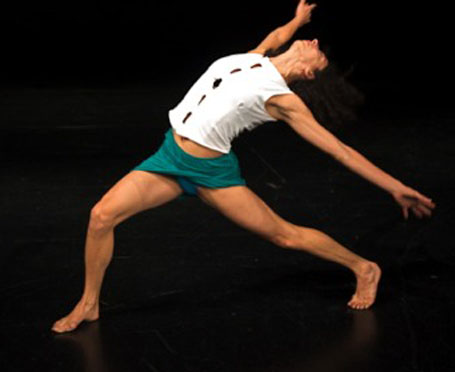 Tzveta Kassabova
T

Giselle Ruzany and Tzveta Kassabova
G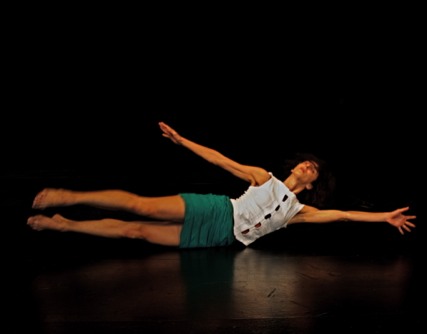 Tzveta Kassabova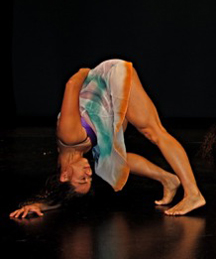 Giselle Ruzany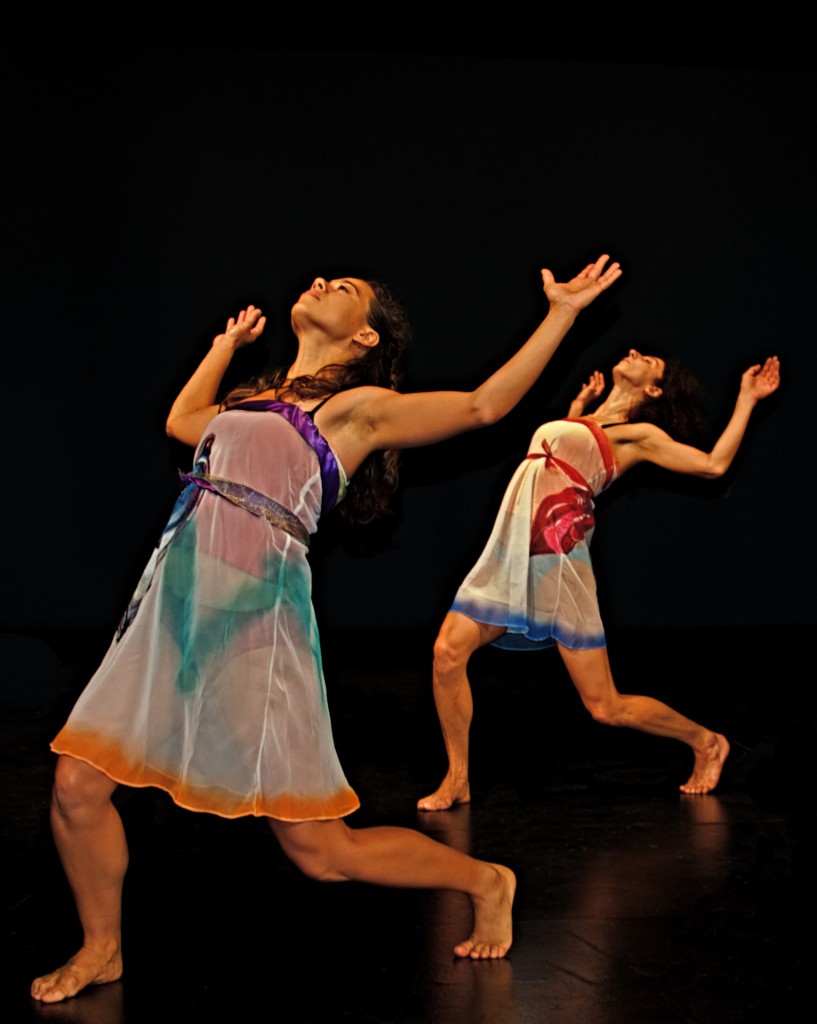 Giselle Ruzany and Tzveta Kassabova
Photographs were taken during rehearsal in costumes for photos only.
Movements from Naked Truth were used for a dance shoot for Dance Portraits on Screen, a project of dance footage shot in a television studio that was then given to two different editors to create art videos for showing in a gallery as companion works.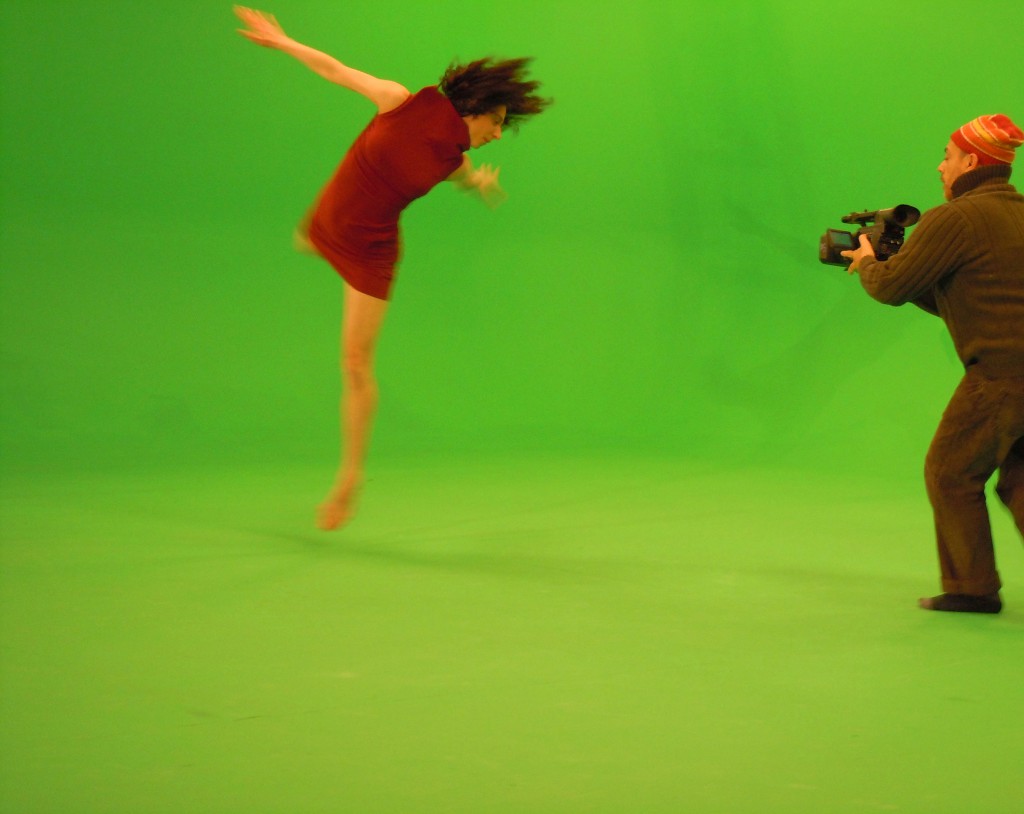 Belle Faccia Television Studio, Washington, DC.
Tvzeta Kassabova photo from Naked Truth combined with Guardians Sculpture by Adam Peiperl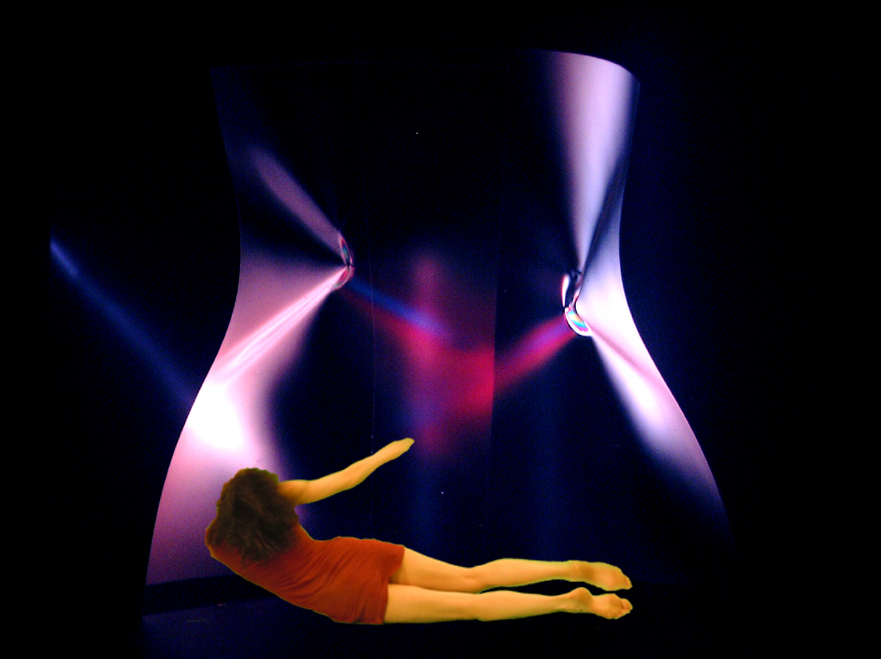 "Dance DC Weekend Events Guide" Cecile
" the piece features three strong dancers, and rather than aiming to make a statement, it's simply a demonstration of beautiful movement. It's still another of Withers' strengths: strong, challenging choreography with composition that weaves dancers in and out of various groupings. Dancers Tzveta Kassabova, Giselle Ruzany, and Anthony Gongora have very different styles, but each is a talented dancer and the piece is a joy to watch." Amanda Abrams, Washington City Paper
---
Artists and Collaborators
Concept/Choreography

Electronic Composer/Musician

Dancers/Collaborators

BOTS - computer creations

Real-time Interaction with projected "BOTS" in computer

Costumes

Technical Director