MindFluctuations
Original Performance on March 19, 2015
MINDFLUCTUATIONS
DANCE, NEUROSCIENCE, VIRTUAL ART, LIVE MUSIC
A Java 3D application drives the participants within a metaphorical virtual reality journey
World Premiere / Lisner Auditorium
March 19, 2015
Washington, DC
MindFluctuations: Sections performed independently.
Monster Man: https://vimeo.com/128670434
Woman: https://vimeo.com/129210568
MindFluctuations, a groundbreaking collaboration between dance, neuroscience, 3D projected computer art, and live electronic music, continues pioneering choreographer Maida Withers'  lifelong fascination as an artist with the connection of the human body and mind to interactive and innovative technology. In MindFluctuations, Maida Withers Dance Construction Company performs full-bodied, intricate choreography with eleven spectacular virtual worlds created by Tania Fraga, computer artist, São Paulo, Brazil.  John Driscoll composer and sound artist, company music director from 1974-1980, and Steve Hilmy,  composer and musician, company music director from 2005-present, create compelling music for the 90-minute opus through a live interactive process with the dancers to complete the multi-sensory world, the hallmark of Withers' work for four decades. Dancers: Felicia Avalos, Ian Ceccarelli,  Anthony Gongora, Mary Heath (understudy), Sammi Rosenfeld, Giselle Ruzany, Matthew Thornton.
Click to view: Full-length Performance (1:22:33)
For CYBERWORLDS Click HERE (Residency)
Interactive Technology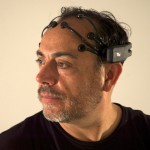 MindFluctuations involves an innovative process of artistic engagement with virtual interactive experimental artworks that visualize the interface between dancers' emotive and expressive states through a neural interface that has emerged from neuroscience research. The choreographic process features Brain Controlled Interfaces (BCI) interacting with dancers and computer art. A neural headset (Emotiv),
worn by the dancer, is used to digitize their emotional states that  interface with the processes within virtual 3D environments in the computer. These interactions exist by visually transmitting the impact of the brainwaves captured by the BCI helmet into the performance arena in real time and/or through the projection of stored stimuli to create a moving and immersive environment for the participating performers and audience.

MindFluctuations was created through residencies in São Paulo, Brazil, February 2014, and Washington, D.C,  March 2015. which enabled an international collaboration between Maida Withers and Tania Fraga, co-authors, Pedro Garcia, Java consultant programmer. Mauro Pichiliani, Brain Computer Interface technician and Donizetti Louro, mathematics consultant at the Institute of Mathematics and Art, São Paulo.

MindFluctuations Dance &  3D Worlds – Photographs (Dance Photos by Shaun Schroth; 3D worlds – Tania Fraga)
Program:
Opening – The Company
Part I  The Egg:  Giselle Ruzany, Felicia Avalos, Sammi Rosenfeld
Part II  Blackness/Underworld:  Felicia Avalos, Ian Ceccarelli, Alicia Diaz, Matthew Thornton
Part III  Obsess:  Felicia Avalos, Anthony Gongora, Giselle Ruzany, Sammi Rosenfeld
Part IV  Turned Away:  Giselle Ruzany, Sammi Rosenfeld
Part V  Illusion – Is Anyone Out There?  Alicia Diaz; Anthony Gongora, Matthew Thornton
Part VI  Yield  – Twisted Minds: Felicia Avalos, Ian Ceccarelli, Anthony Gongora, Mary Heath,
Sammi Rosenfeld, Giselle Ruzany
Part VII  Offering:  Maida Withers
Part IIX  Monster Within:  Anthony Gongora
Part IX  Virtue Exposed:  Felicia Avalos with Anthony Gongora, Ian Ceccarelli, Sammi Rosenfeld
Part X  Whiteness/Transcendence:  Giselle Ruzany with Felicia Avalos, Ian Ceccarelli, Alicia Diaz, Mary Heath, Matthew Thornton
Part XI  Panspermia – Seeding the Universe:  The Company
Kennedy Center Early Performance of MindFluctuations without interactive Helmet.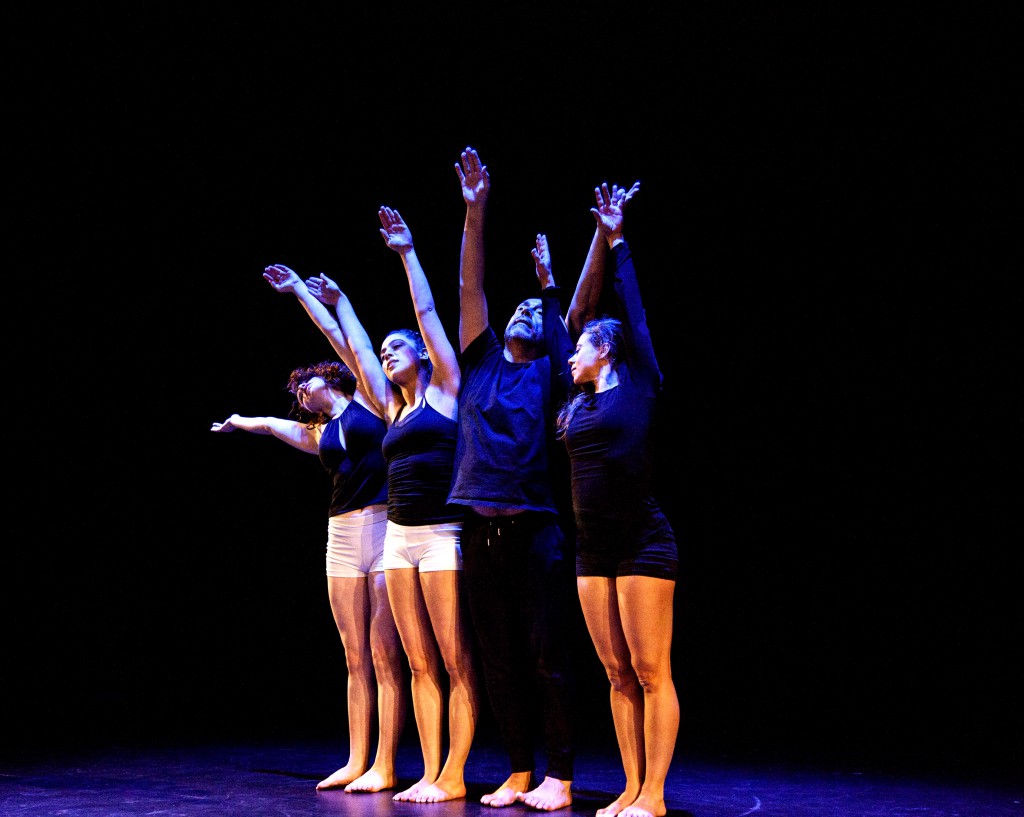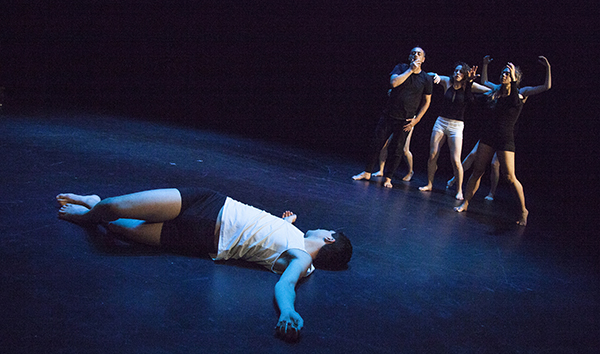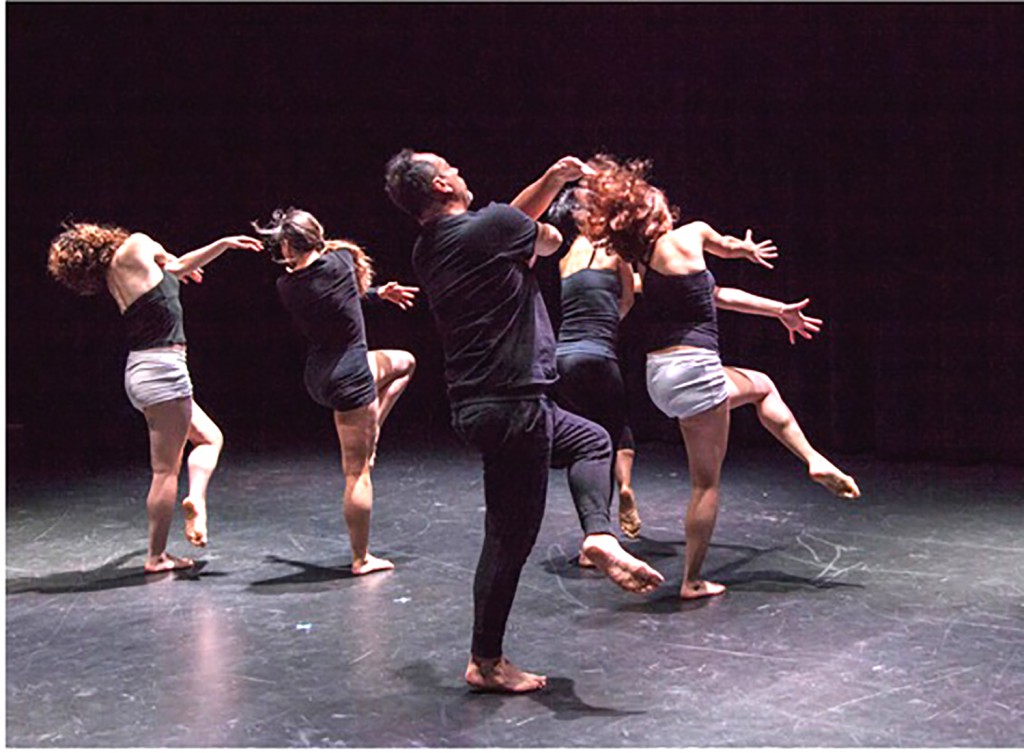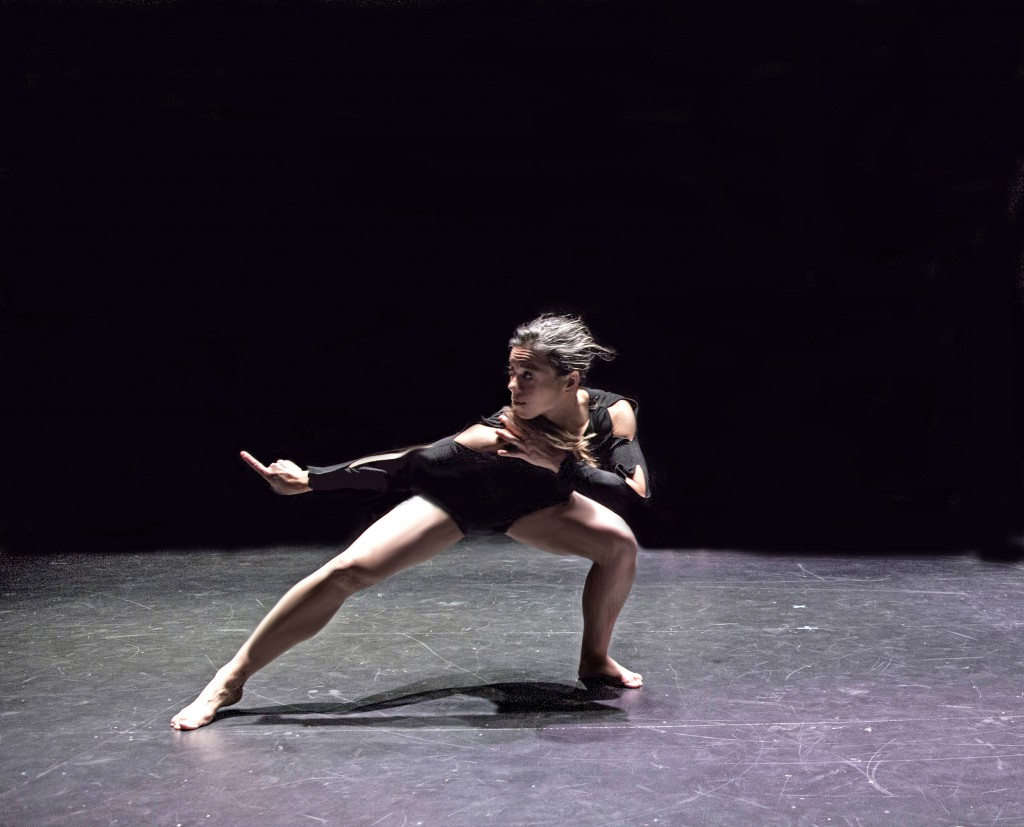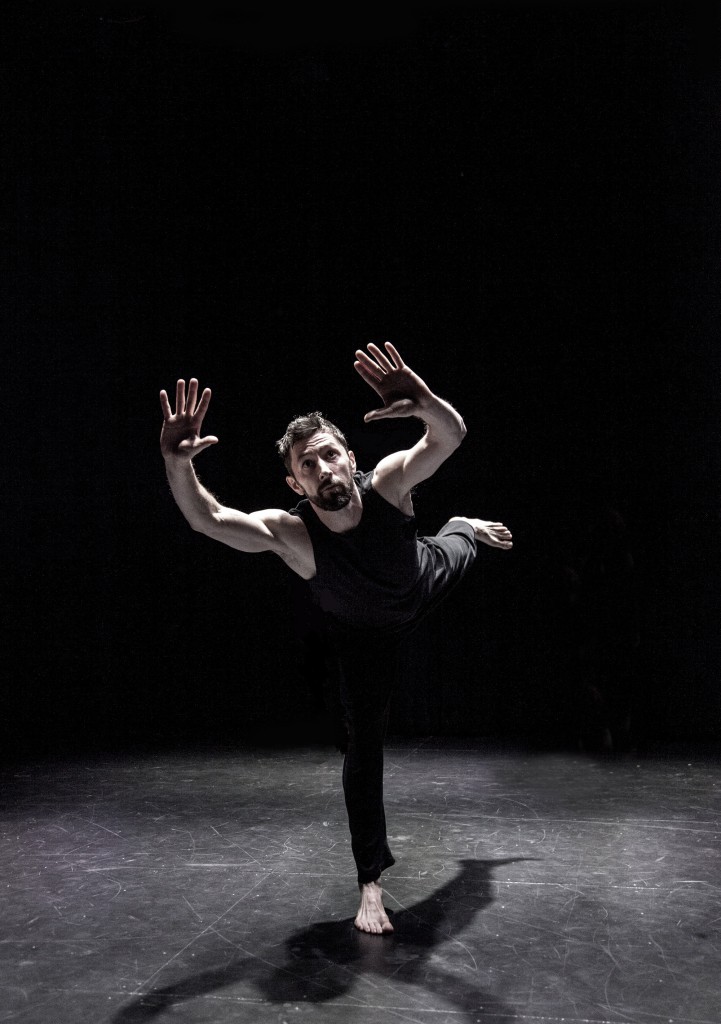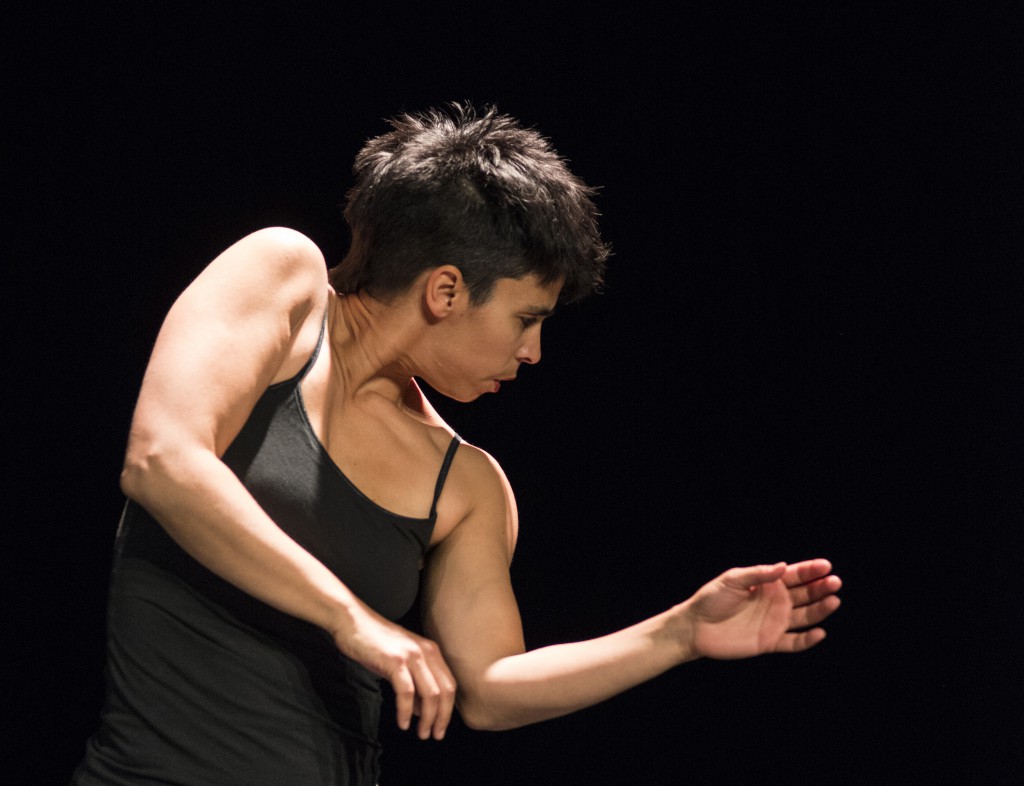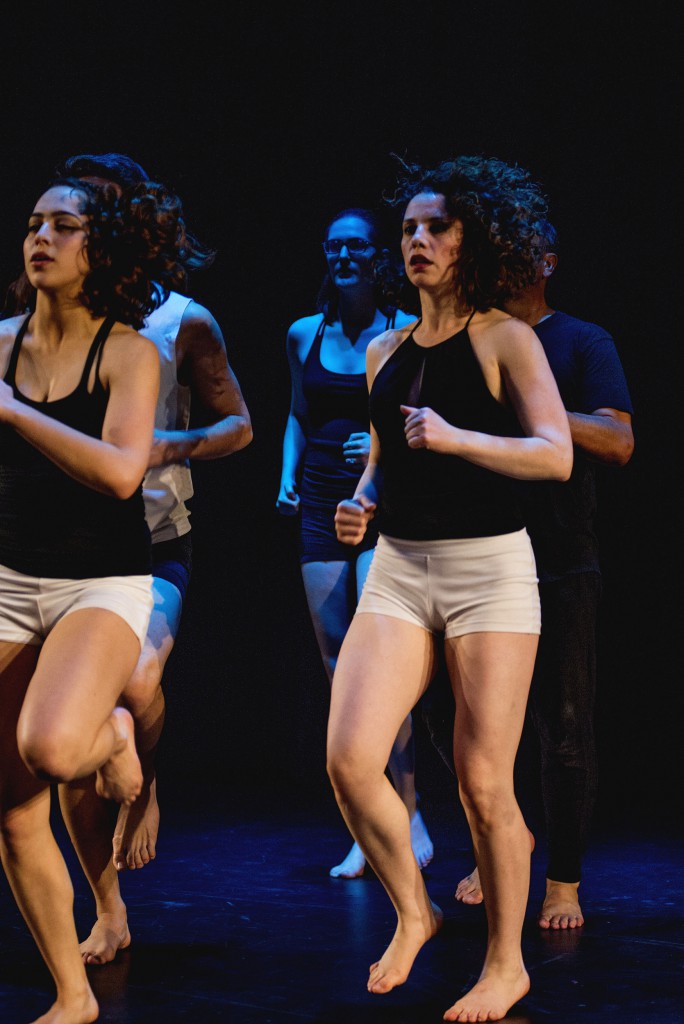 Maida Withers Dance Construction Company (MWDCCo) a 501(c) 3 federally tax exempt cultural arts organization founded in 1974 in Washington, DC. The Company is a vibrant artist-driven organization that mixes dance and performance with technology and media to create thought-provoking works for stage, museums, site, and film in a collaborative process with artists, scientists and others committed to a process of investigation and experimentation. The Company has been presented in Washington, DC. at  the Kennedy Center, Lisner Auditorium, Warner Theatre, Dance Place, Joe's Emporium, others, along with presentations by the Smithsonian Air and Space Museum, International Gallery, Natural History Museum, Renwick Gallery of Art, and at the Corcoran Gallery of Art, Art Museum of the Americas, Arlington Art Center, others. International tours in over 18 countries including  Kenya, Russia, Poland, Norway, France, Germany, UK, Croatia, Brazil, Mexico, Venezuela, Argentina, and Costa Rica – often under the sponsorship of U.S. Embassies, Trust for Mutual Understanding, Scandinavian Foundation, others.  Dance film shorts have been shown at film festivals in Turkey, France, Brazil, Mexico, and stateside in California, Utah, Virginia, and Washington, DC. Between 1995 and 2009, MWDCCo curated the International Improvisation Plus+ Festival in Washington, DC, precursor to the Fringe Festival. Maida Withers and the Dance Construction Company are the recipients of many awards and honors including the DC Mayor's Arts Award (2001 and 2014). The Company's archives and timeline feature four decades of choreography and artistic projects. http://maidadance.com.
MindFluctuations builds on MWDCCo's previous path breaking interactive works with rotating loudspeakers, laser beams, wireless cameras, interactive cyber worlds, and video installations, always with original music created and performed live.
Artist/Collaborators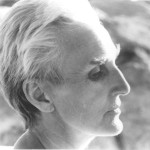 MAIDA WITHERS (co-author; choreographer and dancer) born in Kanab, Utah, descendant of pioneers who settled the area in 1850.  Maida, a powerful and commanding dancer and performance artist,  has created, since the 1960s, a distinctive body of original works  for stage, museums, site events, and dance films – over 100 performances of breadth and vision for Maida Withers Dance Construction Company. Withers choreographic philosophy is grounded in her life experiences and as a dancer working with the bodies and personal histories of the dancers empowered by extravagant "out-of-the box" notions of life and art, works that reveal the process of creation. Maida, an early leader as an arts activist, couples social and political issues with dance, performance art, technology and interactive media. These works often embody a futurist narrative.  International projects, which began in the 1960s when she studied in Berlin with Mary Wigman and at the Folkswangschule in Essen Werden, Germany, have continued with projects and tours in Europe and Russia, Latin America, and Asia, tours often sponsored by U.S. Embassies and the Department of State. Her distinctive  dance film shorts have been selected for showing at festivals internationally and in the USA.  Maida is a Professor at the George Washington University Department of Theatre and Dance  where she was instrumental in establishing recognized BA, MA, and MFA programs in dance. She is the recipient of the Pola Nirenska Artistic Achievement Award, Dance Place Education Award, Dance in the Desert Lifetime Achievement Award, others.  Maida received a "Special Recognition" Award at the DC 29th Mayor's Awards Ceremony, October 29, 2014. Maida is the mother of Kristin, Luke, Eric and Marc Withers, and proud grandmother of Milan Mercury, and Nica Withers.  maidadance.com,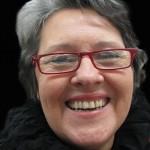 TANIA FRAGA (Brazilian architect and computer artist) Holds a Ph.D. on the Communication and Semiotics Program at the Catholic University of Sao Paulo; vice-president of Sao Paulo Institute of Mathematics and Arts. She developed a Senior Post Doctoral research project at School of Communication and Arts of the University of Sao Paulo with a research grant from FAPESP, Sao Paulo Foundation for Research Support. In the course of 1999, Tania developed a Post Doctoral research project at the Centre for Advanced Inquiry in Interactive Arts and Science Technology and Art Research, UK, with a research grant from the Brazilian Agency for the Improvement of Higher Education Personnel. Until 2003 she was Professor and Coordinator of the Graduation Studies of the Art Institute at University of Brasilia, Brazil. Since 2006 she is member of the Zero Gravity Arts Consortium, USA. In 2003 she was member of the Advisory Research Committee of the Banff New Media Centre, Canada. She was Visiting Scholar at the Computer Science Department at George Washington University, Washington DC, in 1991/1992, in 2010, and 2011. She was Artist-in-Residence, 1986, at Bemis Foundation, USA, with a grant from the Fulbright Commission. She works with computer art and has been showing and publishing her work in many national and international exhibitions, lectures, workshops, seminars and congresses. Her research is related to virtual reality and the creation of artworks looking for the integration of affection among humans, virtual and physical objects through computer technology. Recent research deals with the integration of computer based artworks with neural technologies. Such artworks weave knowledge and artistic processes with computational technologies aiming creative results integrating art, science and technology; results with poetic, aesthetic and functional qualities; results exploring emergency and agency for their construction, design and set up. http://taniafraga.art.br; http://taniafraga.wordpress.com/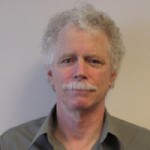 JOHN DRISCOLL (composer/musician) is a founding member of Composers Inside Electronics (CIE) and collaborated on and managed David Tudor's Rainforest IV project since its inception in 1973. Composer/sound artist John Driscoll's work features custom-built electronics and robotic instruments. Driscoll was musical director for Maida Withers Dance Construction Co. from 1974 – 1980, and has received dance commissions for his music including: the Merce Cunningham Dance Co., Douglas Dunn & Dancers, and Maida Withers Dance Construction Company. He has toured extensively in the US and Europe with: CIE, Douglas Dunn & Dancers, David Tudor, numerous composers, and also as a solo performer. His work involves custom built electronics, robotic instruments, compositions and sound installations for unique architectural spaces, rotating loudspeakers, and music for dance. In 2014, he was an artist-in-residence at Harvestworks (NYC) creating a new performance work "Voices in My Head" using highly focused sound and was the David Tudor composer-in-residence at Mills College. Website: http://composers-inside–electronics.net/jdriscoll/home/BIO.htm

STEVE HILMY (composer/musician) born in Aberdeen, Scotland, Steve received his Bachelor of Arts, 1984, from George Washington University, and his Master's of Music in Composition, 1991, from The Peabody Conservatory of Music of The John Hopkins University. He studied composition with William Albright at the University of Michigan and with Jean Eichelberger Ivey and Chen Yi at the Peabody Conservatory. Hilmy has been on the faculty of George Washington University Music Department since 1992, where he is Director of the Electronic and Computer Music Studio. He has won awards from such organizations as the Southeastern Composers League, ASCAP, BMI, the Peabody Conservatory, and The Virginia Center for Creative Arts, including First Prize in the Philip Slates Memorial Composition Contest for "Icarus Falling" (piano and electronics, 1989); the Gustav Klemm Prize for Composition from the Peabody Conservatory in 1991; and 2nd place prize in the Prix d'été II composition competition at the Peabody Conservatory for "Us" (tenor saxophone and electronics, 1999). Hilmy has worked with Maida Withers Dance Construction Company for more than nine years, improvising in events and creating music for evening length multimedia dance works and dance film shorts, and touring in Russia, Kenya, Mexico, Croatia and India.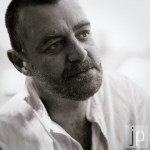 DAVID PAGE (sculptor) Born in Cape Town, South Africa, David Page earned a National Diploma in Fine Arts from the Cape Tecnikon in 1986 and received an MFA from the University of Maryland, College Park in 2002. Recent solo shows include: The Object is Dead at Jordan Faye Contemporary in Baltimore and God and Lunchmeat at Old Dominion University. Group shows include: Fools! Kings, Clowns & Revolutionaries, Gallery 31, Corcoran Gallery of Art, Washington DC "From Here to There: Parallel Trajectories" Stedman Gallery, Rutgers University, Camden, NJ, "Simultaneous Presence, Sculpture at Evergreen 6", Outdoor Sculpture Biennial, Evergreen Museum & Library, Baltimore, MD and "Bad Ideas Dead Ends and Guilty Pleasures" at the Hamiltonian Gallery, Washington DC. Other awards include the Trawick Prize in 2004 and the University of Maryland's Art for Peace Award in 2001, which included the commission of a small sculptural object that was presented to Nelson Mandela upon his visit to the university. Mr. Page teaches at American University and the Corcoran College of Art and Design in Washington DC and lives in Baltimore with his wife (and jewelry designer) Lauren Schott and pit-bull Voltaire. http://davidpageartist.com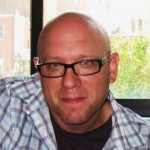 IZZY EINSIDLER (lighting designer)  Resident Lighting Designer for the Lisner Auditorium and JMA, as well as an  Adjunct Professor of Lighting in the Theater Department. Originally from New York City, he has designed over 200 productions/events all over the world including plays, dance, musicals, operas, concerts, conferences, television and film. Most recent lighting design/M.E. work at the Lisner includes: Ben Folds (solo tour), The Colbert Report (with President Obama), Matisyahu (accoustic), Diego El Cigala, Bela Fleck and Abigail Washburn,  Partnership for a Healthier America (with Michelle Obama), Youssou N'Dour,  and numerous book events including  Hillary Clinton, Stephen King, and David Sedaris. He holds an MFA from Brandeis University and is a member of United Scenic Artists Local 829.
F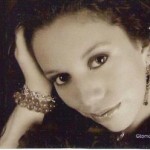 ELICIA AVALOS (dancer) is from Huntsville, Texas where she received her BFA in Dance from Sam Houston State University.  Her last semester, she completed the Dance Abroad Argentina program where she began her tango training.  After returning to the states, Felicia moved to Washington, DC, where she worked with Sharna Fabiano Tango Company, Mich Mash Productions, and Taurus Broadhurst Dance Company. In northern Israel she trained with the Kibbutz Contemporary Dance Company for ten months.  Felicia is currently attending the MFA Dance program at The George Washington University, where she was awarded a University Fellowship.  Along with dancing in Maida Withers Dance Construction Company, she dances with Maru Montero Dance Company.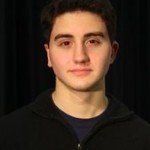 IAN CECCARELLI (dancer, understudy) Born in New York City, Ian began his study of dance at the Kennet School of Dance and Gymnastics in Goshen, NY where he danced in numerous recitals and yearly productions of The Nutcracker. Ian has studied with Mary Rotella as a part of The Masters School Dance Company, Ronnie Carney with New Jersey Performing Arts Center and Diane Madden of the Trisha Brown Dance Company. He is a senior at George Washington University studying political science and dance He has performed Maida's works –Veiled Threat and Yesterday's Garlands and Yesterday's Kisses. He has choreographed for the George Washington University's Spring 2014 production of DanceWorks.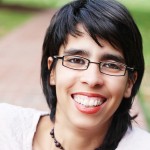 ALICIA DIAZ  (dancer) Originally from San Juan, Puerto Rico, Diaz is Assistant Professor of Dance at The University of Richmond and co-director of Agua Dulce Dance Theater (ADDT) with movement artist Matthew Thornton. She is also an M.F.A. candidate at The George Washington University, where she was awarded a University Fellowship.  She has danced professionally with Complexions Contemporary Ballet, Donald Byrd/The Group, Joseph Holmes Chicago Dance Theater, Andanza: Compañía Puertorriqueña de Danza Contemporánea, Alice Farley Dance Theater, and Contemporary Motions, as well as numerous independent choreographers. Her choreography has been presented in the United States, Latin America and Spain.  Recently, she has collaborated with choreographer Steven Iannacone and with Thayer Jonutz and Catch Me Dance Project in multimedia and site-specific projects.l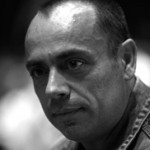 ANTHONY GONGORA (dancer, filmmaker, visual artist) an interdisciplinary artist who is compelled by driving curiosity and imagination to create. His ongoing quest to fully explore and understand life has been expressed through his fingertips on computer keyboards, canvasses and clay, and also through the soles of his feet dancing on stages that traverse the globe. Gongora is a choreographer, performer, visual artist and educator, currently teaching at The University of the District of Columbia as an Associate Professor of Interdisciplinary Art in the school of Mass Media Visual & Performing Arts and also at the George Washington University Department of Theatre and Dance. He has received several awards for his choreography, which has been performed in venues such as Joyce SoHo, NYC; Dance Center of Columbia College, Chicago; St. Mark's Church, Danspace Project, NYC and The Museum of Contemporary Art, Chicago. Performance experience dancing includes Troika Ranch (NYC), Mordine & Company Dance Theatre (Chicago), Jan Erkert & Dancers (Urbana) and Bob Eisen Dance (Chicago).

MARY HEATH (dancer, intern) is an undergraduate student at George Washington University double majoring in Dance and Communications.  She studied at Scottsdale School of Ballet for 10 years before moving to DC.  Her choreography has been performed by the Desert Dance Company (Scottsdale, AZ) and by peers at the Pittsburgh Ballet Theater School's summer intensive.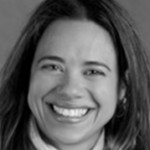 GISELLE RUZANY (dancer) was born in New York City.  She grew up in Rio de Janeiro and lived there up to the age of  23 before returning to the US.  She has been immersed in art and culture from a young age in Europe and Brazil.  Art and Dance have been part of her life, and she received performance and choreographic awards at the early age of 12, as well as terra-cotta sculpture prizes by age 18.  She has been dancing professionally since 1987 and teaching dance from an authentic model, on and off, since 1990.  She has worked with Maida since 1995. With Maida Withers Dance Construction Company, she has performed in Paris, New York, Seattle and Brazil. Giselle is currently an adjunct professor in dance at GWU.  She is also a licensed professional counselor with a private practice in Woodley Park, where she works from an embodied base, treating trauma, depression, anxiety and other psychological and somatic symptoms: www.gestaltdance.com.  Giselle is a GWU alumna and an MA graduate from Naropa University with a postgraduate degree in Gestalt Therapy and a certificate in EMDR.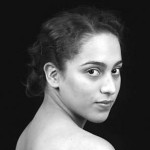 SAMMI ROSENFELD (dancer) returned to her hometown of Washington, DC after completing a BFA in Dance with a minor in Kinesiology at the University of Michigan-Ann Arbor. Rosenfeld has choreographed and produced the evening-length shows Shades (2012) and Nicking the Outside Edge (2013) and has had her work, All Views Are Partial (2013), toured around eastern Michigan. She recently was an apprentice for Dana Tai Soon Burgess and Co. (2013-2014). She currently teaches creative movement to children of varying ages and developmental abilities. Rosenfeld is a Rehabilitation Service Specialist at a Virginia based psychiatric center. She joined Maida Withers Dance Construction Company in March of 2014.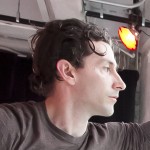 MATTHEW THORNTON (dancer) is a movement artist who combines dance, theater, somatic practice, martial arts and partnering for training, performance, and choreography. Thornton performed internationally with Pilobolus Dance Theater in concert dance, commercial work, and at the 79th Academy Awards. He has worked as a performer and teacher for Pilobolus since 2003.  Previous dance companies include Jody Oberfelder, Freespace Dance, Alice Farley Dance Theater, and Contemporary Motions.  Matthew Thornton taught at Hope College and joined The University of Richmond's faculty as Assistant Professor of Dance in Fall 2011, where he currently teaches Capoeira, Contact Improvisation, Outdoor Training, and sets choreography for University Dancers and UR Theatre Productions. Thornton co-founded Agua Dulce Dance Theater with dancer, choreographer and UR dance faculty Alicia Díaz, creating work for concert dance, outdoor environments, multimedia, and site-specific projects.
"Brain Computer Interface for Artworks" Statement by Tania Fraga
How to maximize expression, aesthetic and poetic qualities in order to create something meaningful using neuron data in artworks? First we need to understand which possibilities are available and their logistic difficulties to set up a framework to program a customized implementation for such endeavor. Therefore, we looked for a device complex enough to allow reliable data and simple enough to allow manipulation and be used for non-technical interactors. Second, and the most important feature of such artwork, in our opinion, is its aesthetic and poetic qualities. The chosen device after trying the commercial available ones was the Emotiv headset1.
What does this device allow? It permits to read facial expressions, emotional states and a few cognitive data related to movements. After researching the results of such data we arrive at the conclusion that the most interesting for an artwork would be to use its affective suite. As artists we are interested in answering the former question asked above.
The second step was to find what in the digitalized data could allow expressive and poetic results without being too literal. The French thinker Edmund Couchot classified interaction as exogenous and endogenous. Exogenous being the literal question and answer paradigm we are used to have when working with computers; endogenous being the autonomous interaction among computer agents without any human control. As artists we were looking for a kind of symbiosis; the human acting in its total potential using the computer to expand their possibilities; the machine using these human emotions to create real time 3D virtual environments.
Therefore we have come up with the concept of exoendogenous interactivity. What is this? After the computer digitalizes the interactor emotional input data in an exogenous way this data is used by autonomous endogenous processes. What could be really meaningful in this process? We concluded that if the interactor's emotions could interfere with the behavior of any autonomous agent we would be in the path for a kind of interesting human-machine symbiosis; thus the research for such has begun.
The first result we had of such symbiosis was the robot artwork Caracolomibile2 built with an award received from the Brazilian Cultural Institute Itau, in 2010. Following this we have begun to develop a customized programed implementation using Java3DTM API to create a set of virtual interactive world domains in which autonomous endogenous process use emotional interactor´s data to interfere with the behavior of agents implemented using growth, collision dection, fractal and flock algorithms. Last we are still in a research stage for the use of plants to extend its potential possibilities. This research is being done with the collaboration of artists from the Laboratory Nano from the Fine arts school at University of Rio de Janeiro.
The Brain computer interface (BCI) for the implementation was done with the collaboration of the software engineer Mario Pichiliani, the Java programmer Pedro Garcia, the mathematician Donizetti Louro and the support of the Institute of Mathematics and Art from São Paulo3. The choreographer Maida Withers considered the use of this implementation in performances would allow us to extract its most unfathomable potential. That is what MindFluctuations is about. That is what we are working to achieve now.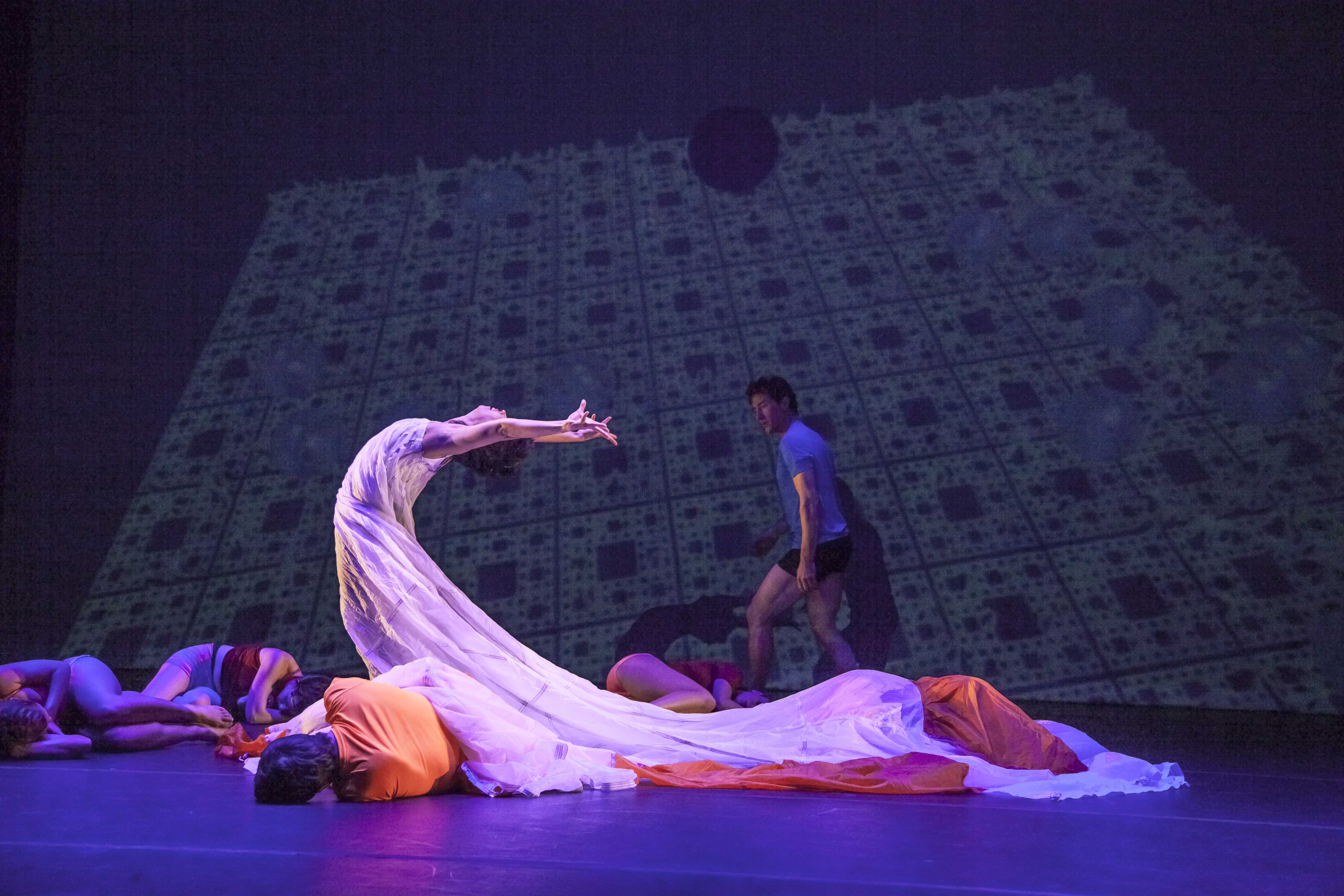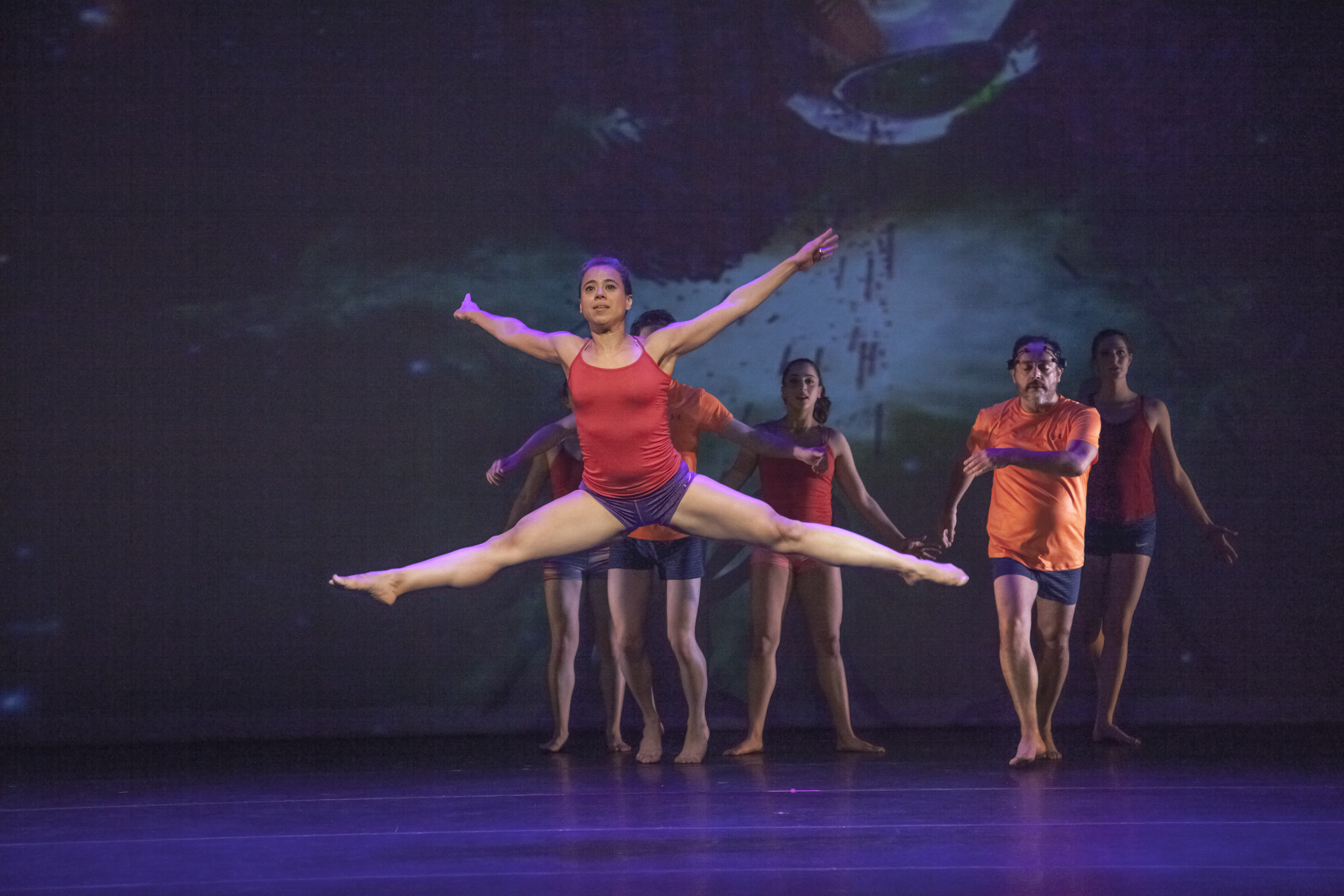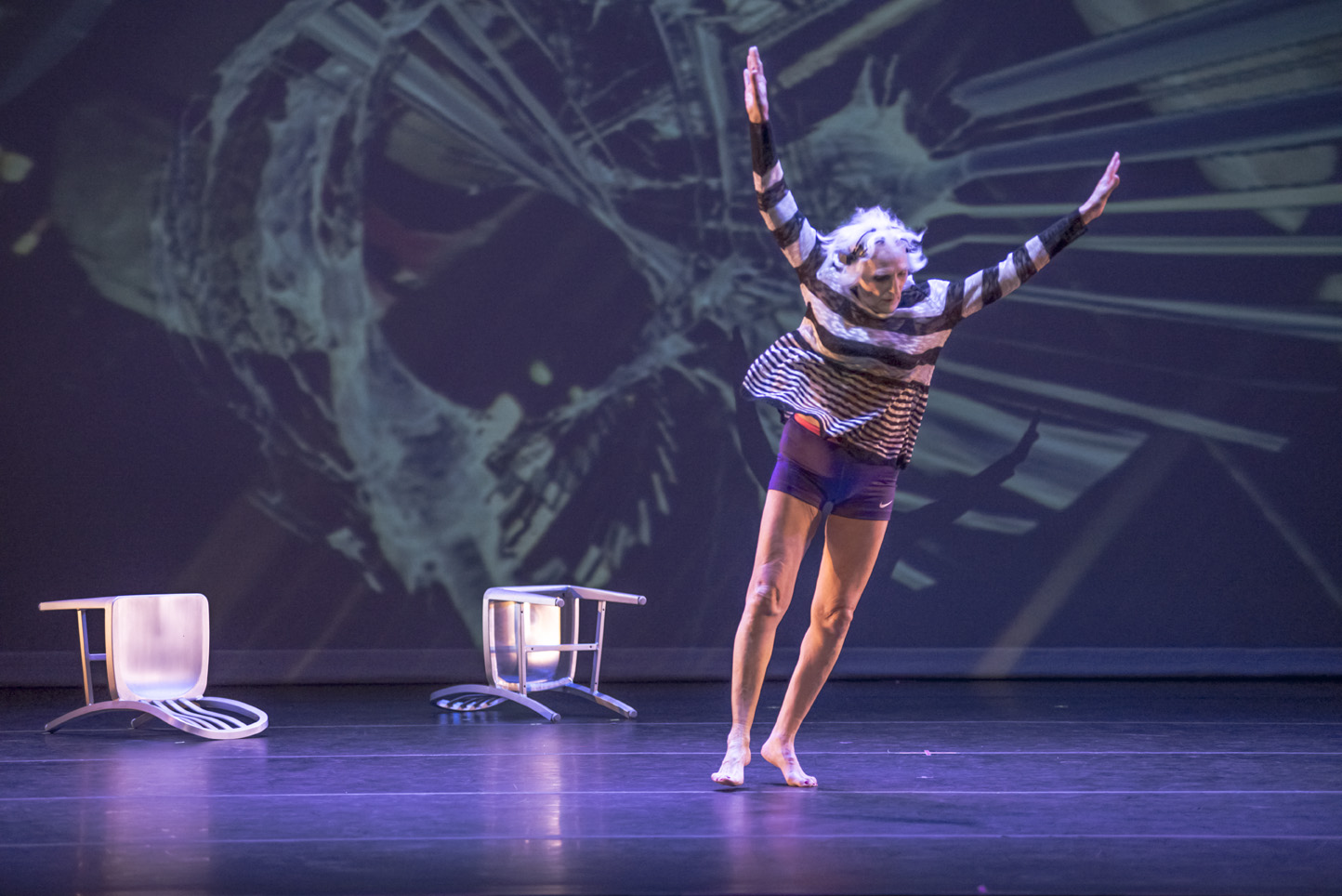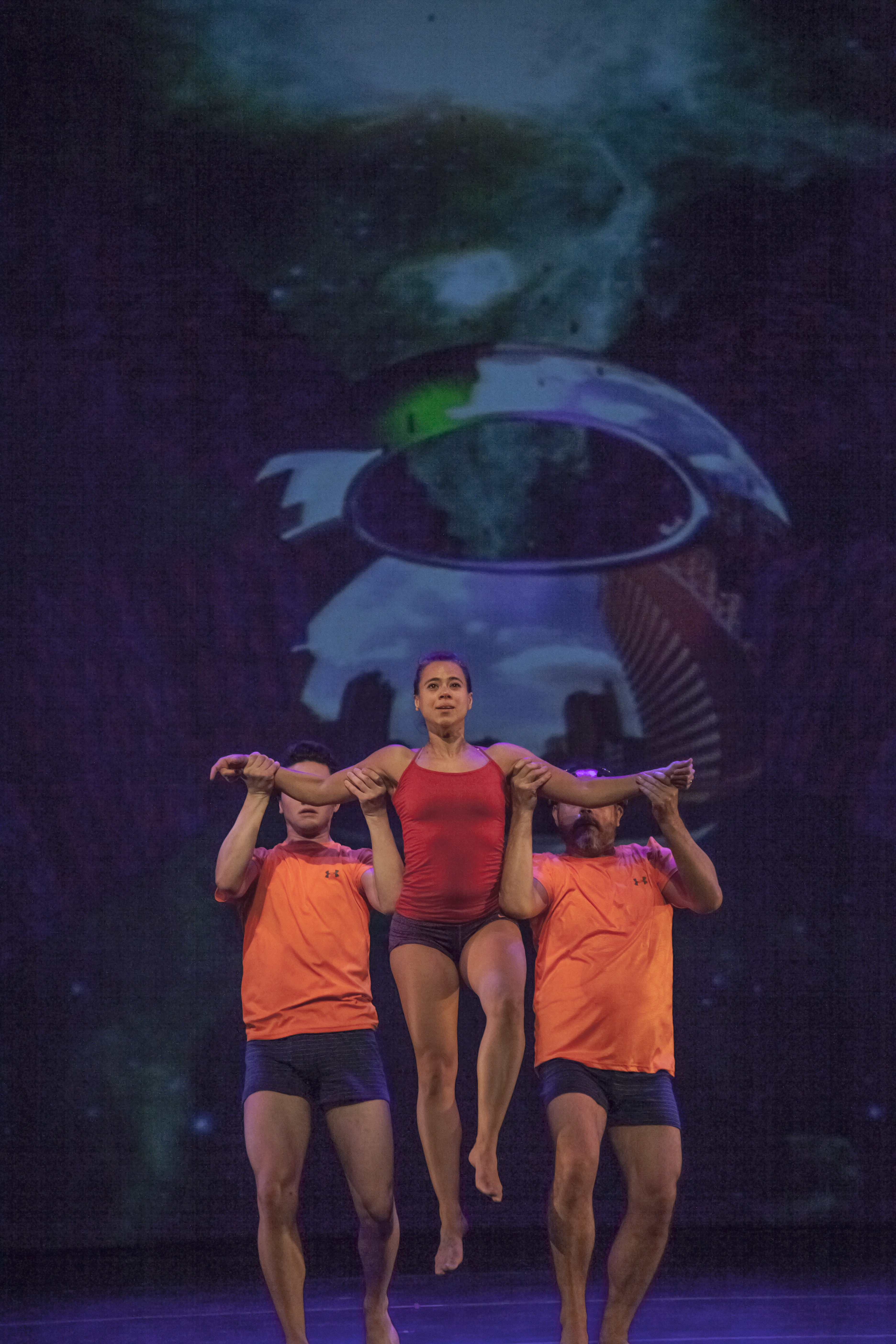 *At the center of the truly dynamic energy of the evening's performance is Withers' choreographic prowess.

*Withers has a gift for seamlessly transitioning the sections of the evening, with the help of the new world for each section transporting the audience into new terrain.

*Dancers compliment each other in performance quality, energy, and ability, sometimes in similar ways and other times juxtaposing one another.
Rick Westerkamp, DC Metro Theatre Arts
*dance performance as a high tech journey

*the 90-minute piece was high-concept and high-tech

* the juxtaposition of motion and stillness was elegant.

* the choreography evoked people ruing the modern urban world.

*music,,contributed an air of mysteriousness. Celia Wren, Washington Post
Forty years ago or so, Maida Withers was dancing in Washington. Shaping movement phrases seemed to be her thing then and it still is. I'd not heard of Withers before moving to town but locally she was already a presence as faculty at GWU's dance department (from 1964), as an inquisitive choreographer, and as a statuesque and staunch performer on stage. In the years since, Withers has kept reminding us that the body is meant to move and not while time away being still. She has become our conscience whenever exercising seems too troublesome to bother with. Moreover, Withers has often traveled far from home, to18 different countries, where her example has prompted people to dance and to collaborate with dancers. Even now, she is unafraid to let herself be seen dancing in public. Withers' brief solo – a scene not even four minutes long – was the crux of the 85 minutes long "MindFluctuations". George Jackson, DanceView Times
Dance Professor Maida Withers: 40 Years 'Out of the Box' Julyssa Lopez
Interview with GW dancers involved with MindFluctuations Julyssa Lopez
Audience Comments on Facebook and email:
NEA: "I'm so happy I was able to experience MindFluctuations last Thursday. What an incredible accomplishment! I especially loved your solo. It was really interesting to see how each dancer embodied your movements. Such a talented cast. Well done, Maida! You will never cease to inspire me."

GW TrDA Faculty:
"Brava! Happy 40th.What tremendous work you've done with this anniversary performance. Loved the last piece and, probably because I'm stodgily theatrical, the piece with the dancer draped in parachute material as dress masking the dancers who "move" her onstage--and then she disappears something like the wicked witch of Oz."

GW TrDa Faculty:
"Congratulations on the world premiere of Mindfluctuations and the celebration of 40 years of artistic collaboration…. The vibrancy of the dancing, the costume colors, lighting and the projected visuals were astounding and I truly enjoyed the movements I saw--brava! Well done!"

GW MA dance alumni:
To see you and your company dance Mindfluctuations was a sensory experience, complex, strong, graceful, and edgy. The dancers were compelling, I recognized your carving of space, the fluidity of small movements of the fingers that ripple through the body and draw the eye. The choreography evoked a powerful vision and imagination, what a body of work you've created in 40 years. It was a homecoming for me.

I was so sorry to miss seeing you. I wanted to reconnect with the person who changed my life and opening it to the power of dance, intimately connecting people to the essence of the human spirit.

GW MA dance alumni. Dance artist, producer:
BRAVO Maida Withers! The blending of visual vibrancy, dancing kinetic brilliancy and audio outer worldliness, was a journey to behold. Every moment filled and treated with extraordinary care and impeccable sensations. I am proud and happy to have known you and experience YOU and your CONSTRUCTIONS since 1971. Thank you for the gift.

GW MA dance alumni; current GW Professor
Congratulations on a striking visual show at Lisner; the energy throughout was palpable. It was a pleasure to see and hear the work.

GW adjunct professor and educator

I attended your concert last night and was THRILLED, delighted, and transfixed! It was brilliant! You managed to relate the brain to the microcosm, the macrocosm, and everything in between and beyond! Phenomenal!

Photographer, actress, writer – GW MA alumni, journalism
"The effect was a startling, conscious, emotive performance with unusual floor work and some allusion to past works ! Thank you,"

Dancer and educator – GW MA anthropology
"Congratulations on a stellar achievement !!! Several of us came together to witness your latest work, which was gorgeous and mesmerizing!! Thank you for a stunning show."

Dance artist and educator:
Bravo!!! A big congratulations, Maida! Everything was just so polished; each elements was artistic and captivating. The most inspiring moment was when you revealed your face for the first time sitting in that chair - I just got chills, and heard an audible gasp from a breathless woman to my right. YOU WERE STUNNING! So much positive energy after the show, and so many people celebrating you tonight. Bravo, Bravo!!!
DC choreographer, teacher, dance artist:
"Maida Withers's premiered "Mind Fluctuations" tonight at Lisner. It was a beauty to behold with stunning performances by the dancers in a world of tilting surfaces amidst balls rolling, primal confrontations and aerial suspensions whilst dancers traded this fascinating brain wave sensing apparatus affecting the shapes that fluttered and morphed as we journeyed through two epic hours. Faces and objects dived and disappeared, a man transported to another life with the help of a kead figure who seemed for a time caught in a dismembering full head mask. A woman ballooned in atop her kin, deserts and valleys covered the air space, and alterations of bright to neon colored and patterned costumes gave way to twists and shifts of energy and focus. All the while an audio machine rotated with increasing speed. It was beautifully done-each moment a photograph or portal into Maida's brilliant mind."

NYC and DC choreographer and dancer
Bravo and congratulations on a beautiful, impressive, filled to the brim concert last night!
I loved your solo - so powerful, intense, mature in the absolute best sense.
A great pleasure to see you perform!
I loved the mix of the company, all gorgeous movers and lovely performers. Mathew and Alicia, luscious movers…So satisfying.
Your collaborators did amazing work, and somehow the density of the projections didn't overwhelm the dancing/choreography, even though there was SO much going on. I learned something from that.
I hope you had a nice bash celebrating 40 years - incredible!!

DC choreographer:
"Thanks Maida for your tour de force this evening. a wonderful gift to the audience!!"

Choreographer and dance specialist:
"It was a terrific show. Thank you so much. I feel your vision was realized. The dancers were amazing and your solo was beautiful. I loved the juxtaposition of the dance and visuals and music. Many beautiful images are in my imagination. Congratulations!!!"

Audience Email Comments
---
Artists and Collaborators
Choreographer, Artistic Director, Dancer

Computer Artist

Composers / Musicians

Sculptor/Mask

Lighting Design

Costumes

Science / Computer Consultants

Communications Director

Dancers

Photographer

Video Documentation

Board of Directors

Intern

Assistant Light Designer