Peter Fraize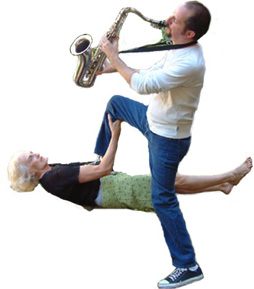 Music, Saxophone
Works:
TILT by mostly men… a spirited contest between persons… the Milleniel Stage and Out of Doors Event: end game (2005)
3-D Dance/Future View (2002)
Many DC International Improvisation Plus Festivals
A distinct voice as both a saxophonist and composer, Peter Fraize is known for his impassioned high-energy playing, intricate and melodic writing, and his "no-boundaries" sensibility. His music draws from deep within the jazz tradition, exploratory free improvisation, modern rock and pop, and music from around the world. Based in Washington, DC, he is also familiar to international audiences through concert appearances in Peru, Japan, and Europe. Most recently he toured in the UK, appearing at the 2016 Love Supreme Festival.
Raised in a musical family in Northern Virginia, Peter took up the saxophone at age nine. He formed his first jazz group at age sixteen, performing in local clubs and at Wolf Trap for the International Children's Festival. He attended the New England Conservatory of Music before transferring to the Royal Conservatory in The Hague, Netherlands, to study with noted Dutch saxophonist Leo van Oostrom, earning his Artist's Diploma in 1989. While in Holland he also studied with the late tenor legend Sal Nistico. He worked with numerous bands including the avant-garde Waterland Ensemble, the Brazilian group Tanga, the freebop quintet Scapes, and his own groups, performing at the North Sea Jazz Festival, the Heineken and Gouda Jazz Festivals, and many other venues throughout Western Europe.
Peter returned to DC in 1989, establishing himself as a bandleader with his jazz/rock group Stickman which enjoyed a large following and was featured on the main stage at Pittsburgh's Mellon Jazz Festival. In 1996 he formed the "chord-less" Peter Fraize Quintet, releasing the live recording "You St." that same year on Union Records, an independent label he co-founded. He followed up with "Third Attention," featuring his trio with whom he hosted weekly jam sessions at area clubs, including the legendary One Step Down. In the summer of 2008, he was invited to Peru to perform a series of concerts with some of that country's finest musicians, documenting the results on "Live In Lima." Over the past decade, he has been performing and recording with his Hammond organ group. His "Organic Matter" received the 2010 Washington Area Music Association award ("Wammie") for Best Jazz Recording. His latest CD is "Facts + Figures" which introduces his New Quintet.
Throughout his career, Peter has been involved with a wide variety of projects. For ten years he toured and recorded with an original rock band, The Emptys. Since 1997 he has been a member of the Greg Hatza ORGANization, with whom he has performed at the Blue Note in Fukuoka, Japan. In 2002 he joined the Larry Brown Quintet, whose "Hard Bop Cafe" won the 2007 Wammie for Best Jazz Recording. He has released three CDs with Italian trombonist Giancarlo Schiaffini, the latest of which is "Post-Deconstruction Redux." Peter has performed and recorded with jazz vocalist Sharón Clark, the Brazilian Jazz group Origem, and DC punk rock legends the Holy Rollers, among many others. He is currently a member of Bold Deceivers, a roots/Americana band in which he plays accordion, melodica, and penny whistle, in addition to saxophone. Peter has frequently collaborated with choreographers, incorporating spoken word, film, electronics and improvised music. He was nominated for a DC Metro Area Dance Award in original sound design in 2001 and 2002. He also served as music curator for the DC International Improv Festival, out of which grew his free improvising trio Pierce, Putter, and Rumble.
Peter is a highly regarded music educator. He has been on the music faculty at the George Washington University since 1994, where he serves as Director of Jazz Studies. He teaches saxophone, jazz harmony, coaches the Advanced Combo and Latin Band, and produces the annual GW Jazz Festival.
Peter lives in Washington, DC with his wife and two sons.