LEGACY: 50 Years Dance on the Edge
Original Performance on September 23, 2022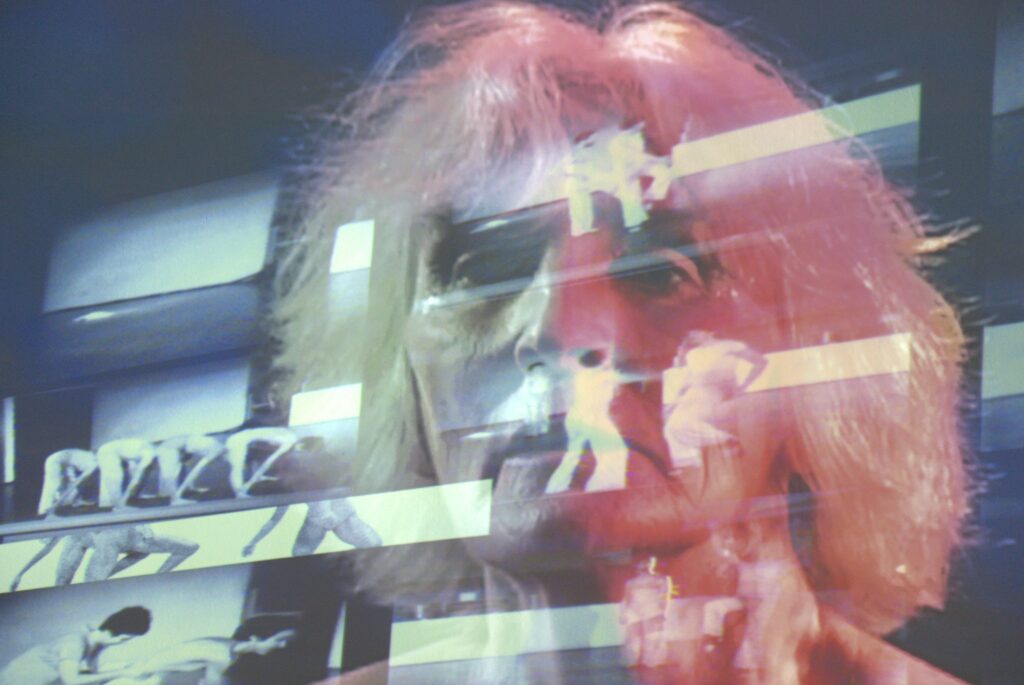 LEGACY: 50 Years   Dance on the Edge   –   On View / Corcoran School of Arts and Design, Corcoran Flagg Building Galleries, 500 17th Street NW, Washington, DC
LEGACY_Exhibition Booklet

HISTORY EXHIBITION – September 23 – October 23
Maida Withers and the Dance Construction Company, 1972 to 2022. Timeline; Video Displays; Video Wall, Evacuations; Artifacts; Music by Steve Hilmy https://vimeo.com/769498522
IMMERSIVE INSTALLATION – September 23 – December 10
New work: Maida Withers collaborates with Robin Bell, guerilla political projection artist in Gallery 1; music designed by Steve Hilmy
https://vimeo.com/769535102
SCHEDULE
OPENING EVENT: September 23 – Performances by Yoko K. Sen, composer/musician; Dance by Anton Ovchinnikov (Ukraine), Jen Stone and Megan Thompson.
Panel – "Dance in DC – 50 years….What happened?" Jessica Denson, Host, DC Expert panelists: Lucy Bowen McCauley,Carol Foster,  Laurel Victoria Gray, Nancy Havlik, Kelly King, "Baba" Assane Konte, Lisa Traiger, Maida Rust Withers

GALA CELEBRATION, Friday, October 7   Exhibition with Performances
John Driscoll, Steve Hilmy, Bob Boilen, composers/musicians; Tania Fraga, Computer Art; Alex Caldiero, Performance Poet;  Anthony Gongora, Tzveta Kassabova, Anton Ovchinnikov (Ukraine) Giselle Ruzany, Sarah Slifer Swift, Jen Stone, Megan Thompson, Maida Withers
Performance Program-Part1
Performance Program-Part11

PANEL DISCUSSION: Saturday, October 8   Artists Public Forum "Experimental Art – the Future" performances (live), discussion

CLOSING EVENT, December 10 @ 1:00 – 5:00 pm
Maida Withers and Robin Bell welcome guest to join them in Gallery #1
Livestream music by Jerry Busher; Artist Talk – Maida Withers and Robin Bell
*All artworks and archives provided by Maida Withers and the Dance Construction Company are reproduced courtesy of the artist and collaborators.
Corcoran Galleries, Flagg Building, Washington, DC -One block from the White House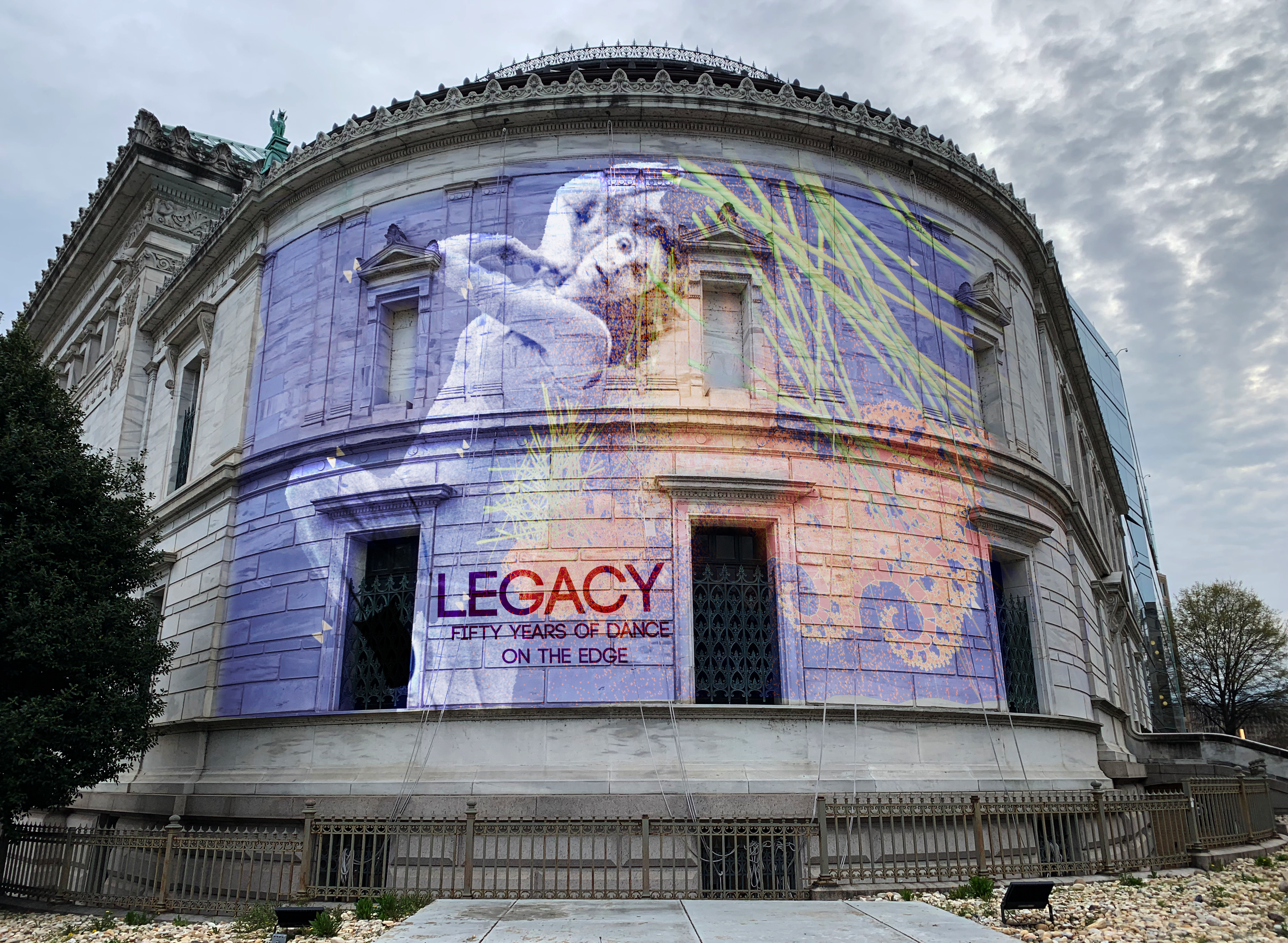 Maida Withers Photo, Dennis Deloria; Virtual World, Tania Fraga; Graphic Design, Jamille Wallick
LEGACY EXHIBITION and PERFORMED INSTALLATION, challenges assumptions of history and culture while envisioning the possibilities of dance in the museum through interactive programming based on the history and  philosophy of an experimental dance company – Maida Withers Dance Construction Company.  LEGACY explores how images from the past, create new contextual meaning when the past becomes the future, a journey into the mind of an experimental dance artist emboldened and fascinated by technology. LEGACY explores and supports the transformation of consciousness through the arts.
LEGACY is a moving exhibition celebrating the life and work of pioneering choreographer/dancer, Maida Withers, and the Dance Construction Company and collaborators (dancers, musicians, computer artists, filmmakers, scientists, others).  Experience the passion and vulnerability of life lived through dance and visionary creations of Maida breaking ground for over 50 years through dance, experimentation, and empowerment through cross disciplinary voices. Corcoran Flagg Building Galleries (Former Corcoran Gallery of Art) is the oldest/largest non-federal museum in Washington, DC with an astonishing history of exhibiting Washington, DC artists.
Gallery #1,  A new immersive installation that highlights combining Maida and the Dance Construction Company's extensive archive and  political activist, Robin Bell's  projection work that explores the intersection of dance, visual art and social action.  Engagement with politics, the environment, and social change drives the collaboration of activist artists, Maida Withers, multimedia art and filmmaker, and Robin Bell. Music is by Steve HIlmy, electronic music composer/musician. The immersive installation runs from September 23 – December 10, 2022.
South Atrium:   large displays of dance and text on monitors, a video gallery wall (Excavations), and a timeline installation, along with select artifacts (emotiv helmet,  Bellow sculpture, bottled water dress, others, tell a fascinating story of  captivating creativity that honors 50 years of innovative dance, dance making and activism, extreme environments, dance and technology, and new media/film. The  history exhibition is scheduled from September 15 – October 22, 2022 in the spacious South Atrium.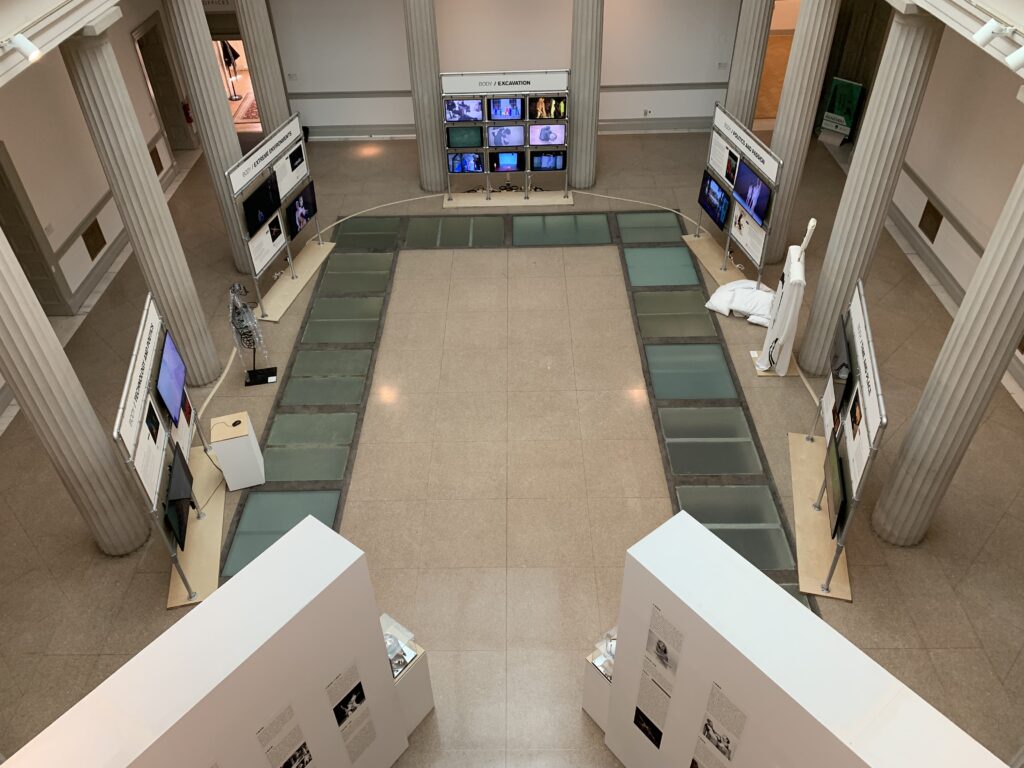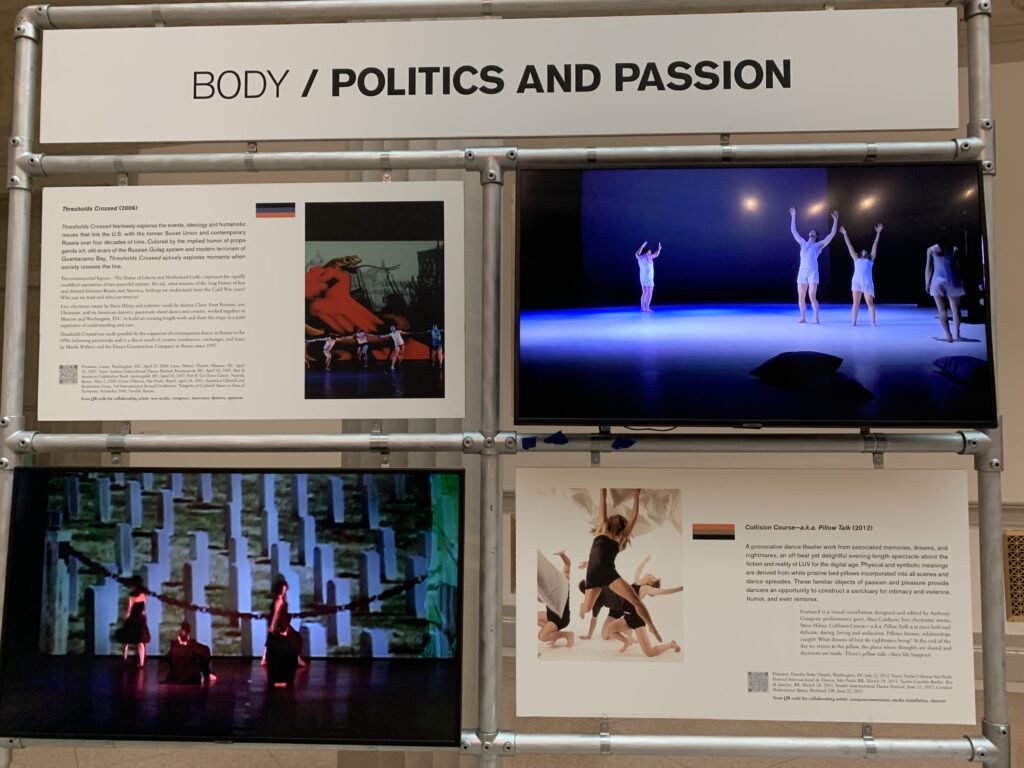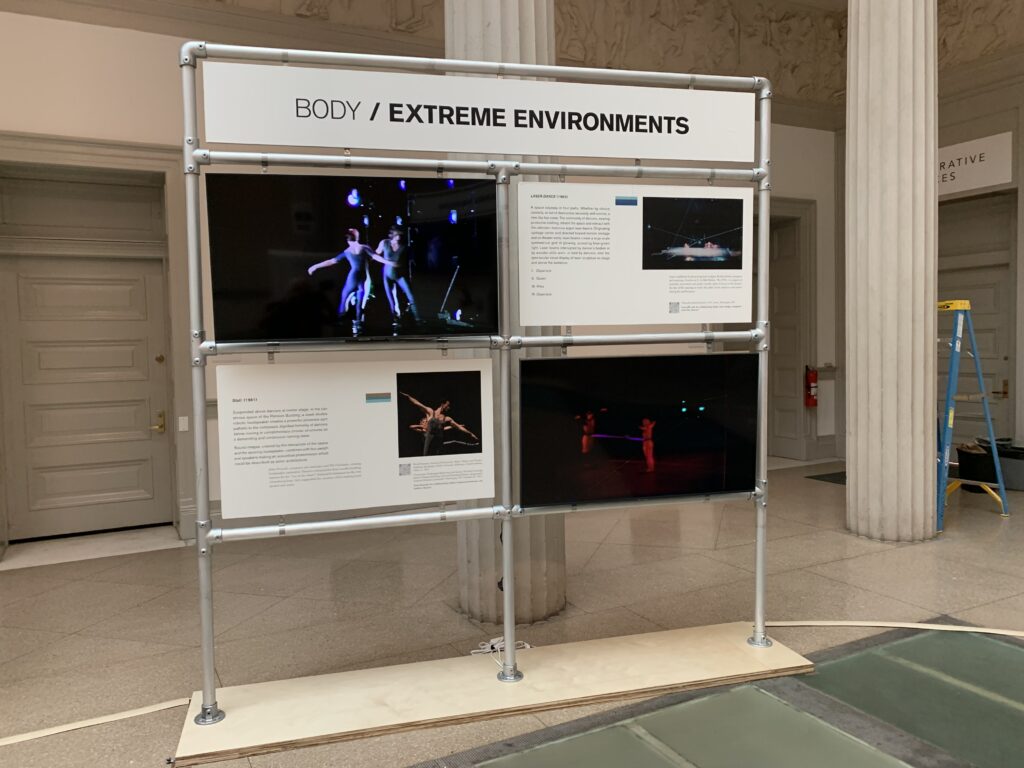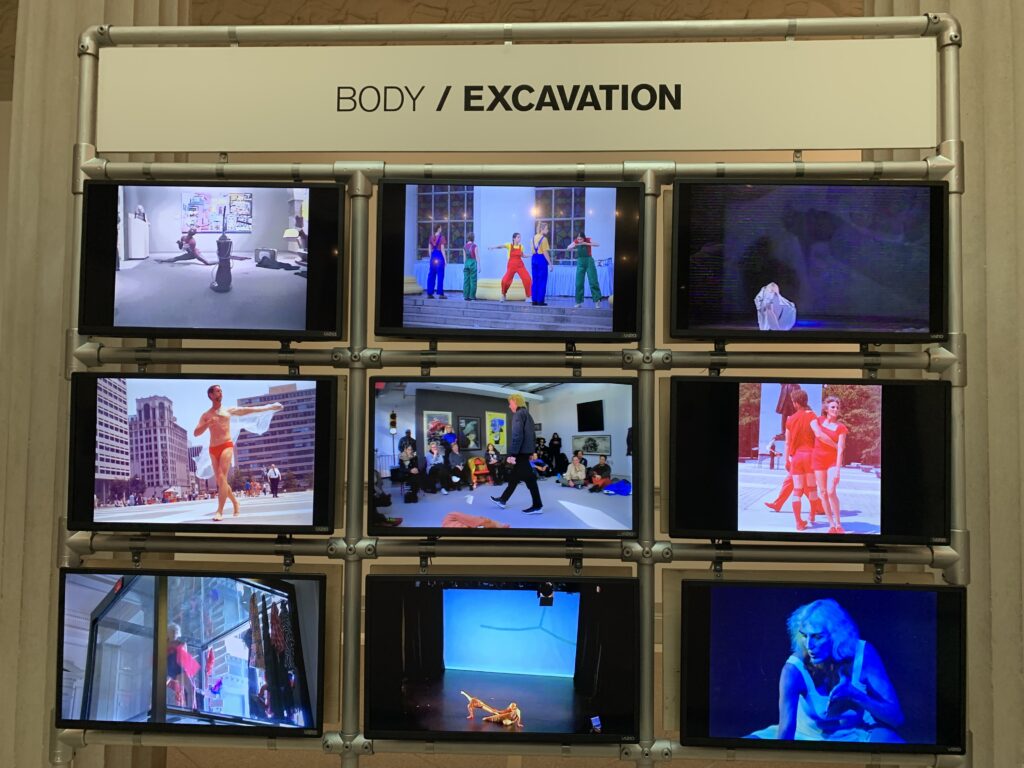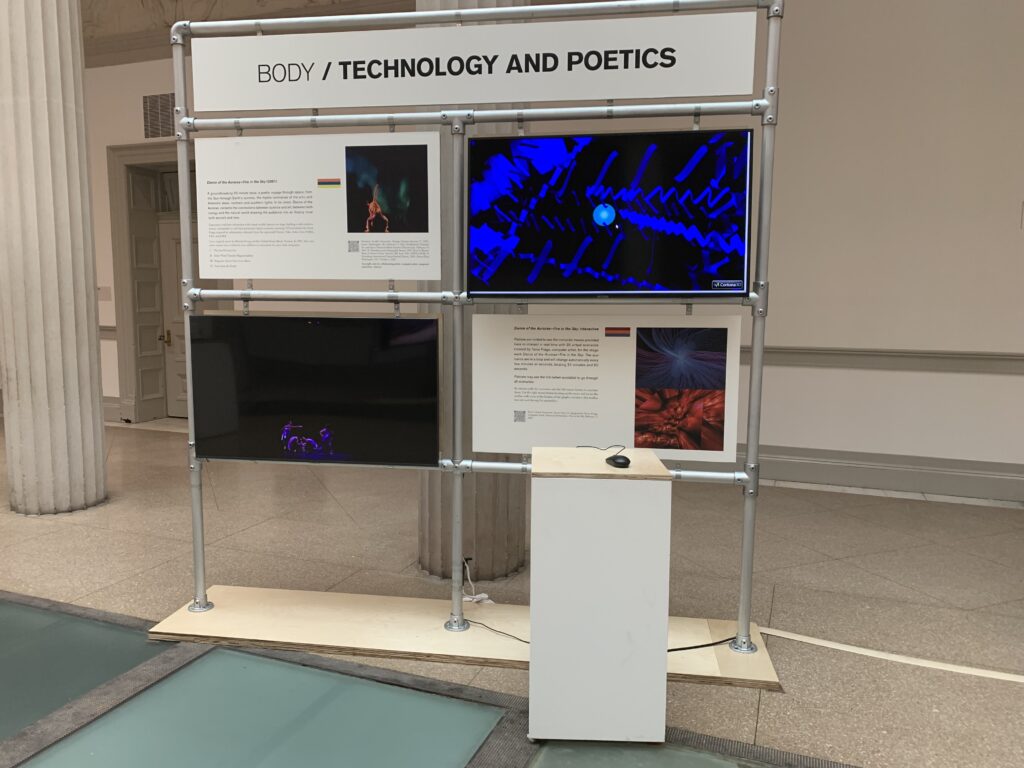 Photos, Company works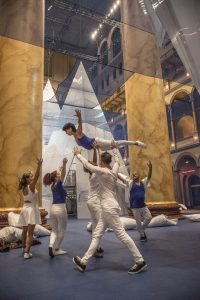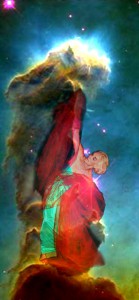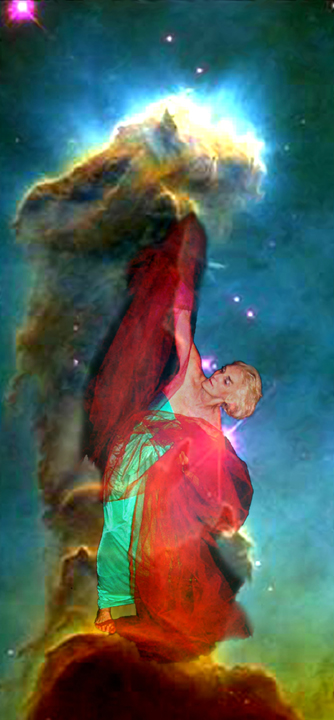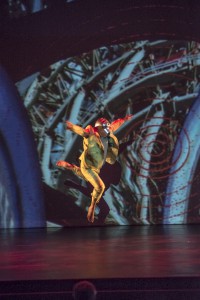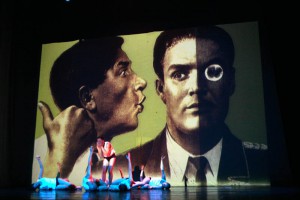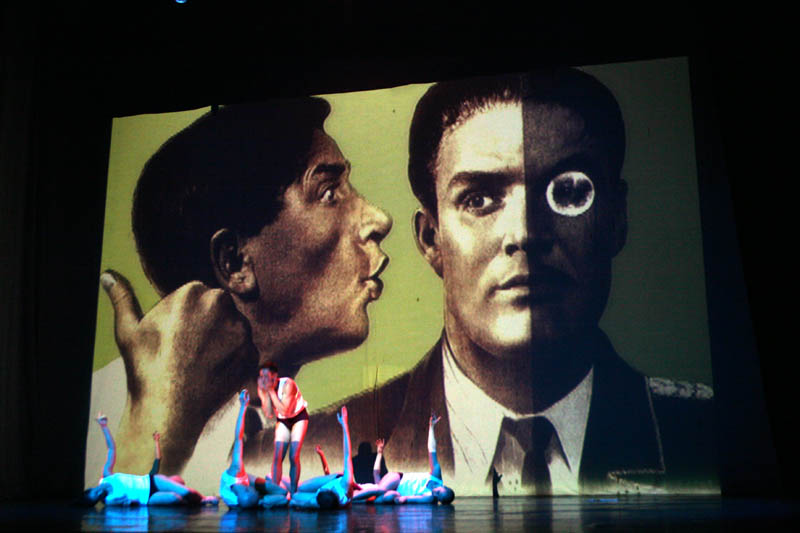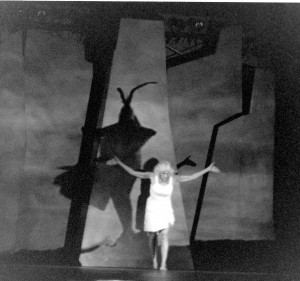 Photos: Denaise Seals; Adam Peiperl, Shaun Schroth, Linda Lewett, Aaron Deemer
The performed installation and history exhibition are made possible by Dance Construction Company comprehensive digital archives, media from stage works, improvisation performances, site-specific events, and dance films. Extraordinary dancers, musicians, computer artist, poet, others, perform live and online for the Opening, September 23, 2022, 5:30 to 8:00 pm and the Celebration Event, October 7, 2022, 6 to 9 pm.  During the Opening, September 23,  a distinguished panel of DC dance experts  assembled by Jessica Denson, discuss "Dance in DC during the past 50 years….What happened? " (Live and on Zoom); October 8, artist's perform and discuss "Experimental Art…What is the future in our world today," 2:00 to 5:30 (live and on Zoom). Other special events to be announced.  Through the exhibition and installation, we  want to inspire, entertain, build a sense of community, and deepen our understanding as the past becomes future.  How does the past and present speak through dance?
The goal for LEGACY is to build support for dance through an experimental exhibition based on multidisciplinary dance works and, further, to build support for dance as a viable art form for inclusion in a dedicated exhibition space within the museum setting. LEGACY sets the stage, breaks new ground, for dance archives as a source for museum and gallery programming.
The significance of the Legacy Project resides in how live art of the past becomes relevant, again, through an innovative work that makes connection between historical materials and current issues, a conversation between the past, present, and future.
Dance Construction Company's archive presents a fascinating perspective of performance through a distinctive collection of films, videos, photographs, and computer animation, images that originated from thought-provoking stage works, improvisation performances, site works, museum and gallery events. These works reveal an ongoing commitment to experimentation and collaboration with various art forms, artists, scientists, others. Interactive technology is a significant part of the legacy that features laser beams, new media, rotating loudspeakers, manipulation of computer art using a neural headset, and video installations.
The expansion and growth of archives is opening new artistic possibilities in the performing arts. New art forms will emerge as archives are filtered through the vision of creative artists. Archives, available to all through technology, will re-position dance within the larger visual culture and advance the commitment to performing arts as part of the exhibition space within museums.
The Legacy Project joins in the celebration of the art and artists of post-modern dance taking place in museums globally while bringing recognition to Washington, DC's contribution through the celebration of 50 years of dance and performance by Maida Withers Dance Construction Company.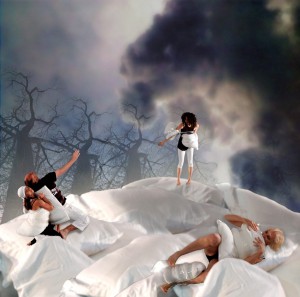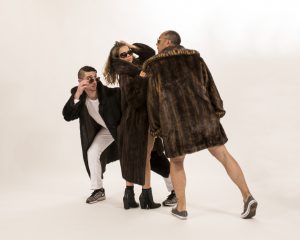 Anthony Gongora, collage; Shaun Schroth, photo;  Anthony Gongora, Giselle Ruzany, Matthew Cumbie, Tzveta Kassabova, Maida Withers, dancers
Artist Partners: dancers, composers/musicians, performance poet, designer
•Maida Withers, artist director, choreographer, performer, principal collaborator (DC)
•Robin Bell (2019-) political projection artist, principal collaborator (DC)
•John Driscoll (1974-) musician/sound artist,  perform live music, included in immersive installation (Colorado)
•Steve Hilmy (1995-)  musician/composer, perform live electronics, music included in immersive installation (Florida)
•Bob Boilen (1985) musician/composer, perform live; perform immersive installation (DC)
•Yoko K. Sen (2019-) composer/singer/musician, perform live (DC)
•Alex Caldiero (1991-) poet, performance artist, live performance (Utah)
•Tania Fraga (1998-) 3D computer artist, performs live MindFluctuations performance with dancers using Emotiv Helmet (Sao Paulo, Brazil)
•Anton Ovchinnikov – producer, choreographer, scholar (Kyiv, Ukraine)
•Anthony Gongora (2003-) dancer, choreographer, principal performer (MN)
•Giselle Ruzany (1995-) dancer, choreographer, principal performer (DC)
•Tzveta Kassabova (2011-) dancer, choreographer, principal performer (DC)
•Sarah Slifer Smith (1996-) dancer, choreographer (Massachusetts)
•Jen Clark Stone (1996-) dancer, choreographer (Virginia)
•Megan Thompson (2005-) dancer, choreographer (Virginia)
•Carl Gudenius (1990-) designer, exhibition design for Legacy (DC)
Others to be announced.
LEGACY: 50 Years  Dance on the Edge has been made possible by generous support from GW Corcoran School of the Arts and Design, Maida Withers Dance Construction Company, and DC Commission for the Arts, and Corcoran Theatre and Dance Program.  Important funding has been provided by 94 "Friends."   Special appreciation is extended to Dance Construction Legacy Friendship Circle: Liz Harter, John and Kathy Driscoll, Vinu Pillai, James Scolapio, Anonymous, and Aimee Fullman,  Leesa Gagos,  Stacy Palatt, Margaret Pastor,  Jamille Wallick, and Mary H. D. Swift and family.
Exhibition Credits:  Music: Steve Hilmy, John Driscoll; LASER DANCE costumes. Liliane Fortna (1985); MindFluctuations, Bellow, David Page (2015);  MindFluctuations, Emotiv Helmet, Tania Fraga (2015); Yesterday's Garlands and Yesterday's Kisses, costume, Beth Burkhardt (1974); FareWell: Rising Tide bottled water dresses, concept/design, Maida Withers and Karen Cerkez (2009);  Pearl, sculpture by David Vincent Magni, on loan from Zenith Gallery. Unless otherwise noted, all artworks & archives provided by Maida Withers Dance Construction Company and are reproduced courtesy of the artist and collaborators. Museum Studies: Avery Barth, Sarah Farver, Margaret Hudak, Matthew Lynch, Sophie Muro. Performing artists: Musician/Composers: John Driscoll, Steve Hilmy, Yoko K. Sen; Tania Fraga; Computer Art; Alissandru (Alex) Caldiero, Performance Poet; Anthony Gongora, Tzveta Kassabova, Anton Ovchinnikov (Ukraine), Giselle Ruzany, Sarah Slifer,  Jen Clark Stone, Megan Thompson, Dancers.--------"""` `
Information About Key Organizational Partners and Individuals
Maida Withers, a powerful performer, known for innovation as a choreographer. As Artistic Director, she created over 100 distinctive projects with extensive international programming. Works reveal her activism in the arts, leadership in interactive technology and evening-length multimedia narratives. Awards: Cultural Envoy, Nairobi, New Delhi; Life-time Achievement Award, Festival in the Desert, Las Vegas; DC Mayor's Award for Distinctive Contribution; Research Channel Film; Pola Nirenska, Great Cultural and Artistic Contributions; NEA Awards – Visual Arts in Performing Arts, Choreographer's Fellowship, Inter Arts; DC Commission on the Arts, others. Performances: Thresholds Crossed, Moscow; Rolling Thunder, UN Earth Summit, Brazil; FareWell, Croatia; Orbit, IMZ Screen Festival, Vienna; Stone Circle, Tokyo; Utah*Spirit Place*Spirit Planet*Tukuhnikivatz, NYC. Local performances: Kennedy Center, Lisner, National Theatre, Dance Place, Corcoran Gallery, Air & Space Museum; others. Maida has created work and perform globally since 1996 when she made her first trip to Russia for the Volgograd national dance conference. She has created work and performed in over 20 countries. Maida is a Professor, Corcoran School of the Arts and Design, Theatre and Dance Program, Washington, DC.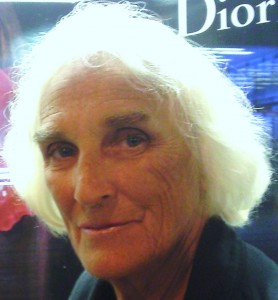 Maida Withers, Choreographer, Dancer, Scholar
Robin Bell, founder of Bell Visuals, an award-winning editor, video journalist, installations and multimedia artist in Washington, DC, who works on creative, political and public interest projects. Robin developed a unique style of live video collage which he has performed at the Kennedy Center, Phillips Collection in DC, Central Park Summer Stage, NYC, and Hollywood Bowl, LA. He was lead video editor for Fareed Zakaria's PBS TV show, Foreign Exchange. Robin's commitment to social change through the dissemination of information via video, sound and image is present throughout his artistic career. In 2005, Robin co-produced Operation Ceasefire, an anti-war concert on the national mall. His feature length documentary, positive Force: More than a Witness: 30 years of Punk Politics in Action, premiered in 2014. His 2017 projection, Emoluments Welcome, on the Trump Hotel in DC garnered media attention from BBC, CNN, New York Times, L.A. Times, Huffington Post and Hyperallergic, others.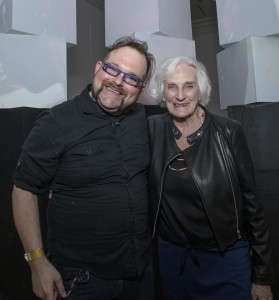 Robin Bell and Maida Withers
John Driscoll is a composer /sound artist who is a founding member of Composers Inside Electronics (CIE) and collaborated on David Tudor's Rainforest IV starting in 1973.He is a member of Composers Inside Electronics since 1973 and collaborated with David Tudor and CIE on 150+ performances of Tudor's Rainforest IV.  He has toured extensively in the U.S. and Europe with: CIE, Phil Edelstein, Douglas Dunn & Dancers, Maida Withers Dance Construction Co., Stephen Petronio Company, and as solo performer. His work has focused on robotic instruments, music for dance, and compositions and sound installations for unique architectural spaces. He has exhibited at the Fridman Gallery (NY), the MoMA (NY), Museum of Modern Art (Warsaw), Museum der Moderne (Salzburg), Lyon Biennale, Subtropics (Miami), and Univ. of Maryland (College Park). He has collaborated with Phil Edelstein on numerous works including their recent sound installation Cluster Fields and also Rainforest V (variations 1-4) which resulted in acquisitions in the collections of: MoMA (NY), Museum der Moderne (Salzburg), Arter Museum (Istanbul) and MAC (Lyon).His current work is sound installations with Cecilia Lopez (multiple robotic rotating loudspeakers).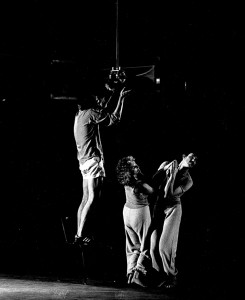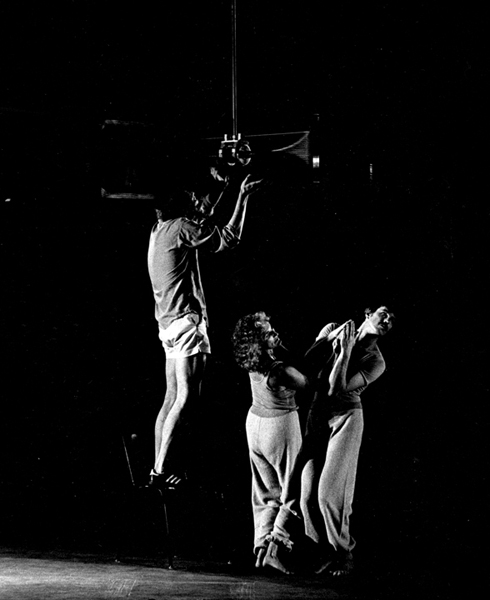 Stall.  John Driscoll, Composer/Musician
Maida Withers, Brook Andrews, Dancers; Rotating Loudspeaker Set
Steve Hilmy, composer, musician, and professor, born in Aberdeen, Scotland. He studied composition with William Albright at the University of Michigan and with Jean Eichelberger Ivey and Chen Yi at the Peabody Conservatory. Hilmy has been on the faculty of The George Washington University Music Department since 1992, where he is Director of the Electronic and Computer Music Studio. He has won awards from such organizations as the Southeastern Composers League, ASCAP, BMI, the Peabody Conservatory, and The Virginia Center for Creative Arts, including First Prize in the Philip Slates Memorial Composition Contest for "Icarus Falling" (piano and electronics, 1989); the Gustav Klemm Prize for Composition from the Peabody Conservatory in 1991; 2nd place prize in the Prix d'été II composition competition at Peabody Conservatory for "Us" (tenor saxophone and electronics, 1999). He has created works, performed and toured internationally with the Dance Construction Company for over 15 years.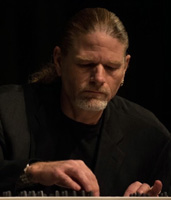 Steve Hilmy, Electronic Composer/Musician
Alex Caldiero makes things that appear as language or pictures or music– and then again, as the shape of your own mind. Born in the ancient town of Licodia Eubea, near Catania, Sicily, he immigrated with his family to the United States at age nine. Raised in Manhattan and Brooklyn, NY. He attended Queens College in Flushing, NY. Apprenticed to the sculptor-poet Michael Lekakis and the poet-bard Ignaziu Buttitta; clandestine student and friend of experimentalist N.H. Pritchard. Caldiero has traveled thru Sicily, Sardinia, Turkey and Greece collecting proverbs, tales, and folk instruments. Author of 5 books; co-founder of Arba Sicula, the society for the preservation of the Sicilian language, traditions. He is co-recipient of a National Endowment for the Arts grant and from Utah Performing Arts Tour; recipient of Best Poetry Award from the Association for Mormon Letters, and the Salt Lake City Mayor's Award for Literature. He is senior artist in residence at Utah Valley University.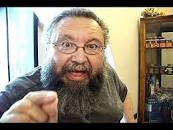 Alex Caldiero, Poet / Sonosphere, Scholar/Philosophy Professor
Anton Ovchinnikov
Anton Ovchinnikov – performer, choreographer, national dance innovator and organizer of the annual international dance festival Zelyonka FEST in Kiev, Ukraine.  Black O!Range dance theater, established by Ovchinnikov in 2008, is recognized as one of the most distinctive and original dance  projects in Ukraine.  This independent dance production company, continues to be the vanguard of the Ukrainian dance scene. In 2016/2017 Ovchinnikov was selected to participate in the CEC Artslink residence in the USA in New Orleans.  The Ukrainian Contemporary Dance Platform managed by Anton Ovchinnikov supports young Ukrainian choreographers, integrates contemporary dance into the modern cultural life of Ukraine, and is a national center of contemporary dance.www.zelyonka-fest.org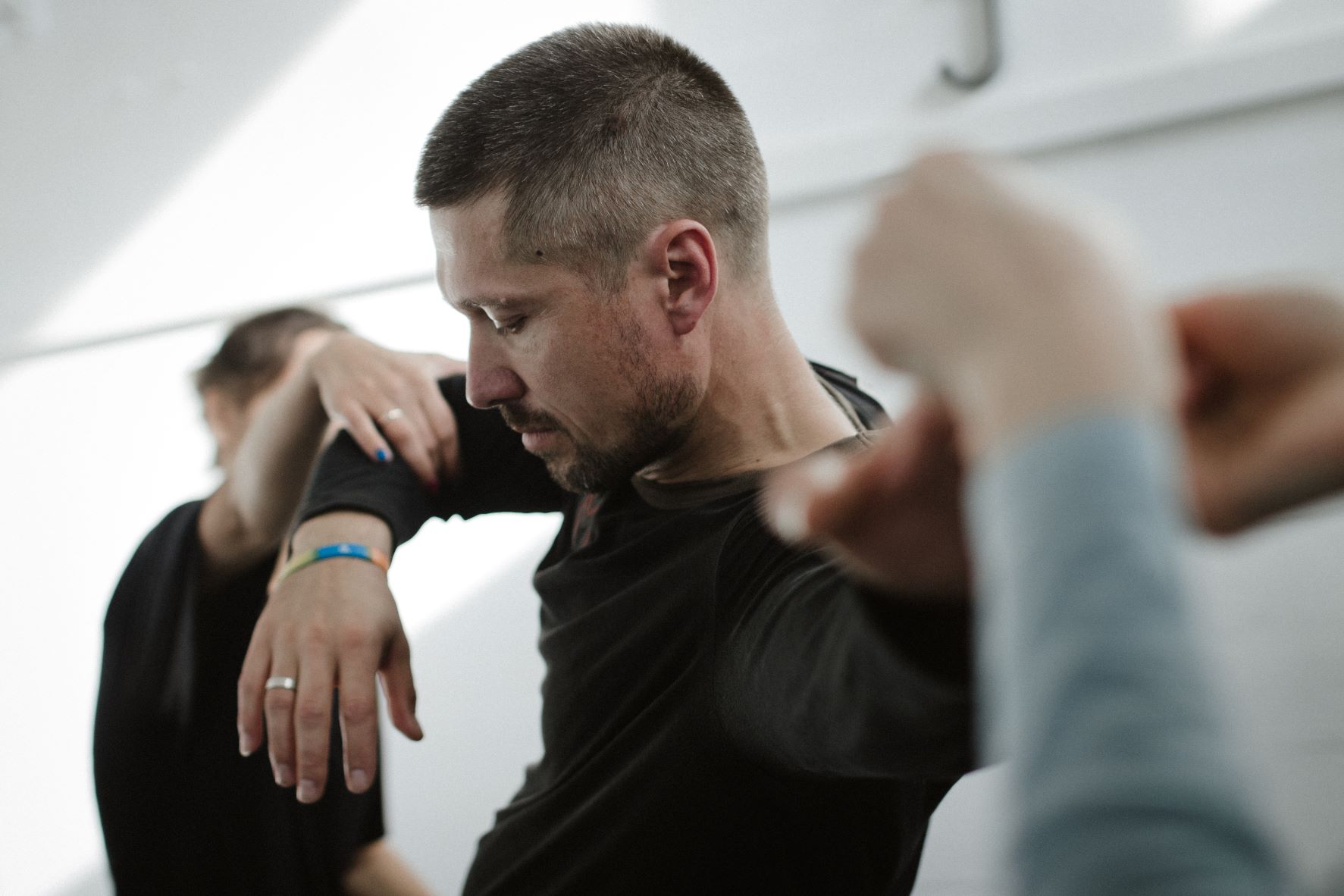 Anton Ovchinnikov, Choreographer/Dancer/Poet/
Bruce Hucko freelance photographer, author, art educator and radio producer whose primary work focuses on art, indigeneity and the environment. Landscape of the American West and its relationship to people figure largely in all of his work. Recognized by the Rockefeller Bros. Fund as one of 30 leading art educators in the USA (1984); received the Rockefeller Fund Award for Excellence in Arts Education. 15 books exclusively feature his photographic work. Media credits include National Park Service slide shows for Arches National Park and Organ Pipe Cactus National Monument. His book, Where There Is No Name for Art: The Art of Tewa Pueblo Children (School of American Research Press, 1997) received a 1998 Southwest Book Award and 1997 Carey McWilliams Award given by Multicultural Review Magazine as "the best book of the year on the U.S. experience of cultural diversity. Hucko's photographs are featured in MWDCCo's Utah*Spirit Place*Spirit Planet*Tukuhnikivatz at Lincoln Center (1996).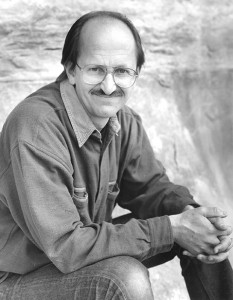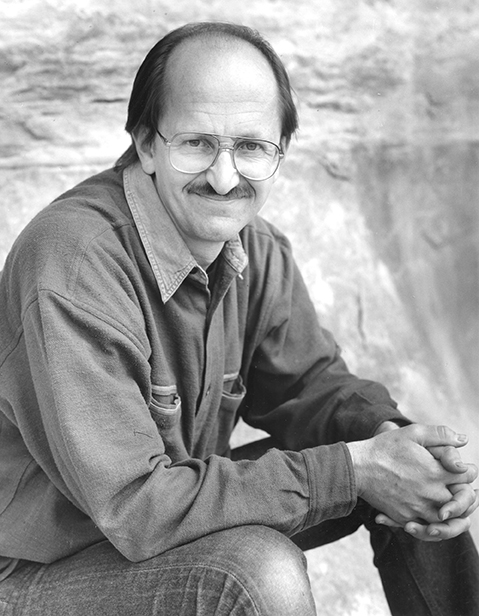 Bruce Hucko, Photographer, Author, Educator
Tania Fraga Brazilian computer artist, architect, scholar; Ph.D. in Communication and Semiotics, Catholic University, Sao Paulo; Vice-president, Sao Paulo Institute of Mathematics and Art. Until 2003 Tania was Professor and Coordinator of the Graduate Studies of the Art Institute, University of Brasilia. Visiting Scholar at the Computer Science Department, George Washington University, Washington DC, in 1991/1992, 2010, and 2011. She was Artist-in-Residence, 1986, at Bemis Foundation, USA, Fulbright Commission grant. Her works have been exhibited extensively in Brazil. Research is related to virtual reality and the creation of artworks looking for the integration of affection among humans and virtual and physical objects through computer technology; integration of computer based artworks with neural technologies. Her computer art is featured in Company dance works: MindFluctuations, Hekuras: Spirits of the Rainforest, Dance of Auroras– Fire in the Sky.
http://taniafraga.art.br; http://taniafraga.wordpress.com/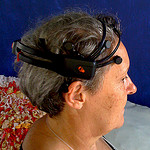 Tania Fraga, Computer Artist, Scholar
Bob Boilen has also been an electronic musician for 40 years. His sound installation at the Smithsonian Museum of American History was one of the first to use digital sampling technology. He composed opening music for the Sackler Museum, performed live film scores at the Hirshhorn Museum, composed music for the Maida Withers Rockne Krebs collaboration Laser Dance and is a founding member of Washington D.C.'s groundbreaking band Tiny Desk Unit. Bob currently performs, produces, and creates music with the band Danger Painters and as a solo artist creating ambient works. Bob Boilen is also the creator of NPR Music's Tiny Desk Concert series, which hosts well-known and emerging artists for intimate performances filmed at his desk at NPR. He is also the creator/host of NPR Music's All Songs Considered, one of NPR's first original online shows and one of its' very first podcasts. He also directed NPR's All Things Considered for 18 years.  Bob Boilen is also the author of "Your Song Changed My Life." The book asked musicians Jimmy Page, David Byrne, St. Vincent, Carrie Brownstein, Philip Glass, and 30 others to talk about the song that altered their life.

Bob Boilen, Composer/Musician, Author
(May not attend) Audrey Chen is a 2nd generation Chinese/Taiwanese-American musician who was born into a family of material scientists, doctors and engineers, outside of Chicago in 1976. Parting ways with the family convention, she turned to the cello at age 8 and voice at 11. After years of classical and conservatory training in both instruments, with a resulting specialization in early and new music, she parted ways again in 2003 to begin new negotiations with sound in order to discover a more individually honest aesthetic. Since then, using the cello, voice and occasional analog electronics, Chen's work delves deeply into her own version of narrative and non-linear storytelling. A large component of her music is improvised, is completely un-processed and her approach to this is extremely personal and visceral. Her playing explores the combination and layering of an analog synthesizer, preparations and traditional and extended techniques in both the voice and cello. She works to join these elements into a singular ecstatic personal language.
Audrey Chen, Cellist, Extreme Vocalist
Linda Lewett 20+ years of experience producing arts and entertainment, documentary, and promotional programs. After graduating with honors from American University in Film & Video, Linda honed her skills as a staff producer for Fairfax County from 1985-1990. On the weekends, she produced and directed Metro Dance/Arts, a series of 4-camera switched dance concerts, winning numerous national awards for local programming. She has conducted scores of interviews in the USA and abroad, and accompanied MWDDC on tour to Russia in 2005 and 2006, and to Mexico in 2009.  In 1990, she formed ARTtv, LLc in Washington, DC to provide media services to cultural institutions and artists, and relocated to New York from 2002-12. She served on the boards of Dance Films Association and Washington Project for the Arts, and has won industry awards including a Silver Medal in the NY Festival for Legacy of Generations: Pottery by American Indian Women, produced in HD for WETA-TV in 1999. From 1999-2002, she was the producer/director of the Martha Graham Legacy Project for the Library of Congress; and received a PEW Charitable Trusts Dance Media Fellowship, and production grant from National Institute to Preserve America's Dance.  Her interest in science, philosophy, and the arts coalesced into the Minds Project, an interlocking series of short films that was awarded a 2007 NEA Arts on Radio & Television grant. Linda has been a powerful partner with Maida and the Company for over twenty years, traveling abroad as part of the artistic team in Russia and Mexico, and producing more than eight dance videos featuring the company.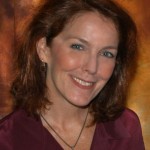 Linda Lewett, New Media, Filmmaker
Giselle Ruzany  born in New York City and grew up in Rio de Janeiro, from the age 3 to 23, before returning to the US.  She has been immersed in art and culture from a young age while visiting family in Europe.  Art and Dance has been part of her life receiving performance and choreographic awards at an early age of 12 as well as terra-cotta sculpture prizes by age 18.  She has been dancing professionally since 1987 and teaching dance from an authentic model since 1990.  In her journey, she is grateful to have found Maida Withers which has been a force and guide in Giselle's artistic life since 1995; with Maida Wither's Dance Construction Company, Giselle has performed in Paris, New York, Seattle and all over DC.  Giselle is presently a professor at GWU.  She is a licensed professional counselor with a private practice in Woodley Park where she works from an embodied foundation, treating trauma, depression, anxiety and other psychological and somatic symptoms, for more information you can check www.gestaltdance.com. Giselle is a GWU alumni, a MA graduate from Naropa University, with a post graduate degree in Gestalt Therapy and a certificate in EMDR.  More recently she has graduated from Lesley University with a PhD in expressive arts therapy. You can see some of her work at www.gestaltdance.com/en. She is a published writer, and choreographer where she combines her two passions of psychology and dance.  She has two sons and a supporting husband that allows dance to keep evolving in her life.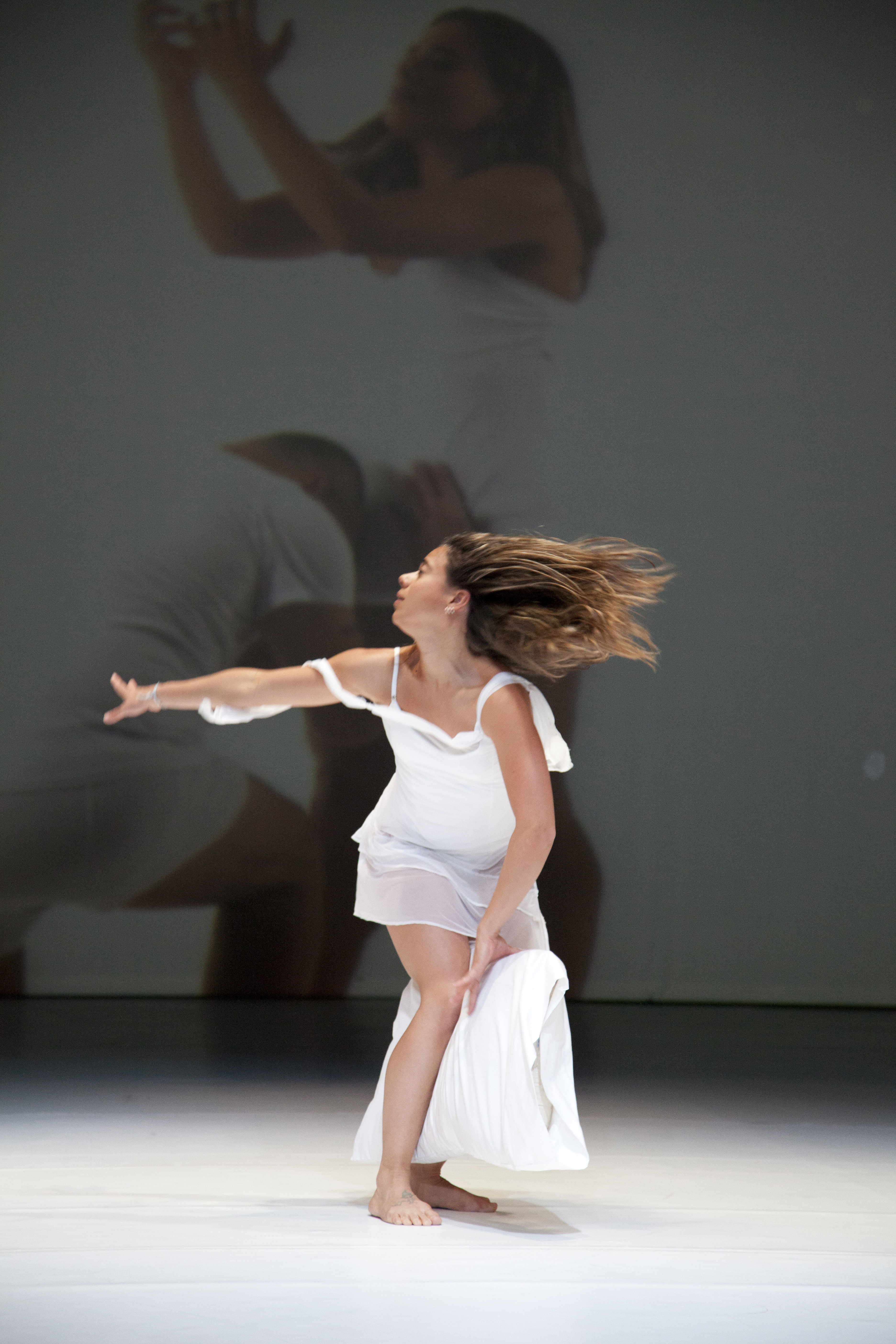 Giselle Ruzany, Choreographer, Dancer, Scholar
Anthony Gongora is an interdisciplinary artist who is compelled by driving curiosity and imagination to create. His ongoing quest to fully explore and understand life has been expressed through his fingertips on computer keyboards, canvasses and clay, and also through the soles of his feet dancing on stages that traverse the globe. Gongora is a choreographer, performer, visual artist and educator, currently teaching at The University of the District of Columbia as an Associate Professor of Interdisciplinary Art in the school of Mass Media Visual & Performing Arts and also at the George Washington University Department of Theatre and Dance. He has received several awards for his choreography, which has been performed in venues such as Joyce SoHo, NYC; Dance Center of Columbia College, Chicago; St. Mark's Church, DanspaceProject, NYC and The Museum of Contemporary Art, Chicago. Performance experience includes dancing with the companies of Troika Ranch (NYC), Mordine & Company Dance Theatre (Chicago), Maida Withers Dance Construction Company (DC), Jan Erkert & Dancers (Urbana) and Bob Eisen Dance (Chicago).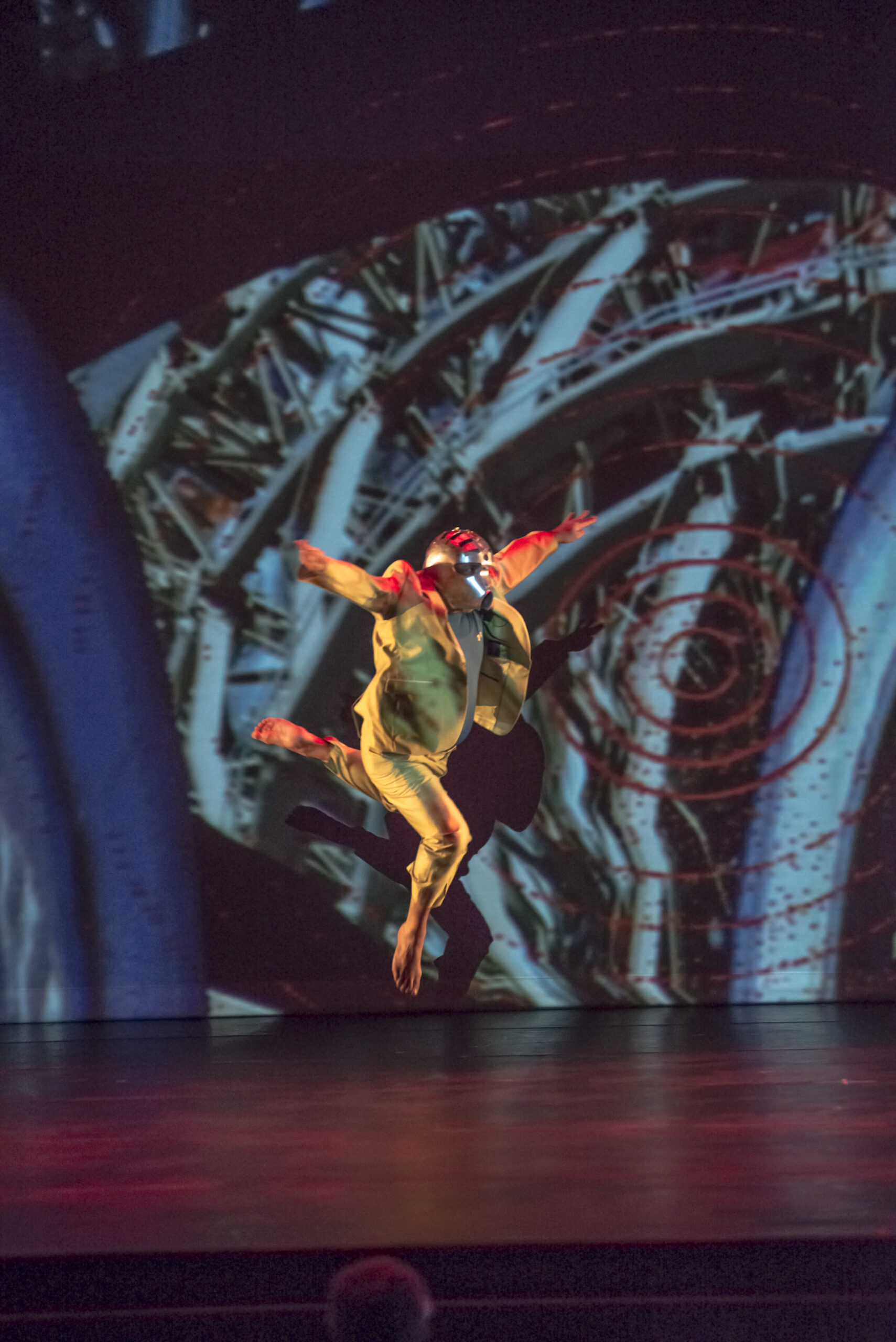 Anthony Gongora, Choreographer, Dancer, Sculptor, New Media

Jen Stone – living in Bluemont, Virginia, is a dance artist, a mom, a yoga teacher, a farmer and now a Lead Elementary Montessori Guide. Life is good! She has danced and created with many dance artists all over the world: Jen Stone and Megan Thompson Dance Project, Maida Withers, Daniel Burkholder: The Playground, The Zen Monkey Project, This Body This Earth, David Dorfman, Cyrus Khambatta, Amy Pivar, Joy Kellman, and the east coast contact improvisation community. She attended The North Carolina School of the Arts for two years of high school and two years of college. After returning from NYC, she received her BFA in dance from the Virginia Commonwealth University in 1995 and her MFA in dance from George Washington University in 2012. Jen has been lucky to have the support of her parents to follow her heart wherever that took her, and family and friends who have always showed up to enjoy the ride.  Jen performed with Maida Withers Dance Construction Company:  Utah * Spirit Place * Spirit Planet * Tukuhnikivatz, Lincoln Center Great Dance in the Bandshell (1996), and on tour in Las Vegas; TsEKh Moscow residency to create Thresholds Crossed (2005); premiere, Lisner Auditorium, Washington, DC and toured toMoscow and Krasnoyarsk, Russia (2006).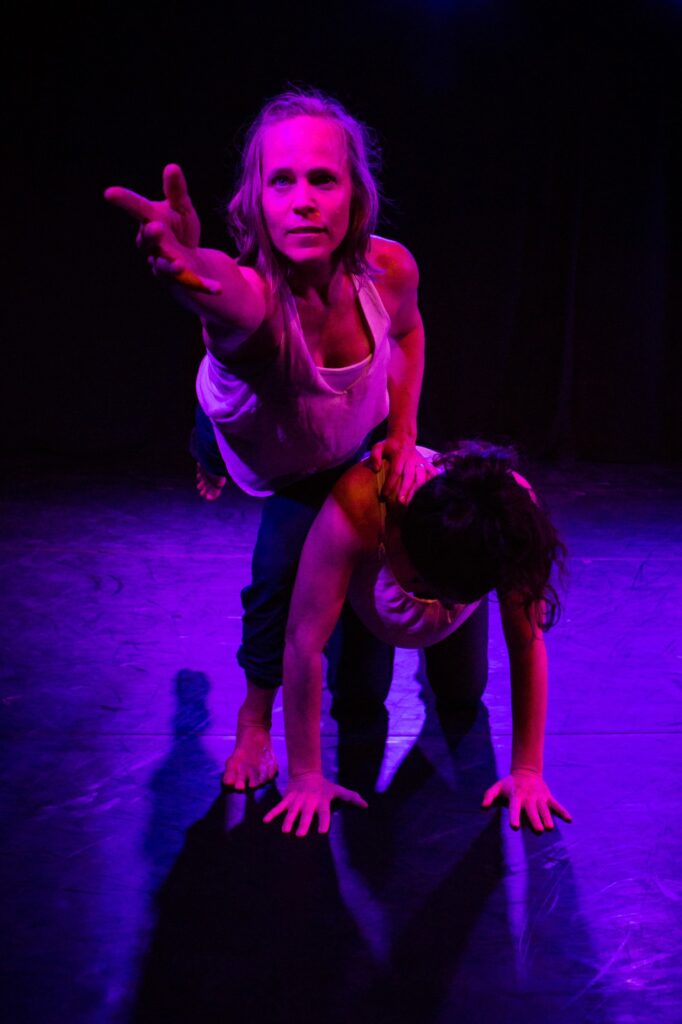 Jen Stone, Choreographer, Dancer, Educator
Megan Thompson – dance artist, co-founder of the Jen Stone and Megan Thompson Dance Project and director of the Dance Program at Old Dominion University. She completed her BS in Dance at the University of Wisconsin, her MFA in Dance at the University of Maryland and holds certifications in Pilates, Yoga and Extreme Moves. Megan's choreography has been curated and presented nationally and internationally at festivals such as the DUMBO Dance Festival (NYC), Mid-Atlantic Choreographers' Showcase (Richmond, VA), The Edinburgh Festival Fringe (Scotland), The Isadora Festival (Russia), PANPAPANPAYLYA (Australia) and Performática (Mexico). In her research, Megan explores interdisciplinary and innovative methods of art-making with a focus on performance and interactive technology for unconventional formats and environments. Recent immersive installations and site-specific works have been presented in Norfolk, VA at The NEON Festival, The Chrysler Museum of Art and The Hermitage Museum and Gardens and internationally at The Ocean Dance Festival in Bangladesh.  Megan and Maida first met at the Isadora Festival in Krasnoyarsk, Siberia, Russia where she performed in LENIN, Withers site work in the Lenin Museum and continued in performance with MWDCCo in the TsEKh Moscow residency to create Thresholds Crossed (2005); premiere, Lisner Auditorium, Washington, DC and toured to Moscow and Krasnoyarsk, Russia(2006).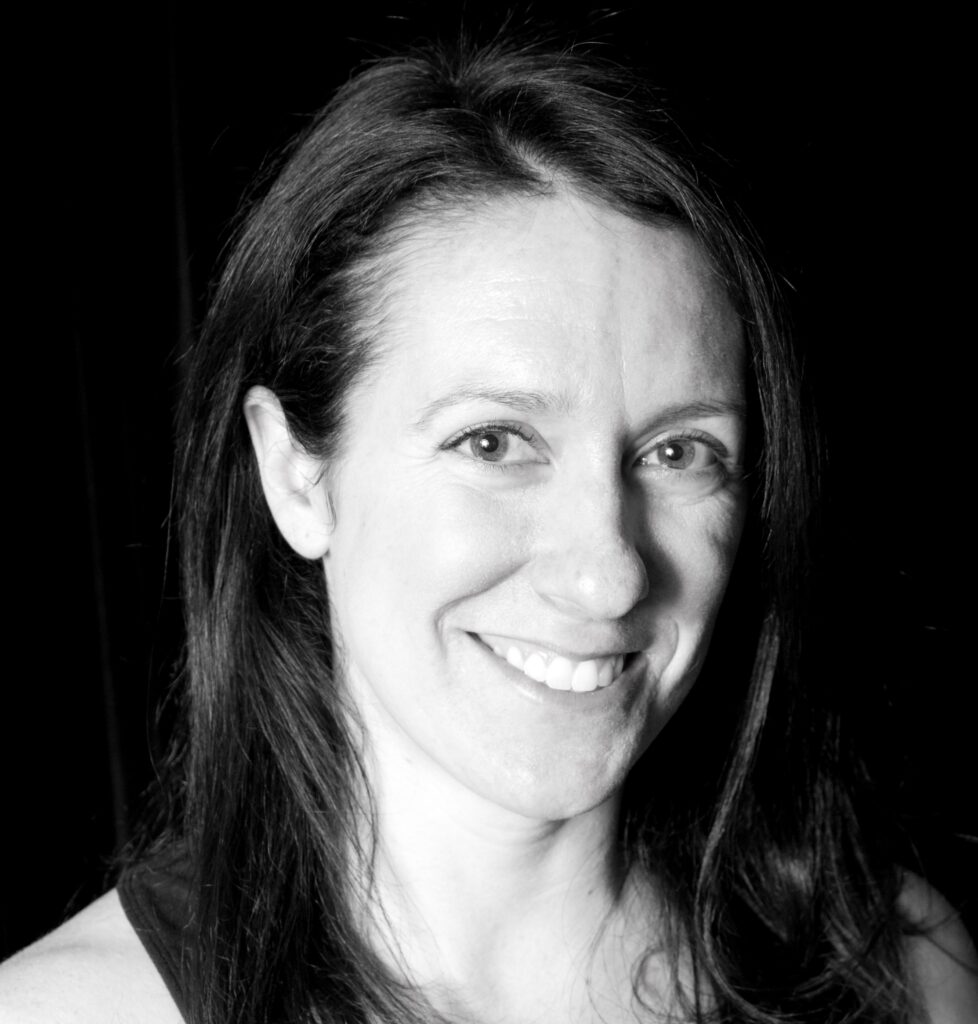 Megan Thompson, Choreographer, Dancer, Educator
Tzveta Kassabova Tzveta Kassabova is a Bulgarian-born choreographer, costume designer and installation artist, named one of the '25 to watch' in 2012 by Dance Magazine. At different times she has been a gymnast, physicist, and meteorologist. 
As a dancer, Tzveta has been part of Ed Tyler, Sara Pearson/Patrik Widrig and David Dorfman Dance companies, and has performed in works of Mark Haim, Nancy Bannon, Maurice Fraga, Zoltan Nagy, Joshua Bisset, Netta Yerushalmy, Bill Young and Colleen Thomas, among others. Her work as a choreographer has been presented at St. Mark's Church (NYC), CSPAC(MD), Dance Place (DC), Kennedy Center( DC), Ririe-Woodbury Dance Company (UT), Test!0 (Croatia), NBU (Bulgaria), Judson Church (NYC), Mahaney Center for the Arts (VT), Reston Art Center (VI), Bennington College (VT), Dixon Place (NYC), Mulberry Street Theater (NYC), University of Michigan (MI), Andy (MI) among others. One of her signature works, Opposite of Killing, commissioned by Ririe-Woodbury Dance Company has been selected to be performed at a four-week tour to South Korea and Mongolia in May 2018 as part of DanceMotion USA (a dynamic cultural diplomacy program for international exchange initiative of the US Department of State's Bureau of Education and Cultural Affairs, administered by The Brooklyn Academy of Music (BAM)).

Tzveta Kassabova, Choreographer, Dancer, Scholar
Carl Gudenius, production designer has been designing scenery and lighting for dance, theatre, and special events since 1976 and working as an art director and production designer for television since 1989. Designs include Spirit of America, WWII: Tribute to a Generation, 50th Anniversary of the Korean War and the Army Band Holiday Concerts for the US Army; POTUS Diplomatic Podium and graphic design for The White House. Theatrical, scenic and lighting designs have been seen at Washington Theatres: Olney Theatre, Interact, Folger Shakespeare, Metro Stage and the Washington Stage Guild (Resident Designer). Television credits include work for ABC (including Nightline and Good Morning America), ESPN, CNN, PBS (including In Performance at the White House) and C-SPAN. His corporate design work includes hundreds of shows and events for such clients as Terminix, Schlumberger, Accenture, Pfizer, Sony, HP, MasterCard, Choice Hotels and Barnes & Noble. He has designed for and toured with DTSBDC.
Carl Gudenius, Set Design, Exhibition Design, Scholar, Professor
Jamille Wallick, 
https://washingtoncitypaper.com/article/573636/divino-nino-celebrating-dance-and-tech-and-more-best-bets-for-sept-29-oct-6/ Sarah Smith
Legacy: Fifty Years of Dance on the Edge
Friday will mark the opening of Legacy: Fifty Years of Dance on the Edge, a dynamic exhibition honoring Corcoran dance professor Withers' spectacular body of choreographic work through technology, like projected video archives.

The daunting task of distilling a five-decade career of contributions to the dance world, with Corcoran included, into one exhibit was no small feat for Withers and her collaborators. The result is a cohesive production that displays her longtime love for dance and her leadership of the Maida Withers Dance Construction Company, a D.C.-based group that performs original choreography in the U.S. and around the world.


PHOTO COURTESY OF SHAUN SCHROTH

Withers has taught classes in topics like choreography, improvisation and performance art theory and practice at GW since 1965. She said she worked to expand the program so that it might include space for more dancers who didn't fit the classic body types and dance styles expected in the classical ballet world to pursue undergraduate and master's degrees in dance.

"When I came to the program, I brought the philosophy that dance should be for anyone who wants to do it," Withers said.

Fifty years later, she has accumulated an archive of work that encompasses more than 100 pieces of original choreography memorialized in picture or video and aggregated in an online archive. Now in Legacy, she has selected seven pieces to be displayed in their full length on seven large monitors erected in the atrium of the gallery. In a room adjacent to the atrium, countless more choreographic works have been condensed into short, 10-second segments that will be projected in a mosaic of alternating videos spanning the entirety of the walls and ceiling, fully immersing the viewer.


To execute the projections, Withers said she collaborated with local projectionist Robin Bell who is known for projecting political statements onto influential buildings in the District, like the display of "Pay Trump bribes here" upon the Trump International Hotel during the four years of Donald Trump's presidency. She said they worked together in complementary styles and share a proclivity for experimenting with light and lasers and incorporating pointed messages about censorship, intersectionality and the environment.

Withers said she is excited to see the gallery include an exhibition of dance because she doesn't see dance featured in many museums.

"It's rather symbolic for me, being able to have the University recognize that as a professor in the arts, there's a lot of different places for a dance career at GW," Withers said.

The opening event Friday will include a panel discussion titled "Dance in DC – 50 years….What happened?" in which a variety of D.C. dance experts will speak about their own experiences in the last 50 years of the dance world. A celebration on Oct. 7 at the gallery will include live performances by a number of musicians and dancers who have collaborated with Withers in the past.

Open Wednesday through Saturday from 1 to 5 p.m. History exhibition – open from Sept. 23 to Oct. 23. Projection installation – open from Sept. 23 to Dec. 10. Erika Filter, 9_19_2022
Maida Withers has championed postmodern dance for decades. Withers is a pioneer of postmodern dance who has created more than 150 dances and toured internationally. Her work embraces new media and technology such as computer-generated images and laser beams. In "Legacy," moving and still images of dances from her repertoire combine to create new meaning, joining past and present.

There will be a celebration with performances on Oct. 7 and the following day, Oct. 8, there will be additional performances at an artist talk devoted to the theme of experimentation. The events are free and open to the public as well as the GW community. Even the name of her dance company—Maida Withers Dance Construction Company—offers a clue to the way this choreographer values building things communally. The dancers, choreographers (and one arts journalist) on the panel lauded the central role played by Withers in Washington's dance community.
Greg Varner 10_5_2022
Best Of D.C. 2022 RESULTS!!
POSTED INARTS
Divino Niño, Celebrating Dance and Tech, and More Best Bets for Sept. 29–Oct. 6
Stay dry this weekend with art exhibits, immersive displays of dance on the edge, AMARU at Pie Shop, and more










by SIDNEY THOMAS, DORA SEGALL, SARAH SMITH, LOUIS JACOBSON and SIMONE GOLDSTONE
SEPTEMBER 29TH, 2022

Divino Niño
Divino Niño plays at Comet Ping Pong on Oct. 1; Credit: Matt Allen
If you love City Paper, get it every day in our newsletter.
Enter your email

Sign up now
Thursday: AMARU at Pie Shop
Uber talented vocalist and songwriter AMARU will perform at Pie Shop tonight. The event, titled The Warm Up, is a pop-up concert and open mic series featuring the local songwriter and friends. Born and raised in D.C., AMARU attended the SEED Public Charter High School, where he performed in musical theater shows and flexed his poetry writing skills. After graduation he moved to Atlanta, where he earned a degree in music performance from Morehouse College, but his poetry evolved into song: According to 202 Creates, he self-released his debut album, Childish Things, in 2018. Now back in D.C.—when he isn't traveling the world as a teaching artist—AMARU continues to write, compose, and produce his own music that explores and expands on numerous genres from jazz to musical theater. His success is the result of skills and hard work—not gimmicks. Released this spring, his latest single, "Let You Go," is a soul-stirring breakup anthem and his much-anticipated upcoming project, #WFR4 (What Friends Are For), is currently in the works. Also performing will be AMARU's equally gifted "friends." Chris Allen, a dynamic lyricist, was a member of Mayor Muriel Bowser's 202 Creates Residency Program along with AMARU. KWAY is a charismatic rapper who recently dropped a new single, "Up and Away." And RVOL (aka Reggie Volume), a sensational DJ and producer, will provide the soundscape. In addition to the great music, The Warm Up will also have vendors, raffle prizes, and special guest performances. AMARU and Friends play at 8 p.m. on Sept. 29 at Pie Shop, 1339 H St. NE. pieshopdc.com. $15–$40. —Sidney Thomas



Courtesy of Pie Shop
Saturday: Divino Niño at Comet Ping Pong
Divino Niño frontman Camilo Medina performs with his entire body, thrashing into the microphone as he spits reggaeton-infused strings of indie melodies. And on Oct. 1, Washingtonians can see the bleached, mulleted, Chicago-based Colombian indie rocker and his delightfully over-the-top band in action—the group will co-headline a show at Comet Ping Pong with fellow Latin indie rockers Little Jesus. Divino Niño's set will heavily feature tracks from their most recent album, Last Spa on Earth, released on Sept. 23. The LP ranges from soft and mournful to silly and explosive, often within individual tracks. The majority of lyrics are in Spanish, an homage to the group's Latin roots. Unlike Divino Niño's previous projects, Last Spa on Earth is more conducive to dancing, an intentional shift. "When you're in front of big audiences, you see what works and what hits people rhythmically," drummer Pierce Codina told Chromatic PR. "We started pushing the tempo live, having more energy, and getting into a more dancey arena . . . We became a little bit bored with playing mid-tempo indie songs." The new ethos is sure to translate into Divino Niño's Comet debut. "It is undeniable that [D.C.] has an energy about it that is lively and intense," the band tells City Paper. "When we hop onstage at Comet Ping Pong, we'll be fixing to match that spirit and amplify it." Divino Niño and Little Jesus play at 10 p.m. on Oct. 1 at Comet Ping Pong, 5037 Connecticut Ave. NW. cometpingpong.com. $25. —Dora Segall

Now Open: Legacy: Fifty Years of Dance on the Edge at Corcoran School of the Arts and Design


Maida Withers in MindFluctuations (2018). Virtual World by Tania Fraga; Credit: Shaun Schroth
Over the past 50 years, George Washington University professor Maida Withers has left her mark on dance. The visionary choreographer has won various awards and performed on stages around the world, including in China, Venezuela, Croatia, Germany, and Ukraine. She has taught at GW, Purdue, and Howard universities, and in 1974, she founded the Maida Withers Dance Construction Company. Through this company, Withers has defined her own style within postmodernism, blending her choreography with technology such as loudspeakers, video installations, cyber worlds, and original music to produce roughly 100 projects. Now, her life's work will be recognized through Legacy: Fifty Years of Dance on the Edge, a visual installation within the Corcoran School of the Arts and Design at George Washington University. Legacy will also feature the work of political projectionist Robin Bell and sound artist Steve Hilmy, creating an "immersive" experience that blends Withers' dance films with archival recordings. Other participating artists from across the world include Tania Fraga, Anton Ovchinnikov, and musicians John Driscoll and Yoko Sen. This collaboration is testament to Withers' global body of work and the way she has blended performance to tell stories—and ask big questions—throughout her career. "Since 1974, Professor Maida Withers has redefined modern dance as a vessel for technological experimentation," Corcoran School Director Lauren Onkey says in the exhibit's press release. "This show continues her boundary-breaking work by bringing dance into the visual exhibition sphere." Viewers will get to travel on stage and back in time as Legacy questions just what has happened in the past five decades of dance in D.C., using Withers as a guide. Legacy runs through ​​Dec 10 at the Corcoran School of the Arts and Design, 500 17th St. NW. Open Wednesday through Saturday, 1 p.m. to 5 p.m. gwu.edu. Free. —Sarah Smith Sarah Marloff City Paper
Art preview: Corcoran unveils exhibits featuring sculpture, immersive projection

MEDIA CREDIT: PHOTO COURTESY OF DENNIS DELORIA
Friday will mark the opening of "Legacy: Fifty Years of Dance on the Edge," a dynamic exhibition honoring Corcoran professor Maida Withers' spectacular body of choreographic work through projected video archives.
CULTURE
By Isabella MacKinnon Sep 19, 2022 2:56 AM
Open Wednesday through Saturday from 1 to 5 p.m. through Dec. 3.
Legacy: Fifty Years of Dance on the Edge
Friday will mark the opening of Legacy: Fifty Years of Dance on the Edge, a dynamic exhibition honoring Corcoran dance professor Withers' spectacular body of choreographic work through technology, like projected video archives.
The daunting task of distilling a five-decade career of contributions to the dance world, with Corcoran included, into one exhibit was no small feat for Withers and her collaborators. The result is a cohesive production that displays her longtime love for dance and her leadership of the Maida Withers Dance Construction Company, a D.C.-based group that performs original choreography in the U.S. and around the world.

PHOTO COURTESY OF SHAUN SCHROTH
Withers has taught classes in topics like choreography, improvisation and performance art theory and practice at GW since 1965. She said she worked to expand the program so that it might include space for more dancers who didn't fit the classic body types and dance styles expected in the classical ballet world to pursue undergraduate and master's degrees in dance.
"When I came to the program, I brought the philosophy that dance should be for anyone who wants to do it," Withers said.
Fifty years later, she has accumulated an archive of work that encompasses more than 100 pieces of original choreography memorialized in picture or video and aggregated in an online archive. Now in Legacy, she has selected seven pieces to be displayed in their full length on seven large monitors erected in the atrium of the gallery. In a room adjacent to the atrium, countless more choreographic works have been condensed into short, 10-second segments that will be projected in a mosaic of alternating videos spanning the entirety of the walls and ceiling, fully immersing the viewer.
To execute the projections, Withers said she collaborated with local projectionist Robin Bell who is known for projecting political statements onto influential buildings in the District, like the display of "Pay Trump bribes here" upon the Trump International Hotel during the four years of Donald Trump's presidency. She said they worked together in complementary styles and share a proclivity for experimenting with light and lasers and incorporating pointed messages about censorship, intersectionality and the environment.
Withers said she is excited to see the gallery include an exhibition of dance because she doesn't see dance featured in many museums.
"It's rather symbolic for me, being able to have the University recognize that as a professor in the arts, there's a lot of different places for a dance career at GW," Withers said.
The opening event Friday will include a panel discussion titled "Dance in DC – 50 years….What happened?" in which a variety of D.C. dance experts will speak about their own experiences in the last 50 years of the dance world. A celebration on Oct. 7 at the gallery will include live performances by a number of musicians and dancers who have collaborated with Withers in the past.
Open Wednesday through Saturday from 1 to 5 p.m. History exhibition – open from Sept. 23 to Oct. 23. Projection installation – open from Sept. 23 to Dec. 10.
Erika Filter contributed reporting.
Isabella MacKinnon

Lucian Perkins

November 27 at 9:09 PM


Maida Withers (center), an ageless fireball, is excited to share "Legacy: 50 Years of Dance on the Edge," a survey of her groundbreaking career as re-imagined into a time-based installation by visionary artist Robin Bell. After culling hundreds of hours of dance and related archival film, Robin used multiple projectors to interweave her long history of contributions to dance and art. The landmark exhibition is on view at the Corcoran gallery until December 10. On the left in the first image are Sarah Tanguy and our friend Robin Bell.
Lucian Perkins
m.withers@verizon.net email Dec 2022 Dear Maida, What a beautiful word, 'Legacy'! That honors the memories and the history you have walked through with so much courage. Maida, I am bringing students to see this exhibit and am so honored, dear friend to introduce you and the history of the form to them. You challenge convention, you rewrite the rules and then get up and keep going to enrich our Art for everyone. Bless you!

With much love and congratulations,

Nilimma Devi, Classical Indian Dance, vocals, drumming, DC
Nilemma Devi
Dear Maida: you and Robin created a spectacular exhibition and experience that formed a wonderful next step in the evolution of the company and its works. I'm so pleased to have been able to participate and for Kathy and I contribute towards your efforts. Who would have known that 50 yrs later we would still be at it. Congratulations to both of you. Wishing you a healthy and Happy New Year.
Best regards John
John Driscoll
---
Artists and Collaborators
Concept / Choreographer / Filmmaker

Filmmaker / New Media

Composer/Musician, exhibition & immersive installation

Exhibition and Programming Associate

Graphic Design

Curator

Exhibition Design

Associate Producer / Video Design

Composer / Sound Musician

Composer / Musician (Talk Laser)

Composer / Musician

Computer Art

Performance Poet

Dancer

Dancer

Dancer

Dancer

Dancer

Dancer

Dancer

Dancer

Museum Director

Text and Timeline

New Media Design

DC Vegan Catering