Ledge/Dunes
Original Performance on August 1, 1988
1988 – Ledge / Dunes- a stage work and a dance documentary film for cable television.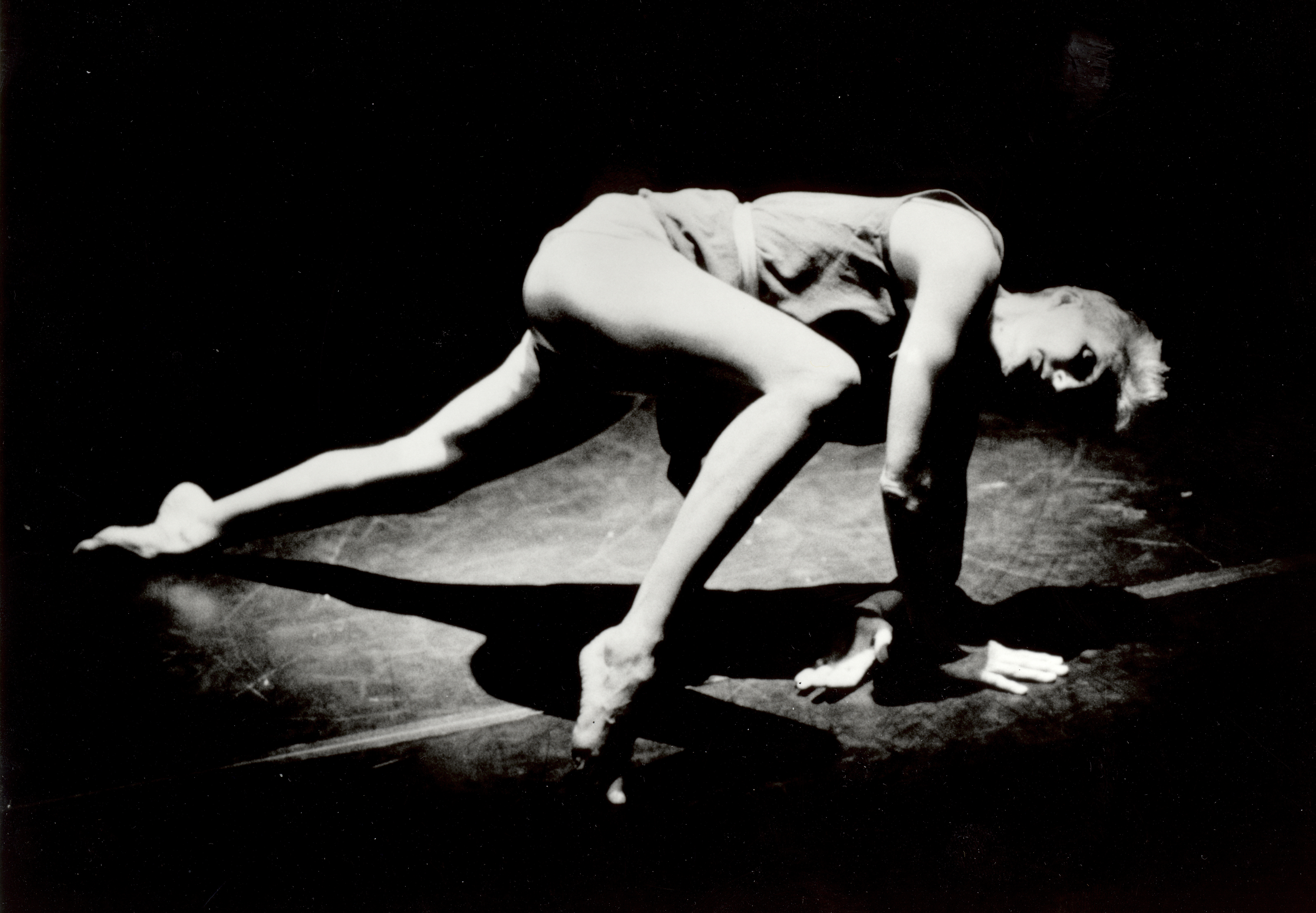 A mythical journey performed by Maida Withers and John Lancaster to an original new music score by composer Michael Willis in a sparse stage set of hanging ropes. This is a full evening duet in seven segments: "Moving Earth/Dunes", "Mountain Birthing", "Man Birthing",  "Earth Spirit Rising""Earthworks", "Crossings", "Earth Spirit Rising" "Soaring."
The video shown here was created for Channel 10, Fairfax Cable Access Corporation, 1989.
The world premiere, stage performance, was presented in August 1988 at the First International Festival of Dance in Mexico City, Mexico.  The invitation the the Festival came through Ignacio Duran Loera, Minister of Cultural Affairs at the Embassy in Washington, DC.  Maida Withers and John Lancaster spent two weeks in Mexico City at the Autonomous University for the Festival sharing ideas and dances with companies from Italy, Canada, Costa Rica, Germany, and the USA.
USA first performance took place at Dance Place June  4, 1988 and subsequently performed as a completed work in Dorothy Betts Marvin Theatre, November 1988.
Flyer Information: Ledge: Rope, Sand, Weed, Haunting Chants, Suspended Spinning, A Mythic Journey in Seven Sections.
Produced as a dance video for Metro-Arts Program, Cable TV, Fairfax, Virginia:
Dune
Mountain Birthing
Man Birthing
Earthworks
Crossings
Earth Spirit Rising
Soaring
"... virtuostic... captivating imagery..." ?
"Creating a dance for herself proved to be a new experience for Withers. "When you are the performer you don't have to deal with another personality or style. It allows me a more forward approach not to have to transfer my ideas to someone else's body. My being the performer removes me from the analytical and intellectual role into the intuitive. I don't hae to break things down in a detailed way. It does have one disadvantage, you can never look at what you are doing." Withers prefers full-length dances, which usually take her a year of conceptualization, research and eperimen tation. "This piece is very ancient, primatl but simple," says Withers. This summer whe will return to southern Utah with her copany and film crews to onstruct the full work on sites in the canyons and deserts. "Ledges" at 8:30 pm June 4 and 5 1986 at Dance Place. Linda Dinsmore
"Strong in images and fertile in meanings, the work is pedestrian in its dance movement and one suspects there will be further changes. The first image has John Lancaster hanging upside down on a rope. Withers turns him as she stalks around his suspended form. These two could be gymnasts. The second hanging, despite the athletic equipment suggests a crucifixion - Lancaster writhes slowly painfully, while dangling upside down from a trapeze. Withers stands poised in back with pulley handles. For the third hanging, he kneels and Withers places his head in a noose. She tightens it and his body gives a final twitch. When the two dance together it is the arrested motion that dominates. They lean toward each other like wrestlers, pushing, at loggerheads. At other times, they lean on each other for support. Even in a passage of lifts, Withers is snared by Lancaster rather than sustained in flight. Apart, too, it is inhibited movement that becomes the visual fous - Withers' arms immobile, stretched b a stiff rod across her bak and Lancaster poised warily on a pedestal. Or Withers squats withher arms proppedon her lets. George Jackson
Withers Out on a Ledge! … "The dance is deliberately haphazard, as though Withers were showing us individual pages of her notebook rather than a finished lab report… and the choreography - acrobatic and aggressive, with its big, plain movements danced on a mammoth scale - caught the awesome power of its subject in a way that nature dances seldom do." Alexandra Tomalonis
---
Artists and Collaborators
Choreographer

Music

Dancers

Light Design

Nu Vieux Musicians

Composer

Video Director

Video Editor

Video Camera

Audio/VTR

Video: Artistic Advisor