Pitfalls – nose to cement and other falling tales told on the way down
Original Performance on July 14, 1999
View: Pitfalls, MWDCC
1999 -Three dancers with MWDCCo perform choreography involving falling and not falling while stories about falling were told by audience members invited to come to the microphone and tell the story during the performance.  The trio had it's world premiere in the United Nation's UNESCO World Heritage Site, Ouro Preto, Brazil during the 31st Festival de Inverno, July 12 – 17, 1999.   The Ouro Preto Theater, historic landmark, had a steeply raked stage that made falling down incredible dramatic  but when fall up the incline a struggling and a somewhat hilarious experience.  In Brazil stories were told in Portuguese.  For the most part, dancers were not aware of what made the audience laugh.  About 30 people lined up to tell his/her story.
Maida Withers documented only the first half of the performance with a video camera in Ouro Preto from the stage wings since she was in a dance work following Pitfalls.  That is the perspective shown in the film here. In addition to the formal performance, Sarah and Reggie improvised at night in the 2nd floor store windows on the main street, Bobadela Street (extremely steep hill) of this ancient mining (gold rush) town, Ouro Preto.
Pitfalls was performed in Rio de Janeiro on the tour at Casa de Cultura – a center for the arts.  Giselle Ruzany, dancer, and Jonathan Modell, percussionist, were on their honeymoon on the tour in Brazil.
The idea came for this dance when Maida, rushing out the front door of her house without tying her long shoe laces, was plummeted to the cement porch with her nose to cement with her shoe laces still stuck in the door when she slammed it shut in her rush to work.
Nose to Cement (see posting on the web page) was the original choreography for a large group of dancers.  Very little choreography was included in the Pitfalls trio.

Sarah Slifer and Reggie Crump (Monstah Black)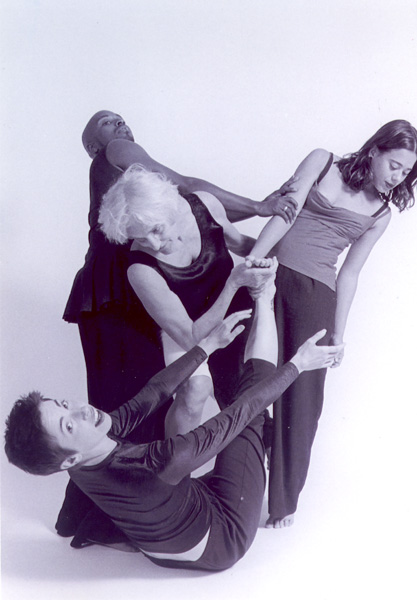 Reginald Crump, Maida Withers, Giselle Ruzany, Sarah Slifer (sit)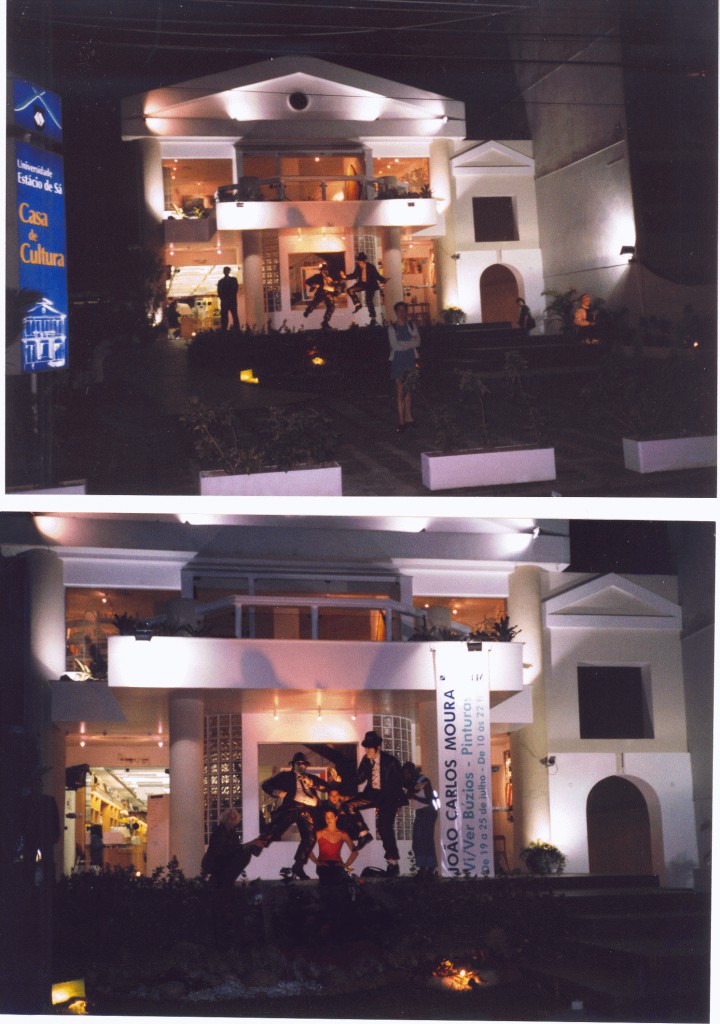 Rio de Janeiro, Brazil – Tour
---
Artists and Collaborators
Concept/Choreograher

Dancers - Trio/Brazil; Solo DC

Sound Composition (solo)

Stories - Brazil
Other Performances
Additional Information