Matrimony – To Sink or Swim!
2013 – Two couples, dressed in full wedding attire, frolic dangerously on the edge of the swimming pool, eventually submerging and reemerging in the passionate wrestle for survival- a metaphor for marriage – to sink or swim!  Dancers perform to the Wedding March by Felix Mendelssohn.
Saturday, August 3, 2013, 5pm at the Capitol Skyline Hotel Pool 10 I (eye) St. SW  Washington, DC FREE
Presented by: The Washington Project for the Arts for their Fall Gala, SynchroSwim 2013, performance art competition held in the swimming pool at the Skyline Hotel, SW Washington, DC.  The project won several awards.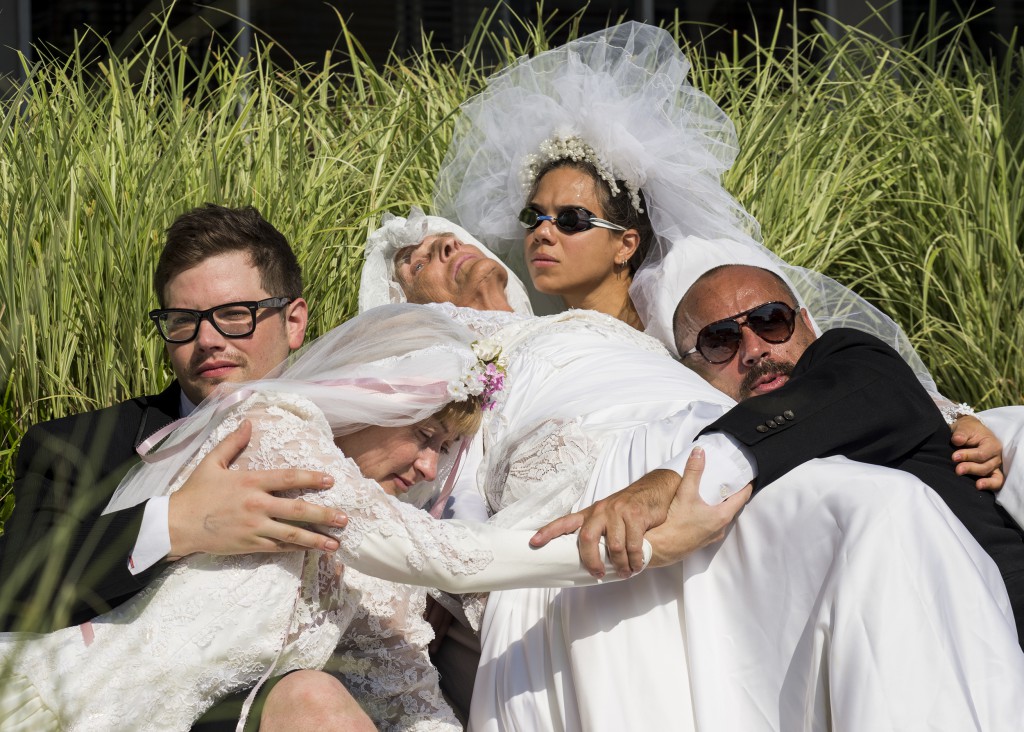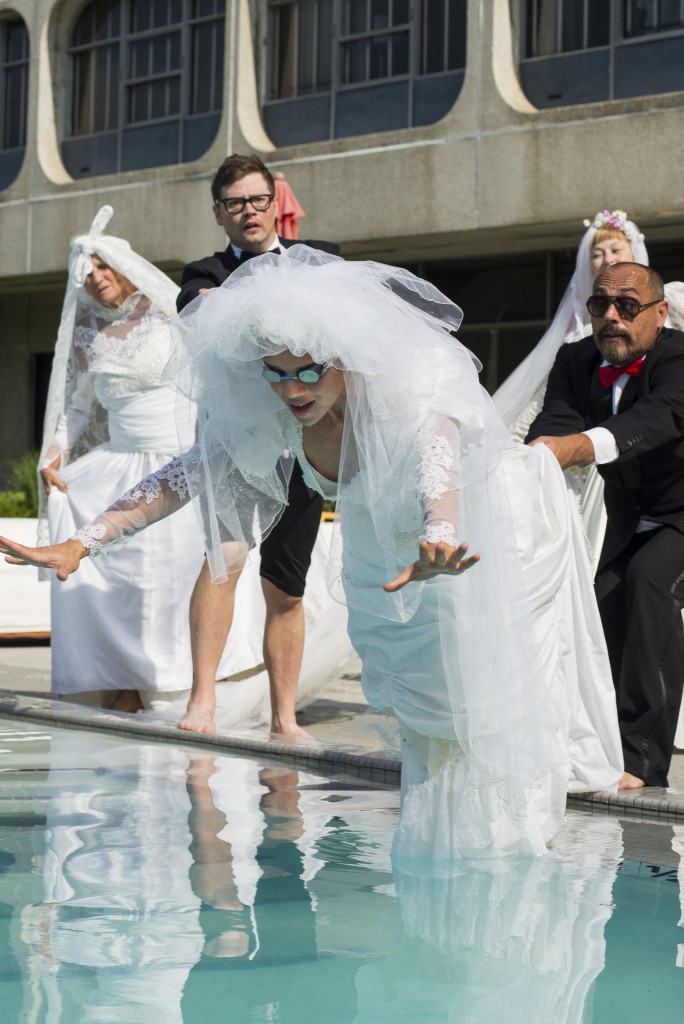 City Paper: Arts Desk
"At SynchroSwim, Performance Art Gets Waterborne" (photo)
Withers' piece, Wedding Party—Sink or Swim, also refers to another sink-or-swim commitment: marriage.
In Withers' aquatic . rumination on matrimony, two couples dressed in full wedding garb process through the water. In a pool, that's no easy feat—and the limited rehearsal time at the popular swimming spot makes it even tougher. But the time and rehearsal constraints help make the piece unique. When you're working with limitations like that, "You just get to the point," Withers says. While SynchroSwim eschews most tropes of athleticism, it's retained the judges—in this case a panel of local arts leaders including Capital Fringe Director Julianne Brienza. Two teams will be awarded prizes based on execution and spectacle, respectively, and one will be crowned an audience favorite. But the judging doesn't follow the same rigorous standards as those of a typical synchronized swimming competition. That would be unfair, says Washington Project for the Arts' Executive Director Lisa Gold. "It's kind of a high bar to expect artists to be synchronized swimmers." Jason Slotkin, Aug. 3, 2013
Water ballet with a sense of humor at SynchroSwim 2013 in D.C. In a hotel ballroom Saturday afternoon, a nervous bride prepared for her poolside processional by practicing "grands battements." Giselle Ruzany took a breath and swung her leg up, sideways, watching in the mirror as her toes extended above her head in a swirl of satin and tulle. With her feet back firmly on the floor, she adjusted her veil and goggles. There. Perfect. Cue Mendelssohn's "Wedding March." Ruzany was ready to take the plunge.

"Sink or Swim," a four-minute water ballet about love, marriage and pool fights, swept the awards Saturday at SynchroSwim 2013, a quasi-annual spectacle organized by the Washington Project for the Arts. About 400 people gathered around the Capitol Skyline Hotel pool, curious to see what this year's coterie of competitive performance artists, dancers and swimmers would do. The in-ground pool rules? Teams of at least two people perform four-minute routines accompanied by music. At some point, someone has to get wet.

As with ice skating, each SynchroSwim team was given two scores, one for "execution" and one for "spectacle." Defending champs Fluid Movement were noticeably absent: The Baltimore-based troupe was home staging "Moby Dick" in the Patterson Park Pool. (Yes, really: www.fluidmovement.org.) That cleared the way for the Maida Withers Dance Construction Company to score big. The choreography company's "Sink or Swim" began with two couples processing around the pool, pausing to canoodle on a waterproof couch. But while Ruzany and her groom, Anthony Gongora, twirled their way to waterborne bliss, a second couple, John Moletress and Tatiana Domovidova, fell into the pool and attempted to drown each other by the goggles. Before diving in, Ruzany went up on the balls of her feet and extended her body over the water, supported by Gongora, who clutched the train of her dress." The judges were impressed. Molly Smith, Arena Stage artistic director, and Julianne Brienza, executive director of the Capital Fringe Festival, gave the troupe 10s, while Wolf Trap President Arvind Manocha held up an 8 and a 9. Coming in just a few points behind was "Antarctica," a revisionist "Little Mermaid" staged by Aether Art Projects. Various food products were involved, including a bottle of Strawberry Nesquik employed by the explorer who triumphed over Ursula and her tentacles. It was amusing, to be sure. Unless you were the lifeguard, who at the contest's end was left skimming Crisco out of the pool.

Ritzel is a freelance writer. Rebecca Ritzel, August 4, 2013
Capitol Skyline Hotel Art Contest Photos
"performance Washington http://www.pinklineproject.comProject for the Arts SychroSwim 2013 (photo) August 3, 2013 Event Promotions
WPA presents SYNCHROSWIM. "Featuring Maida Withers Dance Contstruction Company led by Maida Withers and featuring Anthony Gongora and Giselle Ruzany..... Event Promotion
---
Artists and Collaborators
Concept / Director

Dancers/Collaborators

Music - Wedding March by Felix Mendelssohn

Photographs