Saturday, February 10, 2018 at 8pm
Sunday, February 11, 2018 at 4pm
Dance Place
3225 8th Street NE
Washington, DC 20017 United States + Google Map

International icons, visionary modernists, come together in an exchange of ideas and movement featuring the multimedia solo, DIGG, premiere, by DC's pioneering dance artist, Maida Withers, and solo, LIGHT, Part 47 (run), 2017 and LIGHT, Part 28 (Rice Washer), 2005 by Kei Takei, Tokyo artist. These dance legends bring their unique voices beyond the mainstream of dance performance, challenging us with innovation and experimentation.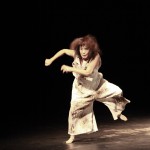 Kei Takei: "startlingly original, at once simple and complex, and as compelling as the law of gravity."
Alan M. Kriegsman – The Washington Post
LIGHT, Part 47 (run) (2017)"  utilizes the metaphor of running to depict the trials and tribulations, the joys and agonies of a woman's life."
Choreographed and performed by: Kei Takei
Music: composed by Yukio Tsuji, arranged by Seiichiro Sou
Lighting Design: Yoshiyuki Shimizu and Lang Craighill
Costume: Renta Kochi & Kei Takei
LIGHT, Part 28 (Rice Washer) (2005)
Choreographed and performed by Kei Takei
Music: Yukio Tsuji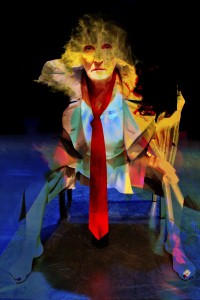 Maida Withers: "What binds together Withers' choreography is not stories, romance, sex, or sociology, but the sheer exhilaration and imaginative fallout of movement ‑‑ movement interpreted in the widest and most liberated sense."
Alan M. Kriegsman – The Washington Post
DIGG explores a timeline of political uncertainties and entanglements with reverberations in time and place until tomorrow, hopefully,  when we may stand together as humans on the edge of normalcy.  Maida Withers
Premiere
Concept, Choreography and Performance:  Maida Withers
Live vocals: Audrey Chen and Phil Minton
Visual Installation:  Linda Lewett, filmmaker; Diane Falk, photographer

DIGG is a fiercely intimate multimedia performance created and performed by pioneering dance artist Maida Withers – an excavation of the current political landscape revealing a kaleidoscope of emotions, antagonisms, and suspicions. In DIGG there is a meeting of dance, emphatic gesture, live vocal music, video, and text.  Withers performs "live" a dance within a film.   Audrey Chen (Berlin) and Phil Minton (UK) perform  live  "reality-piercing" vocals.  A haunting visual installation by filmmaker Linda Lewett and photographer Diane Falk features surrealistic footage  shot of Withers in the 14th Century Monastery on Solovky Island, Russia coupled with photographic assemblages – intrigues and provocations sweeping over the current political scene.  DIGG is framed by  Withers' many tours and projects in Russia since 1996.
Tickets
$15 College Students and Children (17 & Under)
Advanced Sales – ends one week prior to performance weekend
$25 Advanced Sales Admission
$20 Advanced Sales Admission (Dance Place Members, Seniors and Artists)
Purchase Tickets Online
https://danceplace.secure.force.com/ticket/#details_a0SG0000003PndTMAS
Performance Details
Dates: February 10, 2018
Time: 8:00 pm – 9:30 pm
Date: February 11, 2018
Time: 4:00 pm – 5:30 pm
Cost:  $15 – $30
Event Tags:
Global, World Dance, Experimental, Post-Modern Dance, International Dance
Venue
Dance Place
3225 8th Street NE
Washington, DC 20017 United States + Google Map
Phone:
202-269-1600
Websites:
www.danceplace.org
http://keitakei.org/
http://maidadance.com/works/digg-multimedia-excavation-of-russianamerican-provocations-past-and-present/