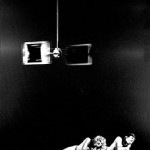 1981 – West Berlin, Germany (May 1981)
Akademie der Künste International Festival (Academy of Arts) established in 1696, invited John Driscoll and MWDCCo to participate in the Festival in 1981.  Our involvement included:
▪   3-week Creative Residency: John Driscoll, electronic composer/musician, and MWDCCo were in residence for three weeks to complete the production Stall. which features a rotating loudspeaker set and animation with dance.
▪    Performance:  Stall.  as part of the summer festival (May 4-21). 
http://www.adk.de/en/academy/academy/index.htm
Background:  The Berlin Akademie der Künste, founded in 1696, is one of the oldest cultural institutes in Europe. It is an international community of artists and has a current total of 400 members in its six Sections (Visual Arts, Architecture, Music, Literature, Performing Arts, Film and Media Art).
The Akademie der Künste is an exhibition and event location, a meeting place for artists and people interested in the arts, where public debates on art and cultural policy take place. A key part of the Academy is its Archive. With over 1,200 bequests by artists and an extensive art collection and library, the Archive is one of the most important interdisciplinary archives of 20th century art.
The event programme of the Academy serves to present contemporary artistic positions to the public and is dedicated to safeguarding cultural heritage. In its two permanent locations in the heart of Berlin – Pariser Platz in the Berlin-Mitte district and Hanseatenweg in Tiergarten – the Academy shows exhibitions, organises concerts, debates, readings, awards ceremonies, as well as film, theatre, and dance performances.