Put on the Music…Let's Dance (1977)
Original Performance on May 7, 1977
View rehearsal, 1977:  https://vimeo.com/90683470
1977 – Forty-five minute show piece, a performance based on  film dance of 1930s and 1940s. An actress reminisces  over memorabilia about her life as a stage dancer/actress of the 1940's.  There are short segments of entertainment type dancing that is loosely based on film character prototypes and show business dancing.  The work reflects Maida's early involvement in tap dancing and musical theater.
The original performance was created for the Washington Project for the Arts in a cabaret-type setting with dancers in period costumes where the dancers engaged more intimately with the audience.  The second version was re-created for City Dance performance at Warner Theater, May 7, 1977, sponsored by Washington Performing Arts Society.
The more farcical  original version was performed in authentic period costumes.) For the second version, dancers wore authentic satin white costumes and white tuxedos designed and created for the period by Beth Burkhardt.
Regrettably, there is no "live performance" of the 1977, only a walk-thru version done at Marvin Theatre since there was no opportunity for a full run for the City Dance performance at Warner Theater, May 7, 1977.
City Dance came into existence as an idea spawned by a GW MA dance student who engaged WPAS to do a city-wide dance event at the Warner Theatre in downtown Washington, DC.  Two companies shared an evening with each taking 45 minutes.  MWDCCo shared a concert with Melvin Deal's African Heritage Dancers and Drummers.
Dance Sequence for Put on the Music…Let's Dance:
Kay Shepperd, a central character, actress, at the front/side of the stage  went down memory lane while enjoying the privacy of herself in a space that had wall paper from the period and props from the period such as photographs of women with male dressed in army uniform, books of the period, movie star photos. etc.
Jive (each dancer as a musician) – Long Tail, Dexter Gordon;
Runway (fashion ending in feather headdress); Milton Drake-Gen Oakland
Vibes (innocent male duet, vibration)Baby Dodds
The Stomp (quartet in military uniforms), Baby Dodds
Dreamtime (indulgent simplisti love), Ryerson-Watts-Eaton;
Roseland (ballroom dance competition), Scott Joplin, Waller-Razaf
Silv'ry Moon (Tap in DRAG), Madden-Edwards
Struttin (drunkard solo with curious trio behind), Ferdinand"Jelly Roll Morton
Rose Red (Spanish solo by Withers)
Finale (quartet recalls dance styles), Louis Armstrong, Earl Hines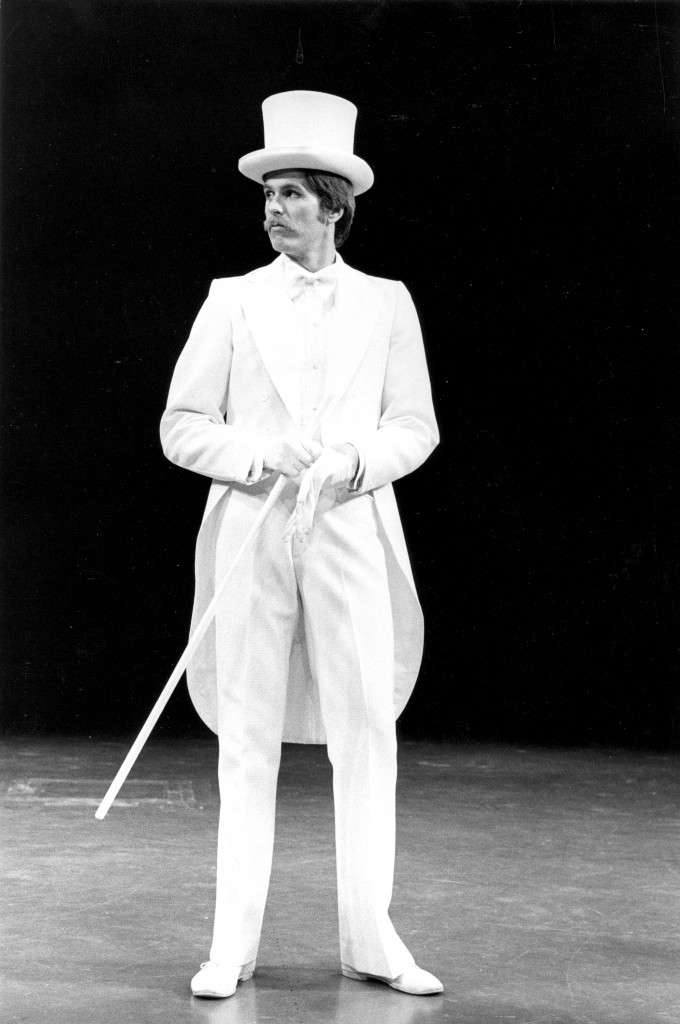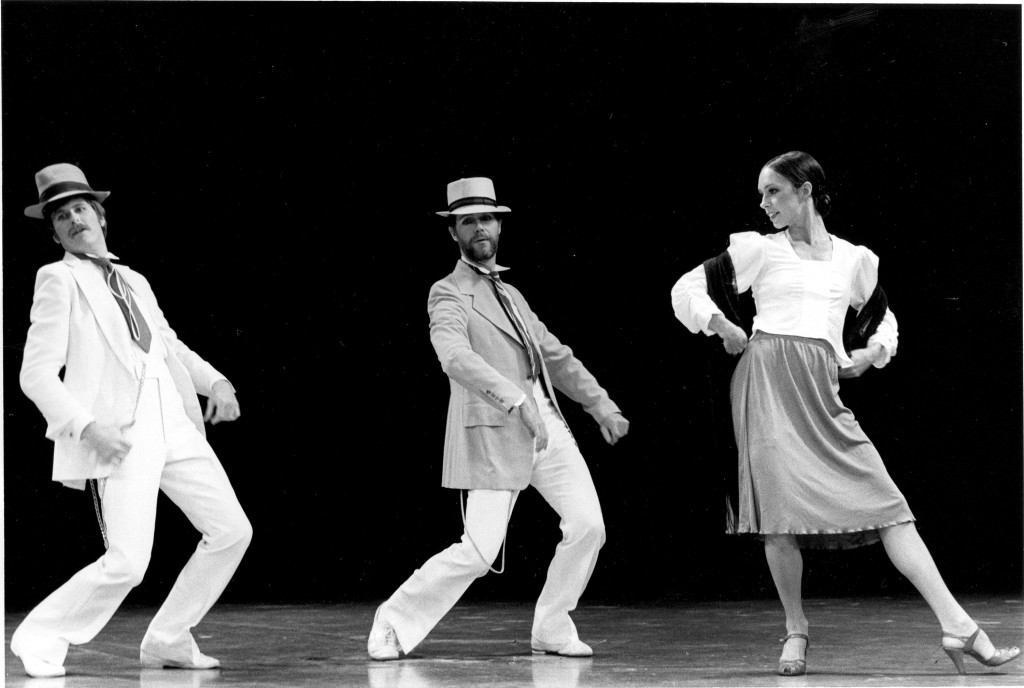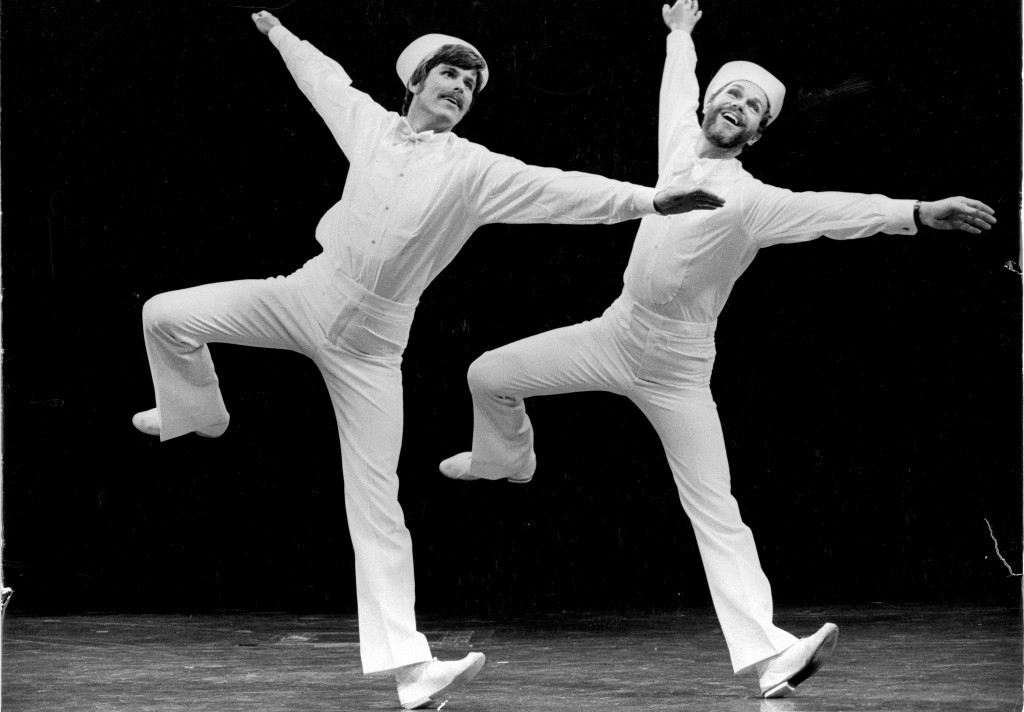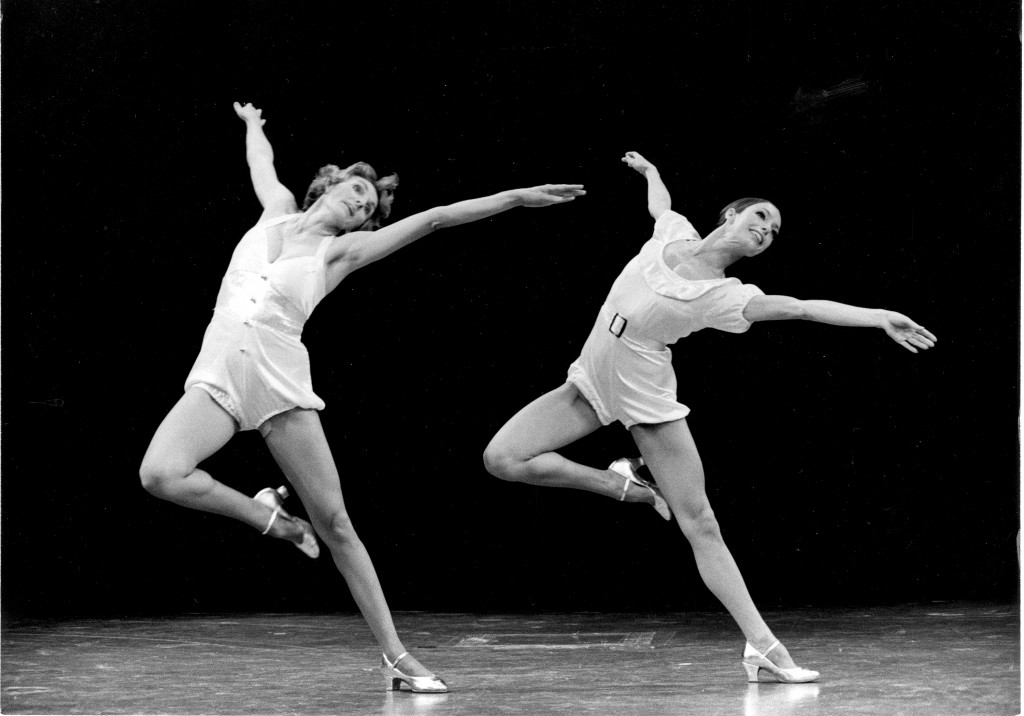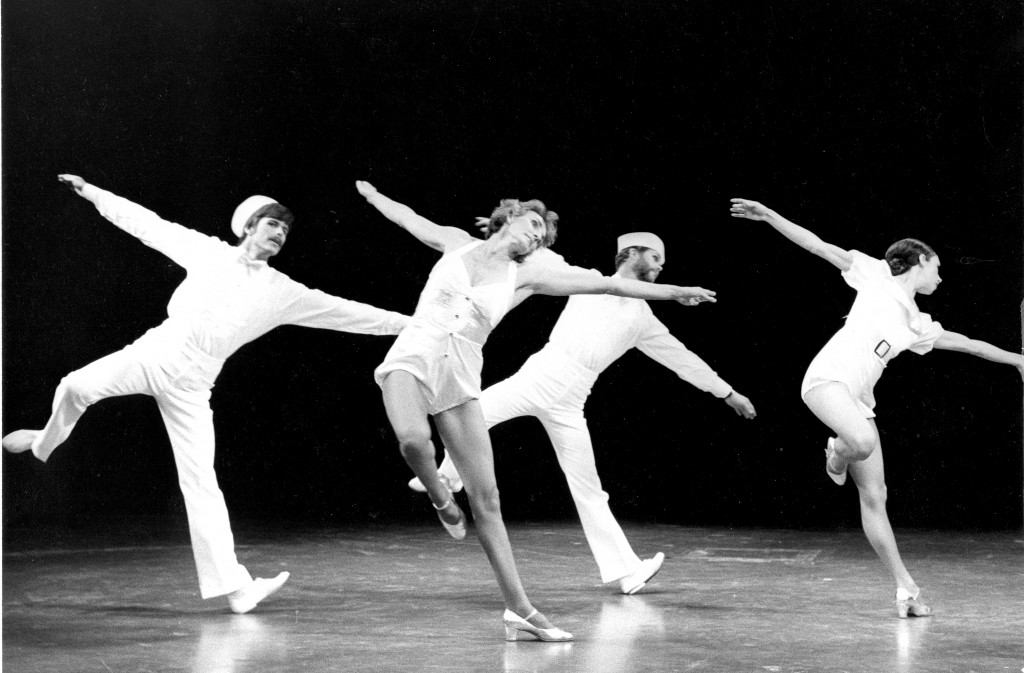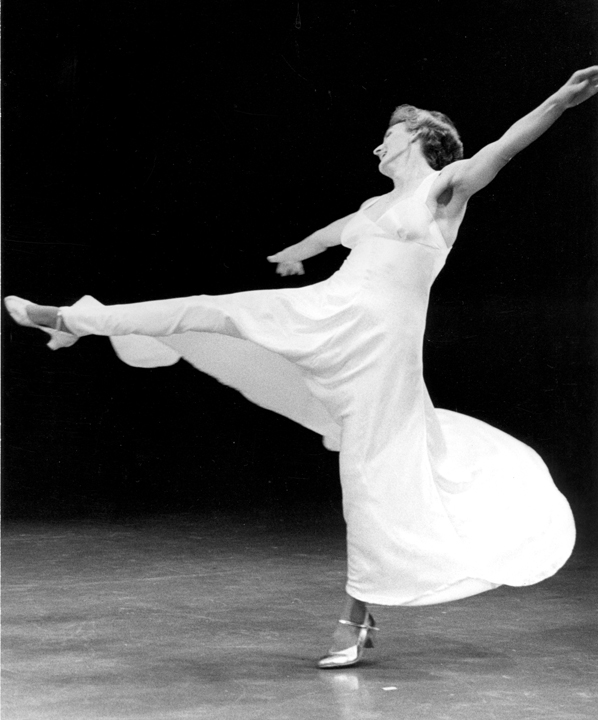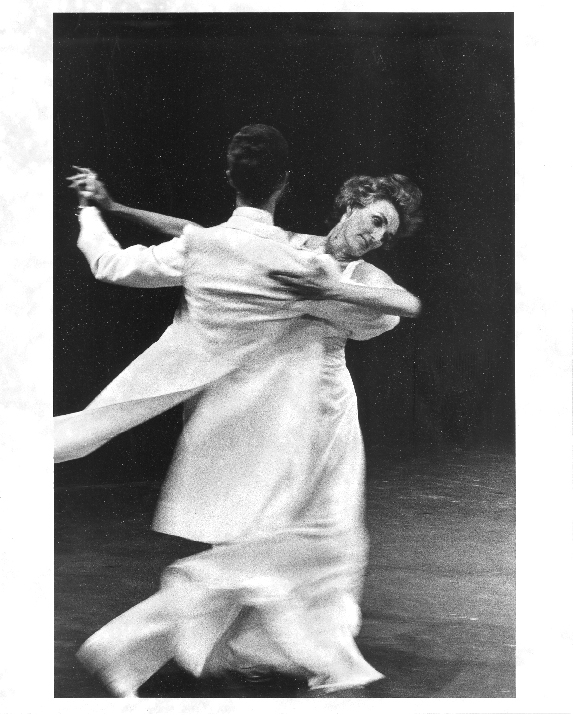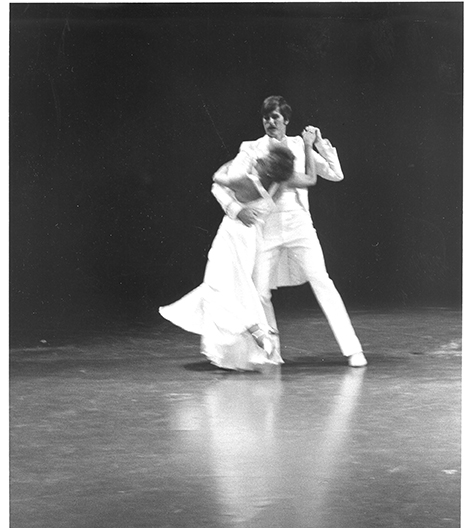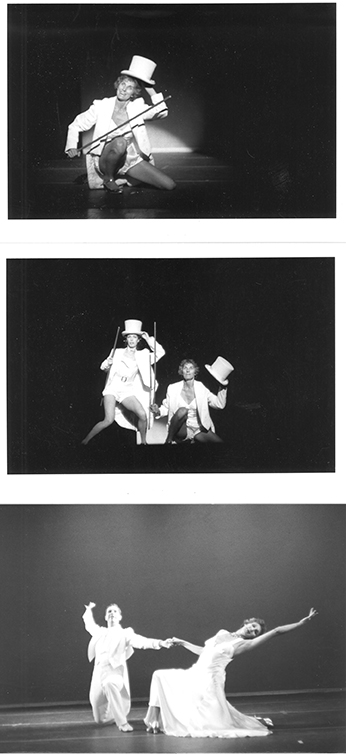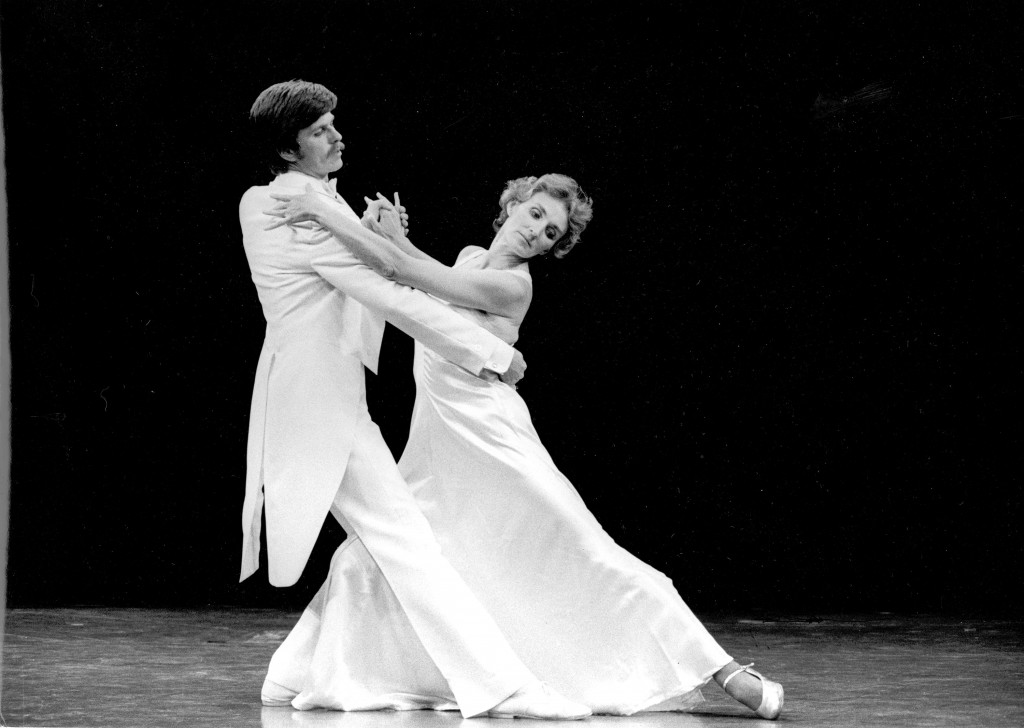 "City Dance "77" is here and it's an idea whose time is ripe. Dance is becoming everywhere, as an art form for everyone.....City Dance has been designed, in part, to put this treasury of talen on display for a much broader public thanhas seen it in the past. It's a week-long festival of area dance troupes. Bringing Washington dance to Washingtonians was one of hte primary motivations for Nancy Pittman, the young dance graduate from George Washington University who first thought up the "City Dance" concept more than two years ago.
"The Dance Construction Company, led by Maida Withers explores the frontiers of avant-garde dance, and has performed in such offbeat sites as cemeteries, sidewalks, elevators, and cafeterias. " Alan M. Kriegsman
"...four dancers' sophisticated, super-polished,urbane, witty and slick depiction of the dance style of the 30's...one of the most successful ventures of the many of this kind I have seen." Frances Wessells
---
Artists and Collaborators
Artistic Director

Dancers/Collaborators, Warner Theatre

Actress

Ballroom competition caller for ballroom dance

Costumes for Warner Theatre

1975 dancers

Light Design

Concept / Direction

Staging Ballroom

Photographs

Producer , City Dance '77
Other Performances
Washington Project for the Arts(map) on January 1, 1975
Additional Information