Fascination – Jey Young Kim (Korea) and Maida Withers (USA)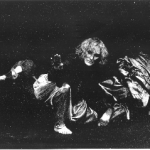 1994 -Jey Young Kim and Maida Withers improvise in concert  in Washington, DC to a poem Fascination,  by Young Tai Kim, Korea, that "expresses our inner feelings-sometimes kin and on other occasions, cruel.   As in life we go through a series of unexpected turbulance.  A single moment may bring about supreme joy or utmost depression! – Poem in the background.
Vincent Cacalano and Martin Sonderkamp also participated in this international performan

ce .  Maida Withers also performed In Winds of Sand.
---
Artists and Collaborators
Korean Poet

Dancers

Music / Vocals
Other Performances
Dorothy Betts Marvin Theatre(map) on January 21, 2014