February 10, 2018 at 8pm
Sunday, February 11 at 4pm
Dance Place
3225 8th Street NE
Washington, DC 20017 United States + Google Map

International icons, visionary modernists, come together in an exchange of ideas and movement featuring the solo, LIGHT, Part 41 (REED), 2014, by Kei Takei, Tokyo based, and the multimedia solo, DIGG, "first performance" by DC's Maida Withers.  These dance legends bring their unique voices beyond the mainstream of dance performance, challenging us with innovation and experimentation.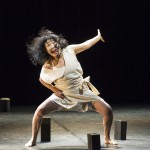 Kei Takei: "startlingly original, at once simple and complex, and as compelling as the law of gravity."
Alan M. Kriegsman – The Washington Post
LIGHT, Part 41 (REED)(2014).
Composer:  Selichiro Sou
"In the Nihon Shoki (日本書紀), sometimes translated as The Chronicles of Japan, the second-oldest book of classical Japanese history, it is written that when the heavens and the earth first separated, one object became visible in the void/emptiness of space. That object was the bud of the reed plant (Phragmites Japonicus). This image was the inspiration for the dance, LIGHT, Part 41 (REED) in which a woman's form and the primordial reed plant are overlayed with each other. The actual physical reed that Ms. Takei dances with in this piece is the variety of reed that is used in the annual late summer Obon (Festival of the Dead/Festival of Lanterns) ceremonies in Japan in which the spirits of deceased ancestors are dispatched back to their spirit worlds after they have returned to the earth for a brief sojourn.  There are 5 sections to the dance."
https://drive.google.com/file/d/0B5mrmxghvTTSVHRyOXUxcWlMZ0k/view?usp=sharing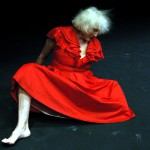 Maida Withers: "What binds together Withers' choreography is not stories, romance, sex, or sociology, but the sheer exhilaration and imaginative fallout of movement ‑‑ movement interpreted in the widest and most liberated sense."
Alan M. Kriegsman – The Washington Post
DIGG – memories of place and time revealing a kaleidoscope of motions, antagonisms, and suspicions
Concept, Choreography and Performance:  Maida Withers
Live vocal music: Audrey Chen and Phil Minton
Visual Installation:  Linda Lewett, filmmaker; Diane Falk, photographer
Premiere
DIGG is a fiercely intimate multimedia performance created and performed by pioneering dance artist Maida Withers – an excavation of Russia/America memories of place and time revealing a kaleidoscope of emotions, antagonisms, and suspicions.  In DIGG there is a meeting of dance, emphatic gesture, original vocal music, video , and text.   Experimental vocalists, Audrey Chen (Berlin), with legendary singer Phil Minton (London),  perform live, "reality-piercing" vocals. A haunting visual installation by filmmaker Linda Lewett and photographer Diane Falk features surrealistic footage shot in the 14th Century Monastery on Solovky Island, Russia coupled with images, intrigues and provocations sweeping over the current political scene. Footage for DIGG was shot during a three-week  residency by Maida Withers Dance Construction Company in 2004 on remote Solovky Archipelago in northern Russia, site of the first Soviet-Era Gulag experiment.  Solovetsky Monastery, with its dungeons and secret alcoves. served as a primary PLACE for engaging dancers in retro-time.   DIGG, inspired by  Withers' many tours and projects in Russia. explores a timeline of uncertainties and entanglements with reverberations in time and place until tomorrow, hopefully,  when we may stand together on the edge of normalcy.  DIGG is a sequel to Withers' Thresholds Crossed (2006), a multimedia opus  "A fusion of East and West that explores the events, ideology and humanistic issues that link the U.S. with the former Soviet Union and contemporary Russia."
5 Day Diary (Feb 5 to 9, 2017)
Improvisation that reflects the time that Kei & Maida will be working to create it before the official performance. Kei envisions that each day  of the 5 day process will include Maida presenting movement material motif of creativity to Kei and vice versa Kei will present movement material motif of creativity that she wants to do with Maida. Also each day Maida and Kei will bring their unique experiences from their respective Occidental and Oriental cultural perspectives and the changes they've experienced in the intervening 30 years since they last met into spontaneous improvisations.  The two of them will then arrange material from this process into an entity to be performed on Feb. 10 & 11.
Tickets
$15 College Students and Children (17 & Under)
Advanced Sales – ends one week prior to performance weekend
$25 Advanced Sales Admission
$20 Advanced Sales Admission (Dance Place Members, Seniors and Artists)
Purchase Tickets Online
https://danceplace.secure.force.com/ticket/#details_a0SG0000003PndTMAS
Performance Details
Dates: February 10, 2018
Time: 8:00 pm – 9:30 pm
Date: February 11, 2018
Time: 4:00 pm – 5:30 pm
Cost:  $15 – $30
Event Tags:
Global, World Dance, Experimental, Post-Modern Dance, International Dance
Venue
Dance Place
3225 8th Street NE
Washington, DC 20017 United States + Google Map
Phone:
202-269-1600
Websites:
www.danceplace.org
http://keitakei.org/
http://maidadance.com/works/digg-multimedia-excavation-of-russianamerican-provocations-past-and-present/