Matthew Thornton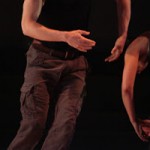 Matthew Thornton grew up in Northeast Ohio and began his training studying movement theater with James Thornton's Acting Ensemble Program. He studied dance at Hamilton College, and transferred to the University of Wisconsin, Madison, where he earned a B.A. in English. There he was introduced to contact improvisation, and began training capoeira, an Afro-Brazilian martial art hidden in dance.
Thornton co-founded Agua Dulce Dance Theater with dancer and choreographer Alicia Díaz. Agua Dulce has performed and given workshops in colleges, high schools and festivals, traveling to Mexico, Puerto Rico and across the U.S., including the 2006 Jacob's Pillow Dance Festival Inside/Out Series. Currently Agua Dulce is in collaboration with Steven Iannacone and dANCE pROjECt, and creating a site-specific dance on video with Alison Dobbins and Kim Su Theiler.
Thornton performed internationally with Pilobolus Dance Theater in concert dance, commercial work, talk shows, and at the 79th Academy Awards. He has worked as a performer and teacher for Pilobolus since 2003, and continues to work as a freelance artist teaching the Pilobolus Method, in addition to performing and creating for Pilobolus Creative Services. Previous dance companies include Jody Oberfelder, Freespace Dance, Alice Farley Dance Theater, and Contemporary Motions.
Thornton taught at Hope College from 2005-2011, and joined The University of Richmond's faculty as Assistant Professor of Dance in Fall 2011.
See
MindFluctuations (2015)
Glacial Drift (2016)
Collaborations