IMPOSTERS
PROPOSED PROJECT
Maida Withers / Dance Construction Company, USA, and Konstantin Grouss / Art-Residence, Russia, propose the creation of the performance project, Imposters, that explores the intimate boundary between our physical and digital identities, by bringing to life digital people, dance artists, that interact in a real world art installation and eventually with the audience. Dancers wear full body morph suits completely covered with a custom digital photograph of a person, other than the dancer, which simulates the "pixelated" effect of digital images, bringing a privacy enhanced digital version of a naked person moving in the real world, and interacting in space and time.
Today we are bombarded and hypnotized by constant flashing images, processed data.  Who can tell what is real, or what is true?  In this virtual blitz It is easy to lose touch with our values, our personal reality.
The proposed cultural exchange of USA and Russian professional artists involves in-depth artistic innovative interaction where dancers, musicians, installation/design artists explore the profound connection of the real and virtual.
Russian and American dancers explore the power of the underbody in collaboration with an exterior digitized persona. The dancer's body is the creative engine that drives the virtual body insisting on a self-reflective critique at every blush, false impression, absurd revelation. Each dancer is the creative artist as he/she must discover the nature, bias, and preferences of her/his virtual self.
The pixelated body is brought into existence through film, a photograph of a naked man/woman, a concept by collaborator, Brian Kane, American visual artist and fashion technology/designer. Of special interest is the eventual engagement of the audience with the imposters disguised as, sort of, almost, humans.  At the conclusion of the performance, the audience, is encouraged to interact with the virtual entities, by creating a still frame of movement shot with their own selfie  making dramatic connection to the original nude photograph – digital to digital.
The questions explored by this project, hopefully, will bring new insight to our escalating digital selves. Have we lost the ability to perceive the real world?
The performance takes place in the "Surrounded by Reality" installation by Dimitry Okruzhnov and Maria Sharova, recent presentation at MMOMA (Moscow State Museum of Contemporary Art) – "a constructed world of incarnate illusions, a specific atmosphere immersion in information space of digital noise."  Music will be created for live performance by Steve Hilmy, USA electronic composer/musician, and a Russian composer/musician (TBD).
This creative process of intimate collaboration in the group will develop into long-term associations as collaborating artists find mutual respect and engagement through the experimentation process.  What is created in the USA is shared in Russia. What is created in Russia will be shared in the USA in 2017-18. The live art created will find interest and opportunities in both societies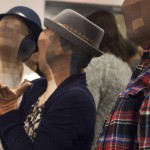 ---