Hilda Thorpe Tribute – Artists' Studio Performance
Original Performance on December 4, 1999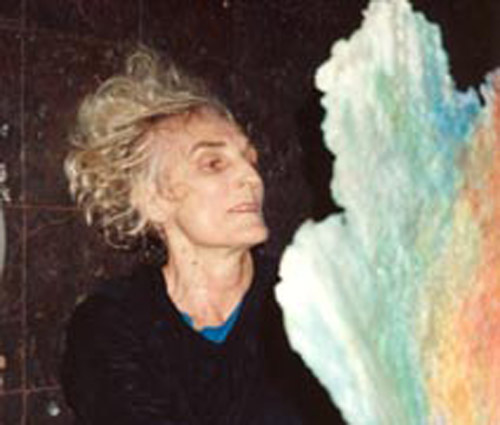 December 4, 1999 – Birthday tribute to Hilda Thorpe at her Artists' Studio in downtown Alexandria, Virginia.
Maida collaborated with Thorpe, a brilliant American painter and sculptor – part of the illustrious Washington Color School – on several projects engaging the works and materials of Hilda Thorpe (Sky Cloud (1992), celebration (1996).
Thorpe was a prolific artist who did not start working professionally until she was nearly 40, and had raised three children.  She was one of the few females who was part of this visual-art movement of the late 1950s through the mid-1960s. She taught many upcoming artists. Although her pieces appeared in South American and North Africa, her work was shown predominantly in the Washington area, at such locations as the Phillips Collection, Corcoran Gallery of Art, Gallery K. In DC. (Wikipedia). Thorpe was a versatile and much-heralded artist who taught a generation of metro Washington, D.C. artists. Contemporary multimedia artist Barbara Januszkiewicz recalls Thorpe's combining music, dance and art "happenings in her studio."
Maida was invited, by Hilda, to celebrate Hilda's life and art with a performance in her studio in Old Town Alexandria, Virginia. Thorpe graciously opened her attic and other storage areas for selection of her art works to be used for the event.  Hilda encouraged dancers to hold and cherish her hand-made paper/painted objects and her functional objects from her art works.  Hilda was a fearless woman. She passed away just one year following this performance after a dinner party at her home to celebrate her birthday.
Photos were taken of the dance artists during the performance: Giselle Ruzany, Maida Withers, Reggie Crump, Jonathan Modell.
Hilda invited friends to her home for a special birthday celebration.  She retired to bed earlier because she was feeling tired.  When I left, about midnight, I called up the stairs, Goodnight, Hilda.  I love you.  Hilda passed away in the middle of that night.  We were deeply saddened and rejoicing in our final ceremony. – Maida
---
Artists and Collaborators
Concept

Performers - MWDCCo

Art Objects