For Verabel
Original Performance on March 25, 1977
1977 – – The duet places the woman inside her home environment with a window, radio, bed springs suspended in the space. The work has the lead solo figure, Ellen, in a dream of herself as a sexually attractive woman questioning why her husband was staying out all night with another woman. Downstage was the imagined "dream self" outside of the confines of her home. The window light showed day and night (inside and outside).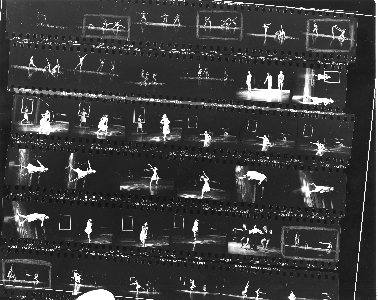 Script is available in files.
Ellen, GW dancer who was the "real" character, was human and more realistic in her movements – wringing hands and pacing back and forth – while Jean was exaggerated in her sexual behavior and emotional expression dancing downstage of the home environment.   The choreography and set design by Maida Withers; music by John Driscoll; costume design by Beth Burkhardt (beige opaque A-line dress for Ellen and beige body leotard worn by Jean Isaacs).
First Performance:  Marvin Theatre, Washington, DC.  (1976)
Premiere:  Washington Project for the Arts (1977)
The work may have been included in the repertory of the Three's Company, San Diego, California by Jean Isaacs, Co-Founder of Three's Company
Original Sony reel to reel video transfer too dark for public use.


---
Artists and Collaborators
Choreography

Dancers

Costume Design

Composer/Performer

Sound - Live Radio

Set Design
Other Performances
Dorothy Betts Marvin Theater - First Performance(map) on January 1, 1970