Exhibition: "OPEN" by Robin Bell
Presented by the Corcoran School of the Arts & Design
Maida Withers choreographed dance in the Flagg Building for the OPEN CELEBRATION on the Stairs and the South Atrium with GW students in her Dance Improvisation Class.  Erica Rebollar created work in Gallery 1 with the assistance of Withers and Bell. Plastic Bags work was by Erica Rebollar and GW students.
Corcoran School of Arts and Design
Flagg Building, 500 17th Street, NW
Tuesday–Friday, 10 AM–6 PM, 2019
Saturday and Sunday, 1–6 PM
OPEN, an installation of lights and projections by artist Robin Bell, is a celebration of transparency, belonging, and accessibility. Bell is a Washington, D.C., video artist, filmmaker, and projectionist whose guerilla projections transform government buildings and hotels into conversation pieces.
Reflecting on the cancellation of the Robert Mapplethorpe exhibition at the Corcoran some thirty years ago, Bell intends for OPEN to serve as a counterpoint to decisions regarding censorship, erasure, and closure.
OPEN is a prelude to 6.13.89, an exhibition opening in 2019 that examines the climate that led to the Corcoran Gallery of Art canceling the Mapplethorpe retrospective. According to Bell, the decision to be open is not accidental or neutral. When you ask someone to open up, you are asking them to reexamine, rethink, and welcome change.
OPEN is a goal: open borders, open thought, open dialogue. This site-specific exhibition reinforces the fundamental rights of the First Amendment while acknowledging that the Corcoran exists at a cultural nexus across the street from the White House. Presented by the Corcoran School of the Arts & Design.
Photos by Robin Bell during Opening Celebration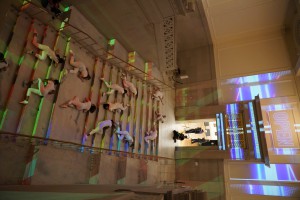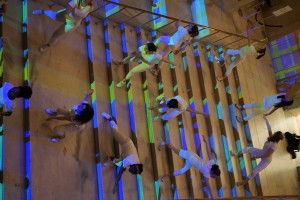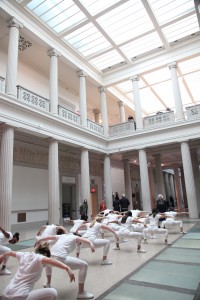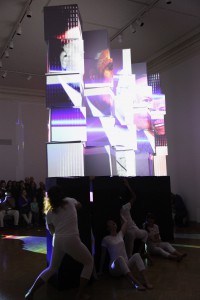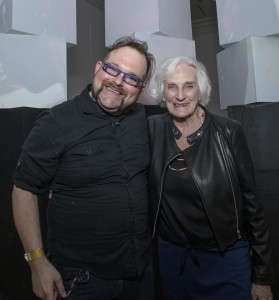 Robin Bell and Maida Withers – Corcoran Flag Building, Washington, DC
---