Dance and Politics: Couch Conversation
Original Performance on February 28, 2016
2016 DANCE AND POLITICS: COUCH CONVERSATION & PERFORMANCE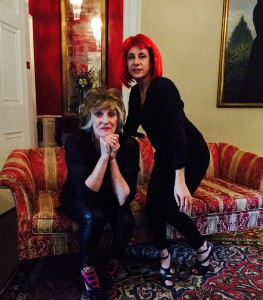 International choreographers and activist artists, Maida Withers, Washington, DC, and Annika B. Lewis, Denmark, engage, irreverently, in dialogue and performance exploring questions of politics and culture, today, in the USA and Europe.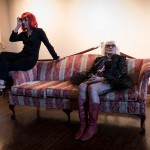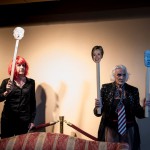 "Out of the box" artists, known for their controversial stage language, both body and word, entertain and surprise – no holds bared. The premiere performance at the Arts Club of Washington, DC revealed the obscene and ridiculous perverse notions of the USA 2016 Presidential election year antics. Annika and Maida are outraged and outrageous.
Audience members are invited to write questions,  wad the papers, and thrown questions, comments, observations at the couch.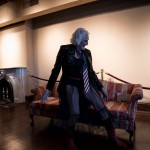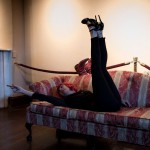 Maida Withers – profane and profound
Annika B. Lewis – trivial and philosophical
Maida Withers / Dance Construction Company creates thought provoking works for stage, museums, site, interventions, and films – over 100 performances of breadth and vision that mix imagination and daring with a keen sense of formal structure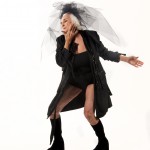 and beauty. Dances reveal the process of creation with international collaborators in the arts, sciences, and technology who share her interest in innovation and experimentation. Withers choreographic philosophy is grounded in her life experiences, all things political, and as a dancer working with the bodies of dancers empowered by "out-of-the
box" notions of life and art.  Her futuristic narratives couple social and political issues with dance technology, and interactive media.  www.maidadance.com
Annika B Lewis / Kassandra Production creates subversive and relevant contemporary performing arts, in a skewed and subtle way – combining the trivial with the philosophical, pop art with fine art. She is an independent director/choreographer, actress, performance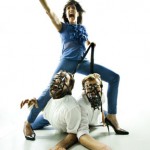 artist, singer, curator, producer and cultural entrepreneur. Annika's works is characterized by a border defying and innovative artistic expression, with predilection for a complex stage language. She works with interventions and site specific locations, as well as in traditional theatre venues. She has within that framework produced, staged, directed, choreographed and toured over 25 productions in the intersection of theatre, dance and performance art. www.kassandra-production.dk
Photos:
Pre-performance photos by Kirk Kristlibas
Performance photos by Mukul Ranjan
---
Artists and Collaborators
Performing / Creative Artist

Performing / Creative Artist

Pre-performance Photographer

Performance Photographer

Technical - Assistant

Videographer